Key Lime Cheesecake Swirl Squares
Refreshing and rich key lime cheesecake takes on a festive swirl, and Jelly Belly beans add the perfect finishing touch.
Prep Time: 15 minutes + 4 hours chilling time
Cook Time: 45 minutes
Total Time: 5 hours

Recipe makes 16 squares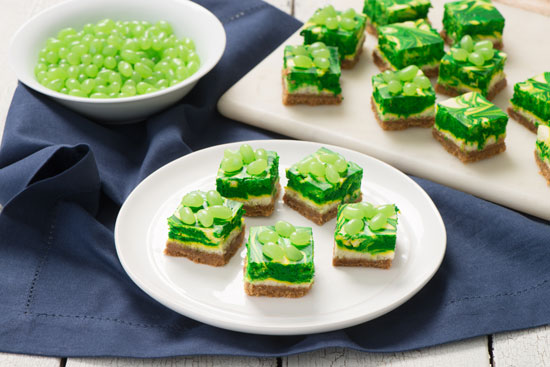 Ingredients
Crust:
1 1/2 cups graham cracker crumbs
1/4 cup packed brown sugar
1/3 cup melted butter

Cheesecake:
2 pkg (8 oz. each) brick-style cream cheese, softened
1/2 cup granulated sugar
2 eggs
1/2 cup sour cream
1 tbsp finely grated lime zest
1 tbsp lime juice
1 tsp vanilla


Green and yellow food coloring


1/2 cup Lime Jelly Belly® jelly beans

Tip: Dip a knife in hot water and wipe dry between cuts. This will make cutting the cheesecake easier.
Directions
Crust:

Preheat oven to 325°F. Line 8-inch square baking pan with foil or parchment paper.
Mix together graham crumbs and brown sugar; drizzle butter over top and mix until crumbs are moistened. Press into pan to form crust; bake for 10 minutes. Let cool.
Cheesecake:

Using electric mixer, beat together cream cheese and sugar until light and fluffy, scraping down side of bowl. Beat in eggs, one at a time, until well combined. Beat in sour cream, lime zest, lime juice and vanilla.
Scrape one-third of the cheesecake mixture into bowl. Add green and yellow food coloring to achieve desired color; stir well to thoroughly combine.
Spread 1 cup of the uncolored cheesecake mixture evenly over crust.
Drop dollops of colored cheesecake mixture and remaining uncolored cheesecake mixture over top, 1/4 cup at a time and evenly spaced. Using butter knife, swirl to combine. Bake for 30 to 35 minutes or until puffed but still slightly wobbly in center.
Let cool. Cover and refrigerate for at least 4 hours or overnight.
Once chilled, cut into squares and press 4 to 5 Lime Jelly Belly® jelly beans into top of each square creating pattern as desired.