Sugar-Free Jelly Beans, Gummi Bears & Candy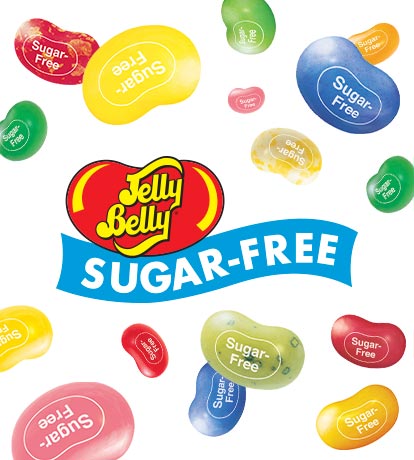 Most Popular
Price Low to High
Price High to Low
Name A-Z
Name Z-A
Newest
Oldest
Shop Online
Showing 1 - 9 of 9 products
Jelly Belly Also Recommends
Sugar-free doesn't mean taste-free, and you'll find that out immediately with our sugar-free Jelly Belly candy. With formulas that make these sugarless sweets taste just like the real deal, you won't even miss your favorite full-sugar formulas.
You'll find the top-selling Jelly Belly flavors come in a sugar-free version, and you can order them in smaller bags or in bulk. In addition to sugar-free jelly beans, you can also opt for sugar-free Gummi Bears. Now you have two different ways to enjoy the sweets without unwanted sugar—or guilt.
Sugar-Free Jelly Bean Flavors
This collection of candies is ideal for dieters, those with diabetes or others watching their sugar intake. And we bet if you put them in a bowl to share with the world, the world wouldn't even notice a difference. They are THAT yummy!
We made sure to have the all-time favorite flavors as part of the lineup so it never feels like your missing out. Our sugar-free jelly bean flavors come in an assorted mix, and they include Buttered Popcorn, Green Apple and Sizzling Cinnamon—just to name a few.
Sugar-Free Gummi Bears
Sugar-free Gummi Bears are another big hit, and they're also available in an assorted mix. Choices here include Cherry, Lemon, Pear, Raspberry and Tangerine, all ready to deliver a totally tantalizing flavor experience.
Jelly Belly Sugar-Free Gummi Bears have 45 percent fewer calories than their full-sugar counterparts, but still pack the same flavorful punch. What a dandy way to surprise a pal who didn't know how delicious sugar-free could be.
So the next time you want to treat party-goers to a guilt-free snack, stock up on these Jelly Belly jelly beans and candies. With 140 years in the business, we've learned a thing or two about making delicious confectionaries. One thing we've learned is they have to taste great. Our sugar-free candies sure do.