Cupid Cupcakes
Get more ideas for your valentine ►
Love, Jelly Belly style! If your sweetheart has a sweet tooth, create these beautiful cupcakes with an assortment of jelly beans and confections and watch the sparks fly!
Recipe makes 22 Cupid Cupcakes.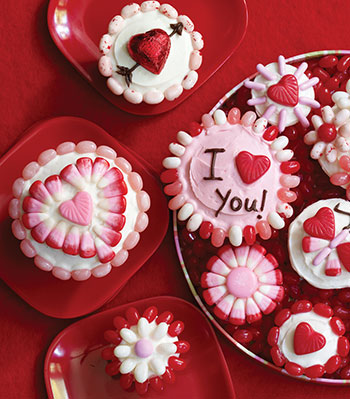 Ingredients
4 jumbo cupcakes, baked in red paper liners
12 standard cupcakes, baked in red paper liners
6 mini cupcakes, baked in red paper liners
1 can (16 oz) vanilla frosting
Red food coloring
1 tube (4.25 oz) chocolate decorating frosting
Pink Licorice Pastels
Red and pink Sunkist® Fruit Gems
Directions
Divide the frosting evenly between 2 bowls. Tint one bowl light pink with the red food coloring. Cover the bowls with plastic wrap to prevent drying.
Working on 1 cupcake at a time, spread some of either frosting on top of a cupcake to make smooth. Add Jelly Belly jelly beans, Cherry Sours, Petite Sour Hearts, Red Raspberry Hearts, Fruit Gems, and Licorice Pastels in desired love message patterns on top of the cupcakes (see photo for ideas).
For the butterfly, arrange 2 pink Licorice Pastels, end to end, in the center of the cupcake. Place 2 red hearts on either side of licorice for the wings. Pipe antennae with the chocolate decorating frosting.