Cocktail Classics | Cocktail-Themed Jelly Beans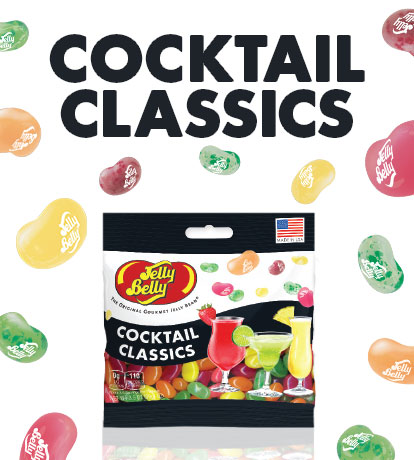 Most Popular
Price Low to High
Price High to Low
Name A-Z
Name Z-A
Newest
Oldest
Shop Online
Showing 1 - 20 of 20 products
Jelly Belly Also Recommends
Let's toast to one of the most popular candy mixes around with this selection of Cocktail Classics® from the Jelly Belly Candy Company. With options like Margarita and Strawberry Daiquiri, you get to enjoy the taste of iconic drinks in candy form. These alcohol-free treats offer a delightful burst of flavor in every bite. Buy your favorite flavors individually or get the complete Jelly Belly Cocktail Classics® mix to enjoy them all.
Authentic Flavor Experience
As with every Jelly Belly flavor, Cocktail Classics® jelly beans are made to taste undeniably authentic. Blended up by a team of expert Jelly Belly bean mixologists, these candies feature the finest ingredients to recreate the flavors of popular drinks. The spirits are left out to make sure our Jelly Belly candies offers a powerful punch of flavor without the hangover. Do you dream of a magical Margarita or Piña Colada on the beach? Maybe you prefer a refreshing Mojito with its minty twist. For fruity drink lovers, we've got Peach Bellini, Pomegranate Cosmo and Strawberry Daiquiri. Whatever the case may be, you can skip the bar and simply pop a few of these delicious cocktail-flavored jelly beans in your mouth for a true-to-life flavor experience.
Mix Things Up
In addition to enjoying a bag of Cocktail Classics® Jelly Belly jelly beans whenever you're craving a sweet snack, these delightful little candies are great for all kinds of other occasions. They're perfect for gifting to loved ones who have a favorite drink they like to order on a night out. The boozy beverage theme makes these jelly beans a fun treat for parties as well, and with our bulk ordering options, you can put together unique party favors featuring cocktail-flavored jelly beans. From bachelorette parties and bridal showers to weddings and graduations, Cocktail Classics® jelly beans are sure to delight every party guest!