White Chocolate Popcorn Clouds
Get more ideas for spring ►
Light bites of salty and sweet inspired by popcorn drizzled with white chocolate. Stir in one flavor of Jelly Belly beans or a favorite flavor collection such as Tropical Mix, Fruit Bowl or Smoothie Blend.
Fun for movie nights, sleepovers, birthday parties, easy dessert ideas and homemade hostess gifts.
Recipe makes about 20 popcorn clouds.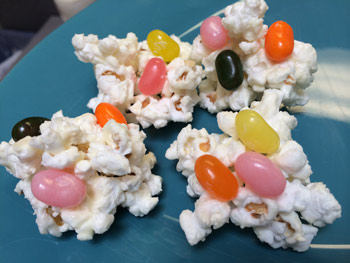 Directions
Pop popcorn in microwave according to package directions. Pour into large bowl.
Slowly melt white chocolate in heat-safe bowl over simmering water. Stir often. Do not turn up heat to make it melt faster. Pour melted chocolate over popcorn in bowl and mix well.
Cover baking sheet with parchment paper. Place bite-sized clusters "cloud" of chocolate-coated popcorn on baking sheet. Press Jelly Belly jelly beans onto each cluster. Allow to cool as chocolate sets.