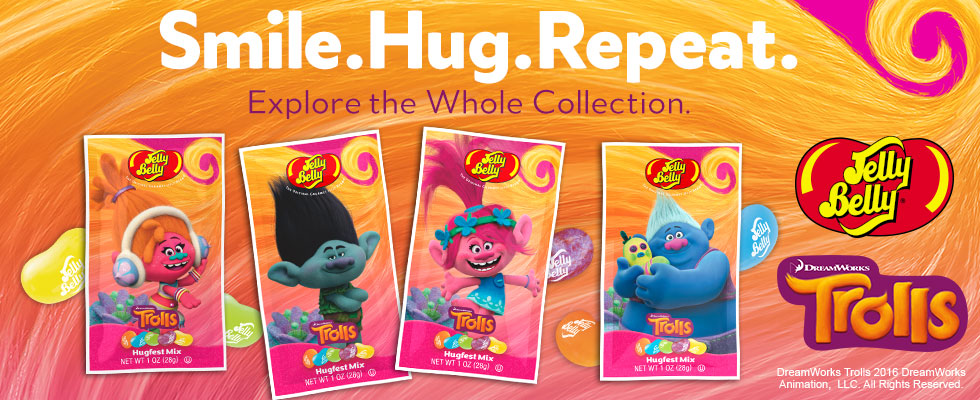 DreamWorks Trolls Jelly Beans and Candy
Turn snack time into hug time with DreamWorks Trolls candy from Jelly Belly! We've created an assortment of fun jelly bean flavors inspired by the entire Trolls cast, complete with Berry Blue, Orange Sherbet, Jewel Very Cherry, Sunkist Lemon and Sunkist Lime. These fun Trolls jelly beans feature the best Trolls characters on the outside of the pouch, bag or box. Every package features depictions of Branch, Poppy, Biggie and the rest of the crew. Jelly Belly has partnered with DreamWorks Animation to bring you an exciting mix of fun, character-themed flavors that excite the taste buds!
Jelly Belly DreamWorks Trolls Jelly Beans are made to mimic the spirit of the Trolls, but are made with the same attention to quality and taste as the rest of your favorite Jelly Belly candies. Stock up on these fun character jelly beans for your Trolls-themed birthday party or as a special surprise for any major fan. Each Trolls jelly bean is made with high-quality ingredients that are free of gluten, peanut, dairy and fat. Plus, they're vegetarian-friendly and OU kosher, so they're perfect for every single member of your guest list!