Tie-Riffic Father's Day Cake
It's a delicious twist on that classic Father's Day gift, easy to make and handsome-looking as well. Why go shopping when you can decorate for Dad?
Recipe makes 1 Tie-Riffic Father's Day Cake.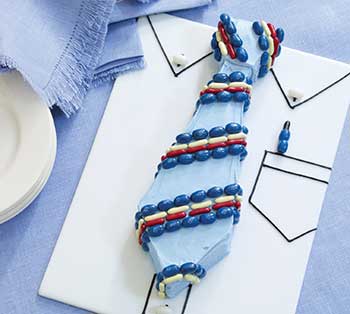 Directions
Place the cake flat side down and trim the top of the cake to make level. Place the cake on a work surface with one short end facing you. Remove bottom corners (about 2 inch triangle) to make pointed end of tie. Make long angled cuts on either side stopping 2 ½ inches short of top end of cake and leaving 1 ½ inches between cuts at the narrowest point of the tie. Make angle cuts out at top (to about 2 ½ inches wide) to complete knot shape (see photo).
Tint the frosting light blue with the food coloring. Place the cake on a white serving platter or white cake cardboard. Cover the cake with the light blue frosting and make smooth. Arrange alternating lines of blue jelly beans, red and yellow Licorice Pastels and more blue Jelly Belly beans at an angle to create stripes, leave pale blue frosting stripes between alternating candy stripes. Change direction of the candy stripes at the knot using the photo as a guide.
Spoon the chocolate frosting into a small zipper bag. Snip a very small (⅛ inch) corner from the bag. Pipe lines on serving platter to create the shirt collar, pocket, and button flap. Add the Coconut Jelly Belly beans as the buttons and a black Licorice Pastel and Blueberry beans as a pen in the pocket.