Springtime Chocolate-Filled Strawberries
Get more ideas for spring ►
A springtime delight that combines the decadence of chocolate ganache, fresh strawberries and Jelly Belly jelly beans for garnish.
Good for Easter Brunch, spring entertaining, bridal showers, Mother's Day, cocktail parties and garden parties.
Recipe makes up to 18 chocolate-filled strawberries. 62 calories per strawberry.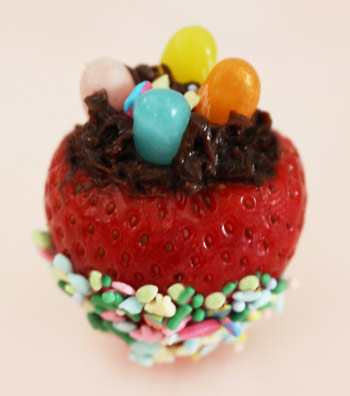 Ingredients
12-18 medium to large fresh strawberries
Jelly Belly jelly beans (3-4 per strawberry)
Edible sugar glue (available at craft stores)
Cake sprinkles
3 ½ oz dark chocolate, finely chopped (preferably 70% cacao)
½ cup heavy cream
1 tablespoon (½ oz) unsalted butter, softened
Directions
Chop chocolate and place in heatproof bowl, set aside. Bring cream to boil in saucepan over medium-high heat. Pour cream over chocolate in separate bowl, stir to melt. Add butter and whisk till smooth. Let cool to thicken up, then whisk until fluffy.
While ganache cools, use melon baller to scoop tops off the strawberry to create small cup. Trim bottom tip of strawberry with knife to make it stand up.
Apply thin layer of edible sugar glue (found in cake decorating/crafts stores), to bottom half of strawberry, then spoon on sprinkles.
Once cool, fill pastry bag or resealable freezer bag (with the corner snipped off) with ganache. Pipe approximately two teaspoons of chocolate ganache into strawberries.
Finish with three or four Jelly Belly jelly beans pressed into ganache.