Spring White Chocolate Pops
Get more ideas for spring ►
White chocolate molded into flower pops are embellished with Jelly Belly jelly beans. Fill vases with jelly beans to display the pops.
These candy creations will delight for any occasion and are super simple to make! Grab your favorite cookie cutter and Jelly Belly jelly beans, and check out the recipe here.
Fun for Easter, Mother's Day, birthdays, bridal showers, garden parties or just-because gifts.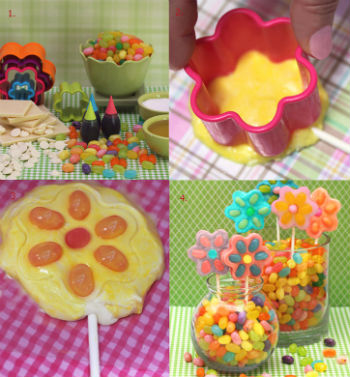 Ingredients
Supplies
Lollipop sticks
Flower-shaped cookie cutter (or any cookie cutter of your choice)
Directions
Melt white chocolate according to package directions; stir in food coloring to melted chocolate if desired.
As it cools, pour melted chocolate onto wax paper-lined baking sheet or silicone pad in small amounts.
As poured chocolate sets, insert lollipop stick and use cookie cutter to cut out desired shape.
Press Jelly Belly jelly beans into setting chocolate in desired pattern.
Carefully remove excess chocolate around cookie cutter, leaving desired shape intact.
Place baking sheet or silicone pad in refrigerator to set for 1-2 hours.
Fill glass jar or container with assorted Jelly Belly jelly beans. Insert finished lollipops into jelly beans in containers for festive display.