Popcorn Balls
Get more holiday ideas ►
Please a crowd with a treat you can make in just minutes.
Recipe makes up to 12 Popcorn Balls.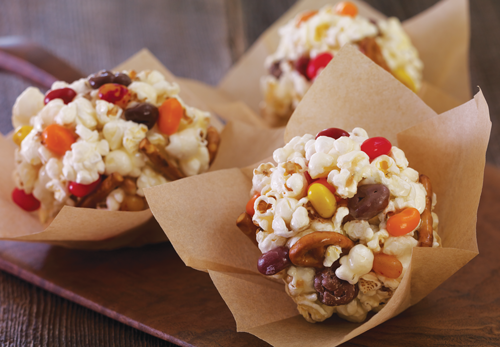 Ingredients
¾ cup light corn syrup
¼ cup margarine
2 teaspoons cold water
2 ½ cups confectioners' sugar
½ cup miniature salted pretzels
½ cup Milk Chocolate Jumbo Raisins
5 quarts popped popcorn
Directions
In saucepan over medium heat, combine corn syrup, margarine, cold water and confectioners' sugar. Heat and stir until mixture comes to a boil. Pour mixture onto pre-popped popcorn in large bowl and stir to coat. Carefully mix in Jelly Belly jelly beans, pretzels and chocolate covered raisins.
Grease hands with cooking spray, and quickly shape coated mixture into balls. Refrigerate to set, or wrap in plastic wrap.