Jelly Belly Petit Fours
Get more ideas for your valentine ►
Small cakes packed with delicious flavor! Make these for birthday parties, brunches, showers and other celebrations. Decorate with your favorite Jelly Belly jelly beans on top!
Recipe makes 80 pieces
Ingredients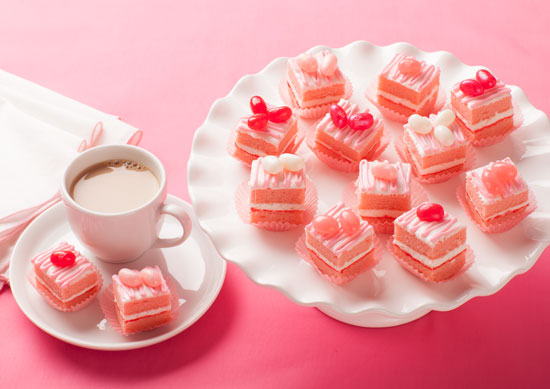 Directions
Preheat oven to 350°F. Line a jelly roll pan (11 1/2 by 17 1/2 inches) with wax paper. Coat the pan and wax paper with vegetable cooking spray. Prepare the cake mix according to package directions, substituting the buttermilk for the water in the recipe. Add 6 drops of the neon pink food coloring to the batter and stir until blended. Pour the batter into the prepared pan and smooth top. Bake until a toothpick inserted in center comes out clean, 17 to 20 minutes. Transfer to a wire rack to cool 10 minutes. Invert the cake onto the rack and cool completely.
Tint 1/2 cup of the vanilla frosting pink with the food coloring and spoon it into a ziplock bag. Spoon 1 cup of the vanilla frosting into a glass measuring cup and cover with plastic wrap to prevent drying.
Cut the cake in half crosswise to make two 8 3/4 by 11 1/2-inch rectangles. Line a cookie sheet with wax paper. Transfer one cake layer to the wax paper. Spread a thin layer of the strained strawberry jam on top of the cake. Spread the remaining vanilla frosting on top of the jam. Place the other cake layer on top, pressing down to secure. Place a sheet of wax paper on top of the cake. Place another cookie sheet on top of the wax paper covered cake. Place several filled food cans evenly spaced on top of the cookie sheet to help weigh down the cake and press the layers together. Transfer the assembly to the refrigerator to set, at least 3 hours or overnight.
Remove the cookie sheet, wax paper and cans from the pressed cake. Place the cake on a wire rack set over a wax paper lined cookie sheet. Heat the vanilla frosting in the microwave, stirring every 5 seconds until the texture of slightly whipped cream, about 20 seconds. Pour the frosting over the pressed cake to completely cover the top. Return to the refrigerator for 15 minutes for the frosting to set.
Trim edges to make even. Cut the cake crosswise into 1 inch wide strips making sure to clean the knife after each cut. Cut each strip crosswise into 1 inch pieces, keeping the knife clean after each cut. Transfer each 1-inch square piece to a paper liner. Snip a very small corner from the bag with the pink frosting. Using a back and forth motion, pipe zig zag lines on top of each petit four. Arrange 1 to 3 Jelly Belly beans on top of each piece.