Beginning of main content
Personal Guided Tour Experience
Join us for an expert-guided factory tour!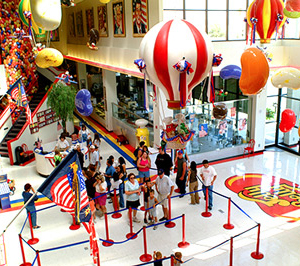 For the candy lover looking for a little more, upgrade your lane tour of the Jelly Belly Factory to a Personal Guided Factory Tour!

Our personal guided lane tours leave at 10am, 11:30am, 1pm and 2:30pm, 7 days a week. Bypass the line and make your way above our factory with one of our experienced tour guides.

At the end of the Personal Guided Tour, which takes approximately 40 - 45 minutes, visitors will receive a discount on a souvenir photo and a discount card for shopping in the retail store.

Groups may consist of 1 to 6 people. Adult guardian/parent MUST attend with any/all minors.

The cost of the Personal Guided Tour is $39 per tour (plus an online ticket processing fee), which is good for 1 to 6 people. There are no age restrictions. The tour is wheelchair accessible. Groups of no more than 6 people.

Dates are available 4 - 6 weeks in advance. Reservations are required. Walk-in purchases are currently unavailable at this time.

Personal Guided Tours are available 7 days a week, except certain holidays and early closures. Please note, the Jelly Belly Factory operates on a Monday - Friday schedule. There is no factory production on weekends, certain holidays and scheduled maintenance shut down periods. If you would like to be sure the factory is operating on the day of your Personal Guided Tour, please check the event/operating calendar.
For information
What are the Jelly Belly Personal Guided Tour times?

Is the tour available on weekends?

How many people may we have in our group?

What age requirements are there for the Personal Guided Tour Experience?

How much is the Personal Guided Tour Experience?

Is the tour private?

How long is the tour?

Is the tour wheelchair accessible?

Where do I check in for the Personal Guided Tour Experience?

How far in advance can I book my tour?

What medical restrictions should I be aware of?

If I am traveling with a pet, what are my options?

What happens if I am running late?

How early should I arrive?
For additional tour information, call 1-800-9-JELLYBEAN (1-800-953-5592).