Jelly Belly Nest Cookies
Get more ideas for spring ►
Coconut cookies become spring nests for Jelly Belly beans.
A darling treat for an Easter egg hunt, spring birthday parties and baby showers.
Recipe makes up to 30 cookies. 86 calories per cookie.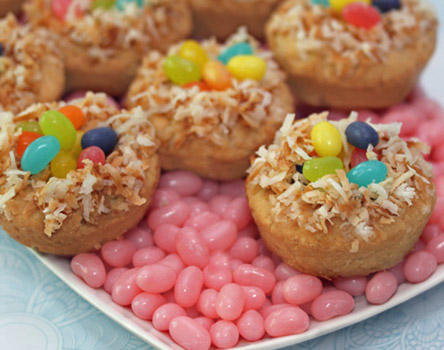 Ingredients
1 ½ cups all-purpose flour
1 teaspoon baking powder
½ teaspoon salt
½ cup shortening
½ cup sugar
1 egg white
1 teaspoon vanilla extract
2 tablespoons milk
2 cups shredded sweetened coconut
Directions
Heat oven to 375°F. Sift together flour, baking powder and salt and set aside. In large bowl, beat shortening, sugar, egg white and vanilla extract until well blended. Add flour mixture and milk until blended. Stir in coconut.
Roll dough into a ball, divide in half. Roll 15 one-inch balls from each half and place on ungreased baking sheet. Make thumb print depression in center of each ball to form nest.
Bake 6 minutes. Remove from oven and place 4 Jelly Belly beans in center of each cookie. Return to oven and bake 5 more minutes. Transfer cookies to wire rack to cool.