Jelly Belly Gift Boxes Recipe
Get more holiday ideas ►
This easy and delicious craft is a fun party activity, or the cheerful centerpiece of your neighborhood cookie plate. Fill, frost, repeat!
Prep Time: 10 minutes
Cook Time: 25 minutes
Recipe makes 9 boxes.
Ingredients
1/2 cup butter
9 cups mini marshmallows
1 tbsp vanilla
12 cups puffed rice cereal
1 cup Jelly Belly® jelly beans


Store-bought prepared colored icing tubes
Directions
Grease two 9-inch square pans with butter. Line bottom and sides with parchment paper, leaving 2-inch overhang; set aside.
Melt butter in large saucepan set over low heat; add marshmallows. Stir for 6 to 7 minutes or until completely melted; stir in vanilla. Remove from heat.
Immediately stir in cereal until coated. Scrape one-quarter of rice cereal mixture into one of the prepared pans and remaining mixture into the other pan. Using wet hands or buttered spatula, spread each evenly to edges of pans. Let cool completely.
Using parchment paper as handles, remove treats from pan and transfer to cutting board. Peel off parchment paper. Cut both pans of treats into 3-inch squares.
To make the gift boxes, hollow out thicker/deeper squares by using a sharp paring knife to make 1/2-inch cuts in from edge of the box, cutting no deeper than 1/2-inch from the bottom. Scoop out inside with spoon.
Using back of a small spoon, press down inside of box until all sides are smooth.
Fill boxes with your favorite Jelly Belly® jelly beans.
Place smaller squares on top of jelly bean boxes as lids; decorate with icing to resemble ribbons and bows, or add Jelly Belly beans to the outside for a festive presentation.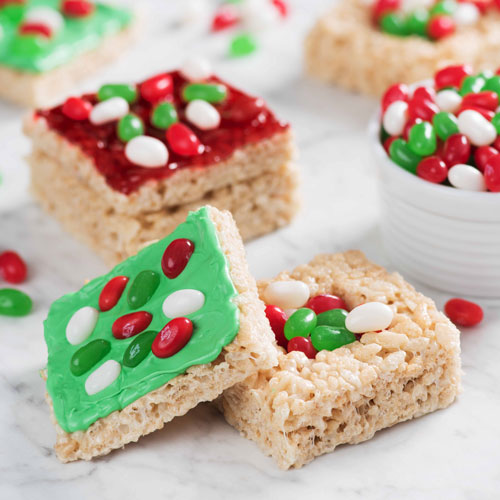 Video Tutorial
Tips
For bigger boxes, cut into 3 x 4 1/2-inch rectangles.
Use hollowed-out rice treats for snacking or add to snack mixes along with jelly beans, nuts and pretzels for a sweet and salty combination.