Jelly Belly Easter Petit Fours
Get more ideas for spring ►
Use egg-shaped cookie cutters to create these festive Easter egg petit fours.
Prep Time: 20 minutes + 2 hours freezing time
Cook Time: 15 minutes
Total Time: 2 hours, 40 minutes

Recipe makes 16 petit fours
Ingredients
3 eggs
1 cup granulated sugar
1 tsp vanilla
3/4 cup all-purpose flour, sifted
1 tsp baking powder
1/4 tsp salt
1/2 cup seedless raspberry jam
16 oz. chopped white chocolate
2 tbsp coconut oil


Food coloring (pastel colors, such as rose, violet and teal)


1 cup Jelly Belly® Spring Mix jelly beans

Tip: If desired, use other fillings, such as red currant jelly, prepared lemon curd or buttercream icing between layers.

If you don't want to press the Jelly Belly beans into the top of the petit fours, use royal icing to secure them. You can even decorate the sides this way.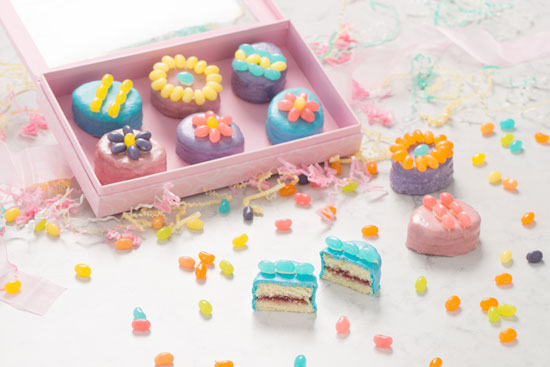 Video Tutorial
Directions
Preheat oven to 375°F. Line 15- x 10-inch baking pan with parchment paper. Spray with cooking spray.
Using electric mixer, beat eggs on high speed for 2 to 3 minutes or until thickened and pale yellow; gradually beat in sugar. Add 1/3 cup water and vanilla; beat on low speed for 1 minute.
Gradually add flour, baking powder and salt, beating until batter is smooth, scraping down sides of bowl.
Spread batter evenly in prepared baking pan. Bake for 12 to 15 minutes or until toothpick inserted into center comes out clean. Let cool in pan for 10 minutes. Transfer to rack; let cool completely.
Cut cake in half to create two thin layers. Place one layer on waxed paper–lined baking sheet and spread jam evenly over top; place second layer on top, trimming edges if necessary. Freeze for 2 hours.
Using egg-shaped cutter, cut cake into 16 egg shapes. Reserve scraps for another use (such as snacking).
Melt white chocolate and coconut oil in heatproof bowl set over saucepan of barely simmering water. Remove from heat.
Arrange petit fours, 2 inches apart, on rack set over parchment paper–lined baking sheet.
Divide melted chocolate mixture into three bowls; tint with desired colors of food coloring. Pour each colored chocolate mixture over 5 or 6 petit fours, shaking tray to ensure coating covers petit fours entirely. Refrigerate until firm and set. If necessary, repeating this step can create a smoother layer.
Decorate by pressing Jelly Belly® Spring Mix jelly beans into tops of cakes in desired pattern.