Jelly Belly Hugs and Kisses Brownies
Get more ideas for your valentine ►
Your favorite brownie recipe or mix is transformed into a love-inspired treat. Decorate with Jelly Belly beans and send X's and O's to someone special.
Recipe makes 12 brownies
Ingredients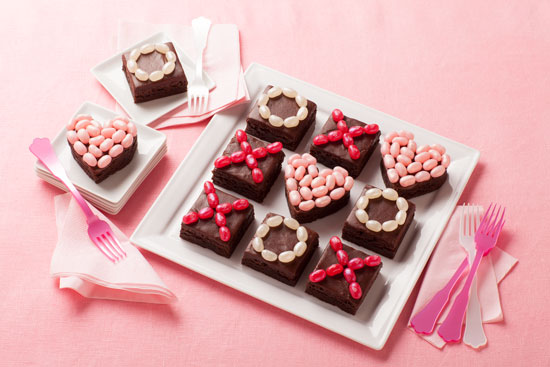 Directions
Preheat oven to 325°F. Line a 9 inch square baking pan with foil and coat with vegetable cooking spray.
Prepare brownie mix according to package directions. Spread the batter into the prepared pan and make smooth. Bake until a toothpick inserted in center comes out clean, 38 to 43 minutes. Transfer to a wire rack and cool completely.
Invert the brownie from the pan and remove the foil. Spread the top of the brownie with the chocolate frosting. Refrigerate frosted brownie until firm, about 1 hour.
Cut brownie into 2 inch squares, making sure to clean the knife after each cut. Or use a 2 1/2 inch heart shaped cookie cutter and to cut out heart shapes, as close together as possible, making sure to clean the cutter after every heart.
Use the red Jelly Belly beans to make X's and the white Jelly Belly beans to make O's on top of the square brownies. Cover the heart brownies with the pink Jelly Belly beans.