Gridiron Cake
Show a ton of spirit with this cake decorated with your favorite football team's colors. You make it from scratch, and Jelly Belly has the colors for any team you can think of!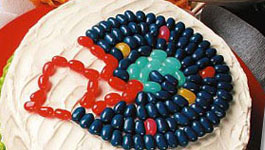 Ingredients
2 cups sugar
1 cup butter or margarine, softened
4 eggs, separated
1 cup cooked, mashed potatoes, at room temperature
1 teaspoon ground cloves
1 teaspoon ground nutmeg
1 ½ cups all-purpose flour
½ cup milk
2 teaspoons baking powder
1 cup chopped walnuts
1 can (16 oz) can prepared white frosting
1 ½ cups Jelly Belly jelly beans, in team colors for decorating
Directions
Beat sugar and butter or margarine in large bowl with mixer until smooth.
Beat in egg yolks, potatoes, cinnamon, cloves and nutmeg until smooth.
Blend in flour, milk and baking powder.
Beat egg whites in medium bowl with electric mixer until slightly stiff; carefully fold into batter.
Fold in walnuts.
Spread evenly into two lightly greased 9-inch round cake pans.
Bake at 350°F for 35 to 40 minutes or until toothpick inserted in center comes out clean.
Cool in pans 10 minutes; remove from pans. Cool completely on wire racks.
Fill and frost cake with white frosting.
With a toothpick draw helmet pattern lightly in frosting.
Using Jelly Belly jelly beans, decorate cake in football helmet design, using the colors of your favorite team.