Gifts Between $20 - $50
Showing 1 - 3 of 3 products
Gifts Between $20 - $50
Previous
1
Next
Jelly Belly Fruit Fantasy gift basket. Eight bags of fruit flavored jelly beans like Very Cherry, Blueberry, Lemon Lime and more.

See more...

Quantity

Product Info

Fruit lovers rejoice! This whimsical basket is sure to please with an assortment of our most popular fruit flavors packaged in individual bags. Enjoy the delicious flavors of Very Cherry, Juicy Pear, Blueberry, Red Apple, Sunkist Tangerine, Strawberry Jam, Lemon Lime, Top Banana and Watermelon presented in a beautiful basket. This is a selection bound to please the eyes as well as the taste buds!<br><br>Net weight 3 lb 9 oz.

SALE

Jelly Belly Birthday Bash gift basket. Contains a nice selection of candy, like Jelly Belly jelly beans and Jordan Almonds. A perfect gift!

See more...

Price: $39.99

SALE: $35.99

Quantity

Product Info

Whether they are going to be five or a hundred, our Jelly Belly Birthday Bash Basket delivers big smiles on the big day. It features a 20 flavor Ultra Gift Box, boxes of Tropical Mix and Jelly Belly Sours in a willow basket. Your friend will also find one of our best-selling Confections, a bag of Jordan Almonds. Recipients agree - it's better than cake! Basket includes:<br><ul><li>One Ultra Gift Box </li> <li>One Jordan Almonds Gift Bag </li> <li>One Licorice Bridge Mix Gift Bag </li> <li>One Sours Mix Box </li> <li>One Tropical Mix Box </li> <li>Three Happy Birthday Assorted Flavors bags </li> </ul> Net weight 33.25 oz



Save 20%* on Jelly Belly Snow Cone Syrups and Accessories when you buy a Jelly Belly Snow Cone Machine! Just add this item to your shopping cart and begin shopping for delicious Jelly Belly Syrups to flavor your snow cones. Discounts will be applied during checkout. Offer expires Wednesday, 8/31/16 at 11:59 pm.

Enjoy a summer treat (or an anytime treat) with the Jelly Belly Electric Snow Cone Machine, designed to shave ice into mounds of soft, fluffy snow. It's a great way to treat your family and friends on a hot summer day.

See more...

Quantity

Product Info

<font size="3">The Jelly Belly ice shaver quickly and easily shaves ice to make delicious snow cones, and icy treats. With its oversized push button, this snow cone machine is fast and fun for the whole family. Works with both ice cubes and ice molds to create popular snow cones and summer ice treats. </font><div><font size="3"><br> Additional features include: <br></font><ul><li><font size="3">Shave pre-formed blocks of ice or ice cubes into fluffy shaved ice, or use the two supplied freezable&nbsp;ice&nbsp;bowls/molds (that fit into the top of the shaver), to make perfect snow cones, slushies and party drinks. <br></font></li><li><span style="font-size: medium;">Removable cone cup holder.&nbsp;</span><br></li><li><font size="3">Use regular cups or snow cone cups. </font></li><li><font size="3">Adjustable blade for coarse or fine shaving. </font></li><li><font size="3">Perfect for use with Jelly Belly flavored syrups.</font></li><li><font size="3">Dimensions 8" x 9" x 14.5"</font></li></ul>NOTE: <a href="https://www.jellybelly.com/snow-cone-machines-syrups-cups-straws/c/639">Syrups</a> and <a href="https://www.jellybelly.com/snow-cone-machines-syrups-cups-straws/c/639">Cups</a> are not included, but may be purchased separately. <br><br> <font size="2" line-height="12px">*To receive a 20% discount on <a href="https://www.jellybelly.com/snow-cone-machines-syrups-cups-straws/c/639">Jelly Belly Snow Cone Syrups and Accessories</a> with your order, just add the Jelly Belly Snow Cone Machine to your cart. Once you do that, subsequent additions of <a href="https://www.jellybelly.com/snow-cone-machines-syrups-cups-straws/c/639">Jelly Belly Syrups and Accessories</a> will automatically be discounted when you check out. Discount offer is not valid on additional purchases of Jelly Belly Snow Cone Machines on the same order. NO COUPON CODE IS REQUIRED. Offer valid until Wednesday, August 31, 2016 at 11:59 pm PT, or while supplies last. Not valid on prior purchases or other products. Valid only for orders placed on JellyBelly.com, not valid for any other products, previous purchases or purchases on MyJellyBelly, affiliated websites, other websites or physical stores. Discounts have no cash value and there are no rain checks.</font> <!-- BEGIN PROMO END PROMO --> </div>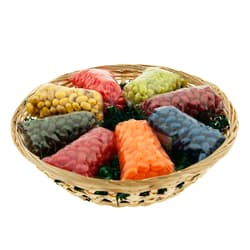 Jelly Belly Fruit Fantasy gift basket. Eight bags of fruit flavored jelly beans like Very Cherry, Blueberry, Lemon Lime and more.
See more...
Quantity
Product Info
Fruit lovers rejoice! This whimsical basket is sure to please with an assortment of our most popular fruit flavors packaged in individual bags. Enjoy the delicious flavors of Very Cherry, Juicy Pear, Blueberry, Red Apple, Sunkist Tangerine, Strawberry Jam, Lemon Lime, Top Banana and Watermelon presented in a beautiful basket. This is a selection bound to please the eyes as well as the taste buds!<br><br>Net weight 3 lb 9 oz.
SALE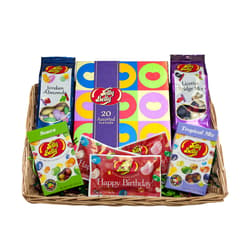 Jelly Belly Birthday Bash gift basket. Contains a nice selection of candy, like Jelly Belly jelly beans and Jordan Almonds. A perfect gift!
See more...
Price: $39.99
SALE: $35.99
Quantity
Product Info
Whether they are going to be five or a hundred, our Jelly Belly Birthday Bash Basket delivers big smiles on the big day. It features a 20 flavor Ultra Gift Box, boxes of Tropical Mix and Jelly Belly Sours in a willow basket. Your friend will also find one of our best-selling Confections, a bag of Jordan Almonds. Recipients agree - it's better than cake! Basket includes:<br><ul><li>One Ultra Gift Box </li> <li>One Jordan Almonds Gift Bag </li> <li>One Licorice Bridge Mix Gift Bag </li> <li>One Sours Mix Box </li> <li>One Tropical Mix Box </li> <li>Three Happy Birthday Assorted Flavors bags </li> </ul> Net weight 33.25 oz


Save 20%* on Jelly Belly Snow Cone Syrups and Accessories when you buy a Jelly Belly Snow Cone Machine! Just add this item to your shopping cart and begin shopping for delicious Jelly Belly Syrups to flavor your snow cones. Discounts will be applied during checkout. Offer expires Wednesday, 8/31/16 at 11:59 pm.

Enjoy a summer treat (or an anytime treat) with the Jelly Belly Electric Snow Cone Machine, designed to shave ice into mounds of soft, fluffy snow. It's a great way to treat your family and friends on a hot summer day.
See more...
Quantity
Product Info
<font size="3">The Jelly Belly ice shaver quickly and easily shaves ice to make delicious snow cones, and icy treats. With its oversized push button, this snow cone machine is fast and fun for the whole family. Works with both ice cubes and ice molds to create popular snow cones and summer ice treats. </font><div><font size="3"><br> Additional features include: <br></font><ul><li><font size="3">Shave pre-formed blocks of ice or ice cubes into fluffy shaved ice, or use the two supplied freezable&nbsp;ice&nbsp;bowls/molds (that fit into the top of the shaver), to make perfect snow cones, slushies and party drinks. <br></font></li><li><span style="font-size: medium;">Removable cone cup holder.&nbsp;</span><br></li><li><font size="3">Use regular cups or snow cone cups. </font></li><li><font size="3">Adjustable blade for coarse or fine shaving. </font></li><li><font size="3">Perfect for use with Jelly Belly flavored syrups.</font></li><li><font size="3">Dimensions 8" x 9" x 14.5"</font></li></ul>NOTE: <a href="https://www.jellybelly.com/snow-cone-machines-syrups-cups-straws/c/639">Syrups</a> and <a href="https://www.jellybelly.com/snow-cone-machines-syrups-cups-straws/c/639">Cups</a> are not included, but may be purchased separately. <br><br> <font size="2" line-height="12px">*To receive a 20% discount on <a href="https://www.jellybelly.com/snow-cone-machines-syrups-cups-straws/c/639">Jelly Belly Snow Cone Syrups and Accessories</a> with your order, just add the Jelly Belly Snow Cone Machine to your cart. Once you do that, subsequent additions of <a href="https://www.jellybelly.com/snow-cone-machines-syrups-cups-straws/c/639">Jelly Belly Syrups and Accessories</a> will automatically be discounted when you check out. Discount offer is not valid on additional purchases of Jelly Belly Snow Cone Machines on the same order. NO COUPON CODE IS REQUIRED. Offer valid until Wednesday, August 31, 2016 at 11:59 pm PT, or while supplies last. Not valid on prior purchases or other products. Valid only for orders placed on JellyBelly.com, not valid for any other products, previous purchases or purchases on MyJellyBelly, affiliated websites, other websites or physical stores. Discounts have no cash value and there are no rain checks.</font> <!-- BEGIN PROMO END PROMO --> </div>
Jelly Belly Also Recommends
Previous
1
Next
Sort by:
Default
Price: Low to High
Price: High to Low
Alphabetical: A-Z
Alphabetical: Z-A
Date Added: Most Recent First
Date Added: Most Recent Last