Deck the Halls Chocolate Balls
Get more holiday ideas ►
Jelly Belly beans hidden inside homemade chocolate balls make for a sweet holiday surprise. It's as easy as melting chocolate!
Recipe makes 8 chocolate balls.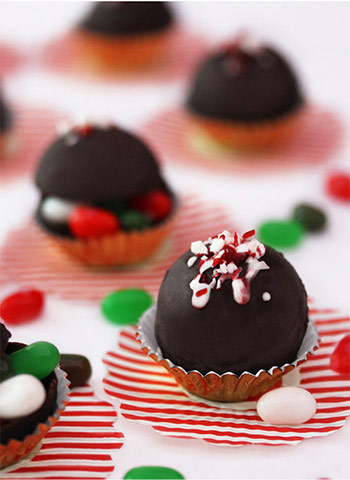 Ingredients
Supplies
Ball/sphere-shaped silicon mold
Small spoon
Small pastry brush
Directions
Chop chocolate in small pieces and place microwave-safe bowl. Microwave chocolate 20-30 seconds at a time, stirring after each heating.
Using small spoon, line silicone molds with chocolate creating two half-domes. Reserve remaining chocolate.
Refrigerate 15 minutes until set. When chocolate sets, remove from molds.
Fill half spheres with 6-8 Jelly Belly jelly beans.
Microwave reserved chocolate 10 seconds at a time until melted, stirring after each heating.
Place one half sphere on top of the other. Seal by brushing melted chocolate along the edges where the two halves meet. Gently press halves together.
Allow chocolate to set completely.