Christmas Tree Brownies
Get more holiday ideas ►
Kids will love decorating these fun and festive holiday treats. Use your favorite box mix, homemade recipe, or try our recipe.
Prep Time: 10 minutes
Cook Time: 25 minutes
Total Time: 45 minutes
Recipe makes 15 Christmas Tree Brownies.
Ingredients
Brownies
8 oz dark chocolate, finely chopped
3/4 cup unsalted butter, cubed
1 cup granulated sugar
1/2 cup all-purpose flour
3 tbsp cocoa powder
1/2 tsp baking powder
1/2 tsp salt
3 eggs, at room temperature
1 tsp vanilla
Decoration
Directions
Brownies
Preheat oven to 350°F. Grease 9-inch square pan with butter. Line bottom and sides with parchment paper, leaving 2-inch overhang; set aside.
Place chocolate and butter in heatproof bowl set over barely simmering water; heat, stirring occasionally, until melted and smooth. Remove from heat and stir in sugar. Let cool slightly. Whisk together flour, cocoa, baking powder and salt; set aside.
Stir eggs into chocolate mixture, one at a time, until well combined. Stir in vanilla, then stir in flour mixture until combined. Scrape into prepared pan; smooth top.
Bake for 20 to 25 minutes or until only a few moist crumbs cling to toothpick when inserted in center. Let cool completely in pan on rack.
Assembly
Using parchment paper as handles, remove brownies from pan and transfer to cutting board. Peel off parchment paper. Cut into Christmas tree shapes by first cutting into 3 rows. Then cut each row into 5 triangles, reserving any smaller pieces for another use.
Stir food coloring into frosting until blended; spoon into small resealable plastic bag (snip corner of bag) or pastry bag with tip.
Squeeze bag to pipe frosting over brownies to resemble garland.
Decorate with Jelly Belly jelly beans as Christmas lights and insert a pretzel stick into bottom of triangle as the tree trunk. Cover and store in airtight container for up to 2 days.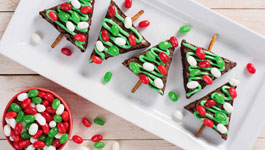 Video Tutorial
Tips
Use leftover brownie pieces to make brownie and jelly bean ice cream sundaes.
Make brownies ahead and freeze in airtight container for up to 1 month.
For a quick alternative, use prepared brownie mix and ready-to-use colored icing in tubes.