Cherry Blossom Cake
Get more spring ideas ►
Celebrate spring with this gorgeous cake, the perfect finishing touch for parties, bridal showers and other festive occasions.
Recipe makes 16 servings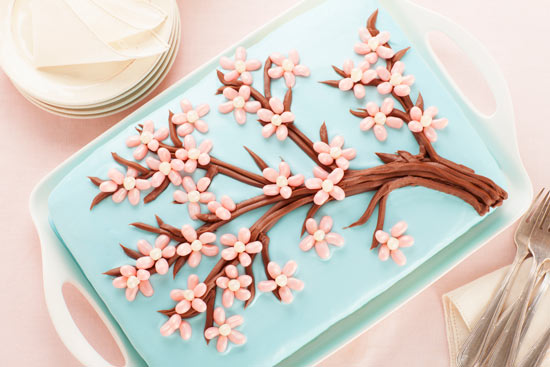 Directions
Preheat oven to 350°F. Grease and line 9 X 13-inch cake pan with parchment paper. Prepare cake mix according to package directions, substituting buttermilk for water. Pour batter into prepared pan. Bake 24 to 27 minutes or until golden and toothpick inserted in center comes out clean. Transfer to wire rack and cool 10 minutes. Invert and cool completely. When cool, refrigerate cake for at least 1 hour.
Spoon 1/4 cup of the vanilla frosting and the chocolate frosting into separate pastry or recloseable bags. Press out the excess air from the bags and set aside. Tint remaining vanilla frosting light blue with food coloring.
Place chilled cake on foil-covered piece of cardboard cut to fit, and transfer to a wire rack over a sheet pan. Spread very thin layer of light blue frosting over top and sides of cake to make smooth. Spoon remaining light blue frosting into a microwaveable glass measuring cup. Microwave frosting, stirring every 5 seconds until frosting is the texture of slightly whipped cream, about 20 to 30 seconds. Pour frosting over cake to cover completely, using small spatula to spread frosting evenly on sides of the cake, to cover. Transfer cake to refrigerator to set, about 30 minutes.
Snip a small (scant 1/4 inch) corner from bag with the milk chocolate frosting. Place chilled cake onto serving platter. Pipe overlapping lines of milk chocolate frosting, starting from one corner diagonally across cake as main branch. (It may be helpful to use a toothpick to lightly score the branch into the blue frosting first and then pipe the chocolate frosting following the score marks.) Pipe more lines of frosting to thicken the main branch. Next pipe shorter lines of frosting for smaller branches. (Follow your instincts to create a graceful branching pattern.) For flowers, arrange 5 Jewel Bubble Gum Jelly Belly beans so that the short ends are touching in clusters all over the branches on the cake. Using small knife, cut Jewel Cream Soda Jelly Belly beans in half crosswise. Snip small corner from bag with vanilla frosting. Pipe dots of vanilla frosting in center of flower clusters and press half jelly bean, cut side down, into frosting.