Candy Corn Caramel Corn
Get more holiday ideas ►
For anyone who loves Candy Corn, these are a must try! They will make great centerpieces for a harvest themed party.
Recipe makes up to 8 servings.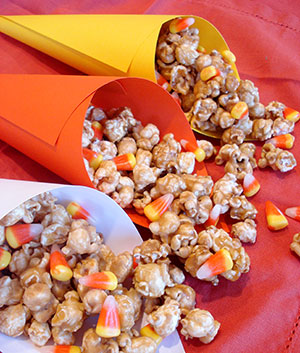 Ingredients
3 cups plain popped popcorn
1 cup soft caramel square candies, unwrapped
3 tablespoons cream
1 cup (8 oz) Candy Corn
Directions
Place popped popcorn in large bowl and set aside.
In separate microwave-safe bowl, combine caramel squares and cream. Heat on medium-high power in microwave for about one minute; stop after 20 seconds to avoid over boiling and to stir. Repeat until caramel is melted.
Gradually pour hot mixture over popcorn, stirring with large spoon. Gently toss the popcorn for even coating. Add Candy Corn and continue stirring until well blended.
Serve in decorative cones (instructions below) or form into balls and wrap in plastic wrap.
Decorative Cone Directions
Cut 7-inch square card stock and roll into desired cone shape. Leave small hole at the bottom of cone and secure shape with double-sided tape.
Place Styrofoam or floral foam in tray or box. Height of foam should be about ½-inch shorter than sides of tray or box. Insert 5-inch skewers into foam approximately 3-inches apart. Fill tray with Candy Corn to cover foam.
Place cones on skewers, holding cone upright and fill with Candy Corn Caramel Corn.