Bake-Sale Pies
Get more ideas for your next party ►
Decorate these bake-sale cupcakes with Very Cherry or Blueberry Jelly Belly beans to make a "pie-rific" twist on a classic cupcake.
These little cupcakes are so pie-like you'll want to cool them on your windowsill before you eat them! Bring them to any bake sale and watch them turn heads.
Also a delightful addition to country or harvest-themed parties.
Recipe makes 24 cupcakes.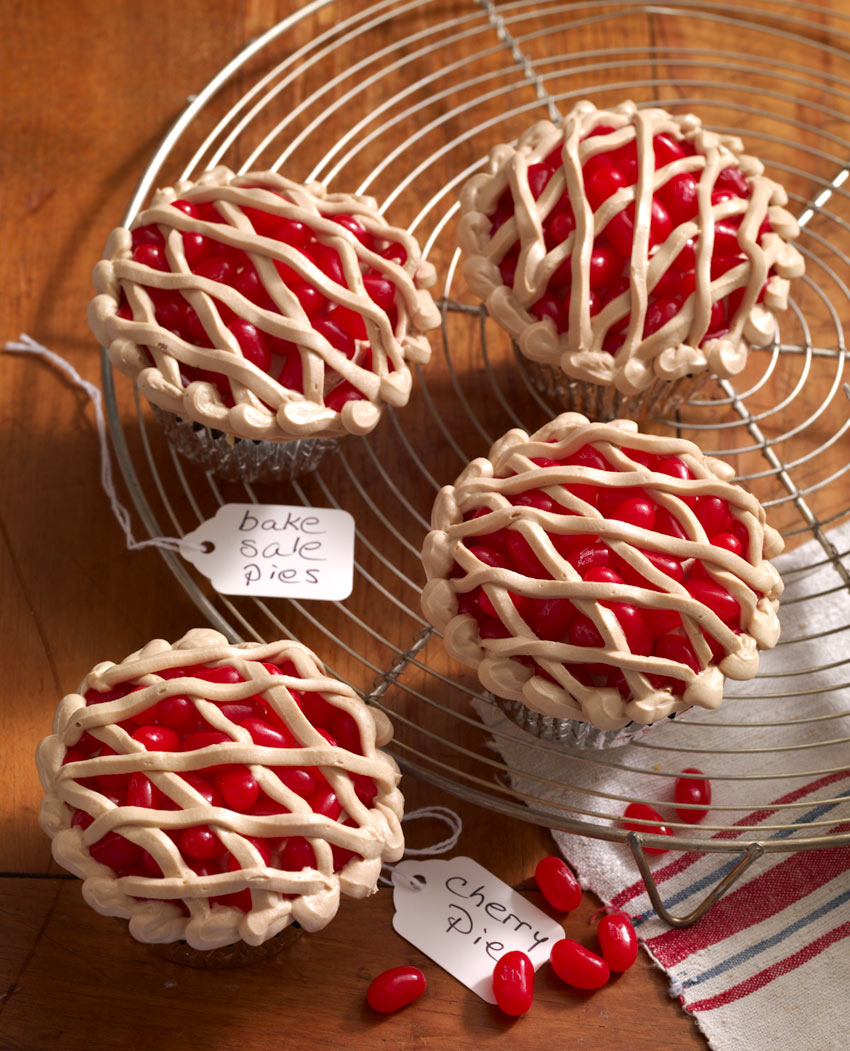 Ingredients
24 vanilla cupcakes baked in silver foil liners
2 cans (16 oz each) vanilla frosting
Yellow food coloring
1 teaspoon unsweetened cocoa powder
1 cup each (about 8 oz) Very Cherry and Blueberry Jelly Belly jelly beans
Directions
Tint the vanilla frosting with 3 to 4 drops of the yellow food coloring and the cocoa powder to make a light brown for the piecrust. Spread some of the frosting on top of a cupcake, leaving the ¼ inch of the cupcake edge exposed. For the filling, arrange about 25 like-colored jelly beans close together on top of the cupcake. Repeat with the remaining cupcakes and like-colored jelly beans.
Spoon the remaining light brown frosting into a ziplock bag, press out the excess air, and seal. Snip a small (⅛ inch) corner from the bag. For the lattice rust, pipe 4 or 5 lines across the top of a cupcake, about ½ inch apart. Pipe 4 or 5 more lines, on the diagonal. Pipe a beaded edge around top of cupcake. Repeat with the remaining cupcakes and frosting.
Arrange the cupcakes on a wire rack and make bake-sale tags to display the cupcakes.