3 Skinny Desserts for Every Sweet Tooth
Get more ideas for spring ►
Looking for a way to keep your Easter celebration light, but still satisfying? These three skinny desserts are crowd-pleasers for anyone watching what they eat.
1)
Springtime Chocolate-Filled Strawberries
A springtime delight that combines the decadence of chocolate ganache, fresh strawberries and Jelly Belly jelly beans for garnish.
Good for Easter Brunch, spring entertaining, bridal showers, Mother's Day, cocktail parties and garden parties.
Recipe makes up to 18 chocolate-filled strawberries. 62 calories per strawberry.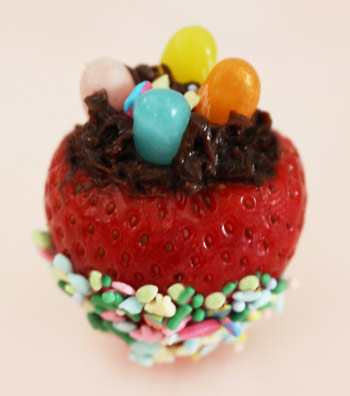 Ingredients
12-18 medium to large fresh strawberries
Jelly Belly jelly beans (3-4 per strawberry)
Edible sugar glue (available at craft stores)
Cake sprinkles
3 ½ oz dark chocolate, finely chopped (preferably 70% cacao)
½ cup heavy cream
1 tablespoon (½ oz) unsalted butter, softened
Directions
Chop chocolate and place in heatproof bowl, set aside. Bring cream to boil in saucepan over medium-high heat. Pour cream over chocolate in separate bowl, stir to melt. Add butter and whisk till smooth. Let cool to thicken up, then whisk until fluffy.
While ganache cools, use melon baller to scoop tops off the strawberry to create small cup. Trim bottom tip of strawberry with knife to make it stand up.
Apply thin layer of edible sugar glue (found in cake decorating/crafts stores), to bottom half of strawberry, then spoon on sprinkles.
Once cool, fill pastry bag or resealable freezer bag (with the corner snipped off) with ganache. Pipe approximately two teaspoons of chocolate ganache into strawberries.
Finish with three or four Jelly Belly jelly beans pressed into ganache.
2)
Jelly Belly Nest Cookies
Coconut cookies become spring nests for Jelly Belly beans.
A darling treat for an Easter egg hunt, spring birthday parties and baby showers.
Recipe makes up to 30 cookies. 86 calories per cookie.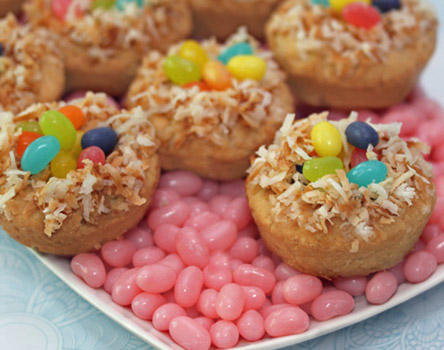 Ingredients
1 ½ cups all-purpose flour
1 teaspoon baking powder
½ teaspoon salt
½ cup shortening
½ cup sugar
1 egg white
1 teaspoon vanilla extract
2 tablespoons milk
2 cups shredded sweetened coconut
Directions
Heat oven to 375°F. Sift together flour, baking powder and salt and set aside. In large bowl, beat shortening, sugar, egg white and vanilla extract until well blended. Add flour mixture and milk until blended. Stir in coconut.
Roll dough into a ball, divide in half. Roll 15 one-inch balls from each half and place on ungreased baking sheet. Make thumb print depression in center of each ball to form nest.
Bake 6 minutes. Remove from oven and place 4 Jelly Belly beans in center of each cookie. Return to oven and bake 5 more minutes. Transfer cookies to wire rack to cool.
3)
Meringue Nests with Raspberry Sorbet
Lighten things up with an airy nest of meringue dotted with Jelly Belly beans and topped with a refreshing scoop of any fruit sorbet.
An easy and refined dessert to end Easter brunch, bridal showers or spring and summer dinner parties.
Recipe makes up to 6 nests. 206 calories per nest.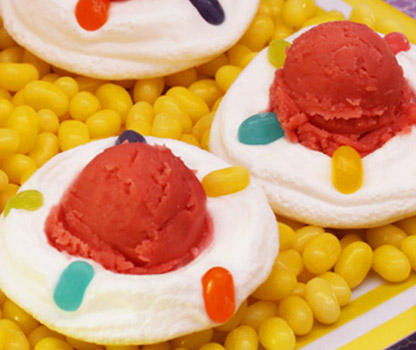 Ingredients
6 egg whites
Pinch of salt
1 ½ teaspoons cream of tartar
½ teaspoon almond extract
1 ½ cups sugar
4-6 oz Jelly Belly jelly beans
Raspberry sorbet for center
Directions
Preheat oven to 170°F. Line baking sheet with parchment paper. Set aside.
In clean dry mixing bowl, beat egg whites, salt and cream of tartar with electric mixer until soft peaks form. With mixer running, add almond extract and gradually add sugar. Beat until stiff and glossy.
Spoon meringue into pastry bag with large flower tip. Pipe meringue onto parchment lined baking sheet in nest shape. Leave center large enough to hold scoop of ice cream. Select a variety of colors of jelly beans, or a single color theme, such as blue or red jelly beans. Gently press jelly beans into sides of meringue. Bake 2 ½ hours or until hard. Store in air tight container. Serve with scoop of sorbet/sherbet in center. Can be made two days ahead.