Showing 1 - 12 of 826 products
Quantity

Product Info

Stay warm when the temperatures start to fall with a little help from Jelly Belly. Our Snow Cap features a super-soft warm polyester lining, knitted shell and is embroidered with the Jelly Belly logo. Ear flaps on this fashionable hat help to keep the warm in and the winter chill out.<br><br>Adult size. One size fits most. ​

Assorted Organic Fruit Flavored Snacks contain individual serving-sized bags with six assorted fruit flavors, ideal for lunchboxes, travel and individual snacking.


See more...

Quantity

Product Info

Organic Fruit Flavored Snacks from the makers of Jelly Belly are USDA-Certified organic, made with non-GMO ingredients, colors from natural sources, and flavored with real fruit juices. Six delicious fruit flavors include Apple, Berry, Cherry, Lemon, Orange and Strawberry in fun,charming rainforest animal shapes that both adults and kids will enjoy. This tasty treat will have them coming back for more! <br><br> 12 Count Case - 4.8 oz box<br><br> NOTE: 1 box contains 6 - 0.8 oz pouch of fruit flavored snacks.<br> Each 0.8 oz bag is randomly packaged and may not contain all flavors or shapes.<br><br> Organic Fruit Flavored Snacks are made with non-GMO ingredients, certified OU Kosher, vegetarian and free of gelatin, gluten, peanuts, fat and dairy.<br><br>

Jelly Belly Online Gift Card - All-Occasion

See more...

Quantity

Product Info

Jelly Belly Gift Card - All-Occasion<br><p>Gift-Giving in Just 3 Easy Steps:<br> 1. Choose from a variety of occasions<br> 2. Select the value<br> 3. Email it to the lucky recipient.</p> <p>A Jelly Belly Gift Card makes a convenient and fun last-minute gift for any ocassion! We offer a variety of fun, colorful designs in denominations up to $100 so that you can give just the right gift.</p> <p><strong>Gift Card information</strong></p> <ul> <li>Jelly Belly Online Gift Cards do not expire.</li> <li>Jelly Belly Online Gift Cards are only redeemable at JellyBelly.com.</li> <li>Jelly Belly Online Gift Cards are not redeemable for cash, except to the extent required by law. </li> <li>Jelly Belly Online Gift Cards may not be used to purchase other Gift Cards or applied to any order containing another Gift Card. You'll need to provide a credit card, debit card, or other valid payment method to pay for the order if you have Gift Cards in your Shopping Cart. </li> <li>Discount coupons and promotional codes may not be applied to purchases of Jelly Belly Online Gift Cards. If you use a discount or promotional code when ordering a combination of physical Jelly Belly products and Jelly Belly Online Gift Cards, the discount will only be applied to the physical products on your order.</li> </ul> <!-- <p>Please note: These Gift Cards have no fees or expiration date and are redeemable only at JellyBelly.com. Discount coupons and codes may not be applied to purchases of online gift cards.</p><p><!--[if gte mso 9]><xml> <w:worddocument> <w:view>Normal</w:view> <w:zoom>0</w:zoom> <w:trackmoves> <w:trackformatting> <w:punctuationkerning> <w:validateagainstschemas> <w:saveifxmlinvalid>false</w:saveifxmlinvalid> <w:ignoremixedcontent>false</w:ignoremixedcontent> <w:alwaysshowplaceholdertext>false</w:alwaysshowplaceholdertext> <w:donotpromoteqf> <w:lidthemeother>EN-US</w:lidthemeother> <w:lidthemeasian>X-NONE</w:lidthemeasian> <w:lidthemecomplexscript>X-NONE</w:lidthemecomplexscript> <w:compatibility> <w:breakwrappedtables> <w:snaptogridincell> <w:wraptextwithpunct> <w:useasianbreakrules> <w:dontgrowautofit> <w:splitpgbreakandparamark> <w:enableopentypekerning> <w:dontflipmirrorindents> <w:overridetablestylehps> </w:overridetablestylehps></w:dontflipmirrorindents></w:enableopentypekerning></w:splitpgbreakandparamark></w:dontgrowautofit></w:useasianbreakrules></w:wraptextwithpunct></w:snaptogridincell></w:breakwrappedtables></w:compatibility> <w:browserlevel>MicrosoftInternetExplorer4</w:browserlevel> <m:mathpr> <m:mathfont m:val="Cambria Math"> <m:brkbin m:val="before"> <m:brkbinsub m:val="--"> <m:smallfrac m:val="off"> <m:dispdef> <m:lmargin m:val="0"> <m:rmargin m:val="0"> <m:defjc m:val="centerGroup"> <m:wrapindent m:val="1440"> <m:intlim m:val="subSup"> <m:narylim m:val="undOvr"> </m:narylim></m:intlim></m:wrapindent></m:defjc></m:rmargin></m:lmargin></m:dispdef></m:smallfrac></m:brkbinsub></m:brkbin></m:mathfont></m:mathpr></w:donotpromoteqf></w:validateagainstschemas></w:punctuationkerning></w:trackformatting></w:trackmoves></w:worddocument> <!--[endif]----><p></p><p><!--[if gte mso 9]><xml> <w:LatentStyles DefLockedState="false" DefUnhideWhenUsed="false" DefSemiHidden="false" DefQFormat="false" DefPriority="99" LatentStyleCount="371"> <w:LsdException Locked="false" Priority="0" QFormat="true" Name="Normal"/> <w:LsdException Locked="false" Priority="9" QFormat="true" Name="heading 1"/> <w:LsdException Locked="false" Priority="9" SemiHidden="true" UnhideWhenUsed="true" QFormat="true" Name="heading 2"/> <w:LsdException Locked="false" Priority="9" SemiHidden="true" UnhideWhenUsed="true" QFormat="true" Name="heading 3"/> <w:LsdException Locked="false" Priority="9" SemiHidden="true" UnhideWhenUsed="true" QFormat="true" Name="heading 4"/> <w:LsdException Locked="false" Priority="9" SemiHidden="true" UnhideWhenUsed="true" QFormat="true" Name="heading 5"/> <w:LsdException Locked="false" Priority="9" SemiHidden="true" UnhideWhenUsed="true" QFormat="true" Name="heading 6"/> <w:LsdException Locked="false" Priority="9" SemiHidden="true" UnhideWhenUsed="true" QFormat="true" Name="heading 7"/> <w:LsdException Locked="false" Priority="9" SemiHidden="true" UnhideWhenUsed="true" QFormat="true" Name="heading 8"/> <w:LsdException Locked="false" Priority="9" SemiHidden="true" UnhideWhenUsed="true" QFormat="true" Name="heading 9"/> <w:LsdException Locked="false" SemiHidden="true" UnhideWhenUsed="true" Name="index 1"/> <w:LsdException Locked="false" SemiHidden="true" UnhideWhenUsed="true" Name="index 2"/> <w:LsdException Locked="false" SemiHidden="true" UnhideWhenUsed="true" Name="index 3"/> <w:LsdException Locked="false" SemiHidden="true" UnhideWhenUsed="true" Name="index 4"/> <w:LsdException Locked="false" SemiHidden="true" UnhideWhenUsed="true" Name="index 5"/> <w:LsdException Locked="false" SemiHidden="true" UnhideWhenUsed="true" Name="index 6"/> <w:LsdException Locked="false" SemiHidden="true" UnhideWhenUsed="true" Name="index 7"/> <w:LsdException Locked="false" SemiHidden="true" UnhideWhenUsed="true" Name="index 8"/> <w:LsdException Locked="false" SemiHidden="true" UnhideWhenUsed="true" Name="index 9"/> <w:LsdException Locked="false" Priority="39" SemiHidden="true" UnhideWhenUsed="true" Name="toc 1"/> <w:LsdException Locked="false" Priority="39" SemiHidden="true" UnhideWhenUsed="true" Name="toc 2"/> <w:LsdException Locked="false" Priority="39" SemiHidden="true" UnhideWhenUsed="true" Name="toc 3"/> <w:LsdException Locked="false" Priority="39" SemiHidden="true" UnhideWhenUsed="true" Name="toc 4"/> <w:LsdException Locked="false" Priority="39" SemiHidden="true" UnhideWhenUsed="true" Name="toc 5"/> <w:LsdException Locked="false" Priority="39" SemiHidden="true" UnhideWhenUsed="true" Name="toc 6"/> <w:LsdException Locked="false" Priority="39" SemiHidden="true" UnhideWhenUsed="true" Name="toc 7"/> <w:LsdException Locked="false" Priority="39" SemiHidden="true" UnhideWhenUsed="true" Name="toc 8"/> <w:LsdException Locked="false" Priority="39" SemiHidden="true" UnhideWhenUsed="true" Name="toc 9"/> <w:LsdException Locked="false" SemiHidden="true" UnhideWhenUsed="true" Name="Normal Indent"/> <w:LsdException Locked="false" SemiHidden="true" UnhideWhenUsed="true" Name="footnote text"/> <w:LsdException Locked="false" SemiHidden="true" UnhideWhenUsed="true" Name="annotation text"/> <w:LsdException Locked="false" SemiHidden="true" UnhideWhenUsed="true" Name="header"/> <w:LsdException Locked="false" SemiHidden="true" UnhideWhenUsed="true" Name="footer"/> <w:LsdException Locked="false" SemiHidden="true" UnhideWhenUsed="true" Name="index heading"/> <w:LsdException Locked="false" Priority="35" SemiHidden="true" UnhideWhenUsed="true" QFormat="true" Name="caption"/> <w:LsdException Locked="false" SemiHidden="true" UnhideWhenUsed="true" Name="table of figures"/> <w:LsdException Locked="false" SemiHidden="true" UnhideWhenUsed="true" Name="envelope address"/> <w:LsdException Locked="false" SemiHidden="true" UnhideWhenUsed="true" Name="envelope return"/> <w:LsdException Locked="false" SemiHidden="true" UnhideWhenUsed="true" Name="footnote reference"/> <w:LsdException Locked="false" SemiHidden="true" UnhideWhenUsed="true" Name="annotation reference"/> <w:LsdException Locked="false" SemiHidden="true" UnhideWhenUsed="true" Name="line number"/> <w:LsdException Locked="false" SemiHidden="true" UnhideWhenUsed="true" Name="page number"/> <w:LsdException Locked="false" SemiHidden="true" UnhideWhenUsed="true" Name="endnote reference"/> <w:LsdException Locked="false" SemiHidden="true" UnhideWhenUsed="true" Name="endnote text"/> <w:LsdException Locked="false" SemiHidden="true" UnhideWhenUsed="true" Name="table of authorities"/> <w:LsdException Locked="false" SemiHidden="true" UnhideWhenUsed="true" Name="macro"/> <w:LsdException Locked="false" SemiHidden="true" UnhideWhenUsed="true" Name="toa heading"/> <w:LsdException Locked="false" SemiHidden="true" UnhideWhenUsed="true" Name="List"/> <w:LsdException Locked="false" SemiHidden="true" UnhideWhenUsed="true" Name="List Bullet"/> <w:LsdException Locked="false" SemiHidden="true" UnhideWhenUsed="true" Name="List Number"/> <w:LsdException Locked="false" SemiHidden="true" UnhideWhenUsed="true" Name="List 2"/> <w:LsdException Locked="false" SemiHidden="true" UnhideWhenUsed="true" Name="List 3"/> <w:LsdException Locked="false" SemiHidden="true" UnhideWhenUsed="true" Name="List 4"/> <w:LsdException Locked="false" SemiHidden="true" UnhideWhenUsed="true" Name="List 5"/> <w:LsdException Locked="false" SemiHidden="true" UnhideWhenUsed="true" Name="List Bullet 2"/> <w:LsdException Locked="false" SemiHidden="true" UnhideWhenUsed="true" Name="List Bullet 3"/> <w:LsdException Locked="false" SemiHidden="true" UnhideWhenUsed="true" Name="List Bullet 4"/> <w:LsdException Locked="false" SemiHidden="true" UnhideWhenUsed="true" Name="List Bullet 5"/> <w:LsdException Locked="false" SemiHidden="true" UnhideWhenUsed="true" Name="List Number 2"/> <w:LsdException Locked="false" SemiHidden="true" UnhideWhenUsed="true" Name="List Number 3"/> <w:LsdException Locked="false" SemiHidden="true" UnhideWhenUsed="true" Name="List Number 4"/> <w:LsdException Locked="false" SemiHidden="true" UnhideWhenUsed="true" Name="List Number 5"/> <w:LsdException Locked="false" Priority="10" QFormat="true" Name="Title"/> <w:LsdException Locked="false" SemiHidden="true" UnhideWhenUsed="true" Name="Closing"/> <w:LsdException Locked="false" SemiHidden="true" UnhideWhenUsed="true" Name="Signature"/> <w:LsdException Locked="false" Priority="1" SemiHidden="true" UnhideWhenUsed="true" Name="Default Paragraph Font"/> <w:LsdException Locked="false" SemiHidden="true" UnhideWhenUsed="true" Name="Body Text"/> <w:LsdException Locked="false" SemiHidden="true" UnhideWhenUsed="true" Name="Body Text Indent"/> <w:LsdException Locked="false" SemiHidden="true" UnhideWhenUsed="true" Name="List Continue"/> <w:LsdException Locked="false" SemiHidden="true" UnhideWhenUsed="true" Name="List Continue 2"/> <w:LsdException Locked="false" SemiHidden="true" UnhideWhenUsed="true" Name="List Continue 3"/> <w:LsdException Locked="false" SemiHidden="true" UnhideWhenUsed="true" Name="List Continue 4"/> <w:LsdException Locked="false" SemiHidden="true" UnhideWhenUsed="true" Name="List Continue 5"/> <w:LsdException Locked="false" SemiHidden="true" UnhideWhenUsed="true" Name="Message Header"/> <w:LsdException Locked="false" Priority="11" QFormat="true" Name="Subtitle"/> <w:LsdException Locked="false" SemiHidden="true" UnhideWhenUsed="true" Name="Salutation"/> <w:LsdException Locked="false" SemiHidden="true" UnhideWhenUsed="true" Name="Date"/> <w:LsdException Locked="false" SemiHidden="true" UnhideWhenUsed="true" Name="Body Text First Indent"/> <w:LsdException Locked="false" SemiHidden="true" UnhideWhenUsed="true" Name="Body Text First Indent 2"/> <w:LsdException Locked="false" SemiHidden="true" UnhideWhenUsed="true" Name="Note Heading"/> <w:LsdException Locked="false" SemiHidden="true" UnhideWhenUsed="true" Name="Body Text 2"/> <w:LsdException Locked="false" SemiHidden="true" UnhideWhenUsed="true" Name="Body Text 3"/> <w:LsdException Locked="false" SemiHidden="true" UnhideWhenUsed="true" Name="Body Text Indent 2"/> <w:LsdException Locked="false" SemiHidden="true" UnhideWhenUsed="true" Name="Body Text Indent 3"/> <w:LsdException Locked="false" SemiHidden="true" UnhideWhenUsed="true" Name="Block Text"/> <w:LsdException Locked="false" SemiHidden="true" UnhideWhenUsed="true" Name="Hyperlink"/> <w:LsdException Locked="false" SemiHidden="true" UnhideWhenUsed="true" Name="FollowedHyperlink"/> <w:LsdException Locked="false" Priority="22" QFormat="true" Name="Strong"/> <w:LsdException Locked="false" Priority="20" QFormat="true" Name="Emphasis"/> <w:LsdException Locked="false" SemiHidden="true" UnhideWhenUsed="true" Name="Document Map"/> <w:LsdException Locked="false" SemiHidden="true" UnhideWhenUsed="true" Name="Plain Text"/> <w:LsdException Locked="false" SemiHidden="true" UnhideWhenUsed="true" Name="E-mail Signature"/> <w:LsdException Locked="false" SemiHidden="true" UnhideWhenUsed="true" Name="HTML Top of Form"/> <w:LsdException Locked="false" SemiHidden="true" UnhideWhenUsed="true" Name="HTML Bottom of Form"/> <w:LsdException Locked="false" SemiHidden="true" UnhideWhenUsed="true" Name="Normal (Web)"/> <w:LsdException Locked="false" SemiHidden="true" UnhideWhenUsed="true" Name="HTML Acronym"/> <w:LsdException Locked="false" SemiHidden="true" UnhideWhenUsed="true" Name="HTML Address"/> <w:LsdException Locked="false" SemiHidden="true" UnhideWhenUsed="true" Name="HTML Cite"/> <w:LsdException Locked="false" SemiHidden="true" UnhideWhenUsed="true" Name="HTML Code"/> <w:LsdException Locked="false" SemiHidden="true" UnhideWhenUsed="true" Name="HTML Definition"/> <w:LsdException Locked="false" SemiHidden="true" UnhideWhenUsed="true" Name="HTML Keyboard"/> <w:LsdException Locked="false" SemiHidden="true" UnhideWhenUsed="true" Name="HTML Preformatted"/> <w:LsdException Locked="false" SemiHidden="true" UnhideWhenUsed="true" Name="HTML Sample"/> <w:LsdException Locked="false" SemiHidden="true" UnhideWhenUsed="true" Name="HTML Typewriter"/> <w:LsdException Locked="false" SemiHidden="true" UnhideWhenUsed="true" Name="HTML Variable"/> <w:LsdException Locked="false" SemiHidden="true" UnhideWhenUsed="true" Name="Normal Table"/> <w:LsdException Locked="false" SemiHidden="true" UnhideWhenUsed="true" Name="annotation subject"/> <w:LsdException Locked="false" SemiHidden="true" UnhideWhenUsed="true" Name="No List"/> <w:LsdException Locked="false" SemiHidden="true" UnhideWhenUsed="true" Name="Outline List 1"/> <w:LsdException Locked="false" SemiHidden="true" UnhideWhenUsed="true" Name="Outline List 2"/> <w:LsdException Locked="false" SemiHidden="true" UnhideWhenUsed="true" Name="Outline List 3"/> <w:LsdException Locked="false" SemiHidden="true" UnhideWhenUsed="true" Name="Table Simple 1"/> <w:LsdException Locked="false" SemiHidden="true" UnhideWhenUsed="true" Name="Table Simple 2"/> <w:LsdException Locked="false" SemiHidden="true" UnhideWhenUsed="true" Name="Table Simple 3"/> <w:LsdException Locked="false" SemiHidden="true" UnhideWhenUsed="true" Name="Table Classic 1"/> <w:LsdException Locked="false" SemiHidden="true" UnhideWhenUsed="true" Name="Table Classic 2"/> <w:LsdException Locked="false" SemiHidden="true" UnhideWhenUsed="true" Name="Table Classic 3"/> <w:LsdException Locked="false" SemiHidden="true" UnhideWhenUsed="true" Name="Table Classic 4"/> <w:LsdException Locked="false" SemiHidden="true" UnhideWhenUsed="true" Name="Table Colorful 1"/> <w:LsdException Locked="false" SemiHidden="true" UnhideWhenUsed="true" Name="Table Colorful 2"/> <w:LsdException Locked="false" SemiHidden="true" UnhideWhenUsed="true" Name="Table Colorful 3"/> <w:LsdException Locked="false" SemiHidden="true" UnhideWhenUsed="true" Name="Table Columns 1"/> <w:LsdException Locked="false" SemiHidden="true" UnhideWhenUsed="true" Name="Table Columns 2"/> <w:LsdException Locked="false" SemiHidden="true" UnhideWhenUsed="true" Name="Table Columns 3"/> <w:LsdException Locked="false" SemiHidden="true" UnhideWhenUsed="true" Name="Table Columns 4"/> <w:LsdException Locked="false" SemiHidden="true" UnhideWhenUsed="true" Name="Table Columns 5"/> <w:LsdException Locked="false" SemiHidden="true" UnhideWhenUsed="true" Name="Table Grid 1"/> <w:LsdException Locked="false" SemiHidden="true" UnhideWhenUsed="true" Name="Table Grid 2"/> <w:LsdException Locked="false" SemiHidden="true" UnhideWhenUsed="true" Name="Table Grid 3"/> <w:LsdException Locked="false" SemiHidden="true" UnhideWhenUsed="true" Name="Table Grid 4"/> <w:LsdException Locked="false" SemiHidden="true" UnhideWhenUsed="true" Name="Table Grid 5"/> <w:LsdException Locked="false" SemiHidden="true" UnhideWhenUsed="true" Name="Table Grid 6"/> <w:LsdException Locked="false" SemiHidden="true" UnhideWhenUsed="true" Name="Table Grid 7"/> <w:LsdException Locked="false" SemiHidden="true" UnhideWhenUsed="true" Name="Table Grid 8"/> <w:LsdException Locked="false" SemiHidden="true" UnhideWhenUsed="true" Name="Table List 1"/> <w:LsdException Locked="false" SemiHidden="true" UnhideWhenUsed="true" Name="Table List 2"/> <w:LsdException Locked="false" SemiHidden="true" UnhideWhenUsed="true" Name="Table List 3"/> <w:LsdException Locked="false" SemiHidden="true" UnhideWhenUsed="true" Name="Table List 4"/> <w:LsdException Locked="false" SemiHidden="true" UnhideWhenUsed="true" Name="Table List 5"/> <w:LsdException Locked="false" SemiHidden="true" UnhideWhenUsed="true" Name="Table List 6"/> <w:LsdException Locked="false" SemiHidden="true" UnhideWhenUsed="true" Name="Table List 7"/> <w:LsdException Locked="false" SemiHidden="true" UnhideWhenUsed="true" Name="Table List 8"/> <w:LsdException Locked="false" SemiHidden="true" UnhideWhenUsed="true" Name="Table 3D effects 1"/> <w:LsdException Locked="false" SemiHidden="true" UnhideWhenUsed="true" Name="Table 3D effects 2"/> <w:LsdException Locked="false" SemiHidden="true" UnhideWhenUsed="true" Name="Table 3D effects 3"/> <w:LsdException Locked="false" SemiHidden="true" UnhideWhenUsed="true" Name="Table Contemporary"/> <w:LsdException Locked="false" SemiHidden="true" UnhideWhenUsed="true" Name="Table Elegant"/> <w:LsdException Locked="false" SemiHidden="true" UnhideWhenUsed="true" Name="Table Professional"/> <w:LsdException Locked="false" SemiHidden="true" UnhideWhenUsed="true" Name="Table Subtle 1"/> <w:LsdException Locked="false" SemiHidden="true" UnhideWhenUsed="true" Name="Table Subtle 2"/> <w:LsdException Locked="false" SemiHidden="true" UnhideWhenUsed="true" Name="Table Web 1"/> <w:LsdException Locked="false" SemiHidden="true" UnhideWhenUsed="true" Name="Table Web 2"/> <w:LsdException Locked="false" SemiHidden="true" UnhideWhenUsed="true" Name="Table Web 3"/> <w:LsdException Locked="false" SemiHidden="true" UnhideWhenUsed="true" Name="Balloon Text"/> <w:LsdException Locked="false" Priority="39" Name="Table Grid"/> <w:LsdException Locked="false" SemiHidden="true" UnhideWhenUsed="true" Name="Table Theme"/> <w:LsdException Locked="false" SemiHidden="true" Name="Placeholder Text"/> <w:LsdException Locked="false" Priority="1" QFormat="true" Name="No Spacing"/> <w:LsdException Locked="false" Priority="60" Name="Light Shading"/> <w:LsdException Locked="false" Priority="61" Name="Light List"/> <w:LsdException Locked="false" Priority="62" Name="Light Grid"/> <w:LsdException Locked="false" Priority="63" Name="Medium Shading 1"/> <w:LsdException Locked="false" Priority="64" Name="Medium Shading 2"/> <w:LsdException Locked="false" Priority="65" Name="Medium List 1"/> <w:LsdException Locked="false" Priority="66" Name="Medium List 2"/> <w:LsdException Locked="false" Priority="67" Name="Medium Grid 1"/> <w:LsdException Locked="false" Priority="68" Name="Medium Grid 2"/> <w:LsdException Locked="false" Priority="69" Name="Medium Grid 3"/> <w:LsdException Locked="false" Priority="70" Name="Dark List"/> <w:LsdException Locked="false" Priority="71" Name="Colorful Shading"/> <w:LsdException Locked="false" Priority="72" Name="Colorful List"/> <w:LsdException Locked="false" Priority="73" Name="Colorful Grid"/> <w:LsdException Locked="false" Priority="60" Name="Light Shading Accent 1"/> <w:LsdException Locked="false" Priority="61" Name="Light List Accent 1"/> <w:LsdException Locked="false" Priority="62" Name="Light Grid Accent 1"/> <w:LsdException Locked="false" Priority="63" Name="Medium Shading 1 Accent 1"/> <w:LsdException Locked="false" Priority="64" Name="Medium Shading 2 Accent 1"/> <w:LsdException Locked="false" Priority="65" Name="Medium List 1 Accent 1"/> <w:LsdException Locked="false" SemiHidden="true" Name="Revision"/> <w:LsdException Locked="false" Priority="34" QFormat="true" Name="List Paragraph"/> <w:LsdException Locked="false" Priority="29" QFormat="true" Name="Quote"/> <w:LsdException Locked="false" Priority="30" QFormat="true" Name="Intense Quote"/> <w:LsdException Locked="false" Priority="66" Name="Medium List 2 Accent 1"/> <w:LsdException Locked="false" Priority="67" Name="Medium Grid 1 Accent 1"/> <w:LsdException Locked="false" Priority="68" Name="Medium Grid 2 Accent 1"/> <w:LsdException Locked="false" Priority="69" Name="Medium Grid 3 Accent 1"/> <w:LsdException Locked="false" Priority="70" Name="Dark List Accent 1"/> <w:LsdException Locked="false" Priority="71" Name="Colorful Shading Accent 1"/> <w:LsdException Locked="false" Priority="72" Name="Colorful List Accent 1"/> <w:LsdException Locked="false" Priority="73" Name="Colorful Grid Accent 1"/> <w:LsdException Locked="false" Priority="60" Name="Light Shading Accent 2"/> <w:LsdException Locked="false" Priority="61" Name="Light List Accent 2"/> <w:LsdException Locked="false" Priority="62" Name="Light Grid Accent 2"/> <w:LsdException Locked="false" Priority="63" Name="Medium Shading 1 Accent 2"/> <w:LsdException Locked="false" Priority="64" Name="Medium Shading 2 Accent 2"/> <w:LsdException Locked="false" Priority="65" Name="Medium List 1 Accent 2"/> <w:LsdException Locked="false" Priority="66" Name="Medium List 2 Accent 2"/> <w:LsdException Locked="false" Priority="67" Name="Medium Grid 1 Accent 2"/> <w:LsdException Locked="false" Priority="68" Name="Medium Grid 2 Accent 2"/> <w:LsdException Locked="false" Priority="69" Name="Medium Grid 3 Accent 2"/> <w:LsdException Locked="false" Priority="70" Name="Dark List Accent 2"/> <w:LsdException Locked="false" Priority="71" Name="Colorful Shading Accent 2"/> <w:LsdException Locked="false" Priority="72" Name="Colorful List Accent 2"/> <w:LsdException Locked="false" Priority="73" Name="Colorful Grid Accent 2"/> <w:LsdException Locked="false" Priority="60" Name="Light Shading Accent 3"/> <w:LsdException Locked="false" Priority="61" Name="Light List Accent 3"/> <w:LsdException Locked="false" Priority="62" Name="Light Grid Accent 3"/> <w:LsdException Locked="false" Priority="63" Name="Medium Shading 1 Accent 3"/> <w:LsdException Locked="false" Priority="64" Name="Medium Shading 2 Accent 3"/> <w:LsdException Locked="false" Priority="65" Name="Medium List 1 Accent 3"/> <w:LsdException Locked="false" Priority="66" Name="Medium List 2 Accent 3"/> <w:LsdException Locked="false" Priority="67" Name="Medium Grid 1 Accent 3"/> <w:LsdException Locked="false" Priority="68" Name="Medium Grid 2 Accent 3"/> <w:LsdException Locked="false" Priority="69" Name="Medium Grid 3 Accent 3"/> <w:LsdException Locked="false" Priority="70" Name="Dark List Accent 3"/> <w:LsdException Locked="false" Priority="71" Name="Colorful Shading Accent 3"/> <w:LsdException Locked="false" Priority="72" Name="Colorful List Accent 3"/> <w:LsdException Locked="false" Priority="73" Name="Colorful Grid Accent 3"/> <w:LsdException Locked="false" Priority="60" Name="Light Shading Accent 4"/> <w:LsdException Locked="false" Priority="61" Name="Light List Accent 4"/> <w:LsdException Locked="false" Priority="62" Name="Light Grid Accent 4"/> <w:LsdException Locked="false" Priority="63" Name="Medium Shading 1 Accent 4"/> <w:LsdException Locked="false" Priority="64" Name="Medium Shading 2 Accent 4"/> <w:LsdException Locked="false" Priority="65" Name="Medium List 1 Accent 4"/> <w:LsdException Locked="false" Priority="66" Name="Medium List 2 Accent 4"/> <w:LsdException Locked="false" Priority="67" Name="Medium Grid 1 Accent 4"/> <w:LsdException Locked="false" Priority="68" Name="Medium Grid 2 Accent 4"/> <w:LsdException Locked="false" Priority="69" Name="Medium Grid 3 Accent 4"/> <w:LsdException Locked="false" Priority="70" Name="Dark List Accent 4"/> <w:LsdException Locked="false" Priority="71" Name="Colorful Shading Accent 4"/> <w:LsdException Locked="false" Priority="72" Name="Colorful List Accent 4"/> <w:LsdException Locked="false" Priority="73" Name="Colorful Grid Accent 4"/> <w:LsdException Locked="false" Priority="60" Name="Light Shading Accent 5"/> <w:LsdException Locked="false" Priority="61" Name="Light List Accent 5"/> <w:LsdException Locked="false" Priority="62" Name="Light Grid Accent 5"/> <w:LsdException Locked="false" Priority="63" Name="Medium Shading 1 Accent 5"/> <w:LsdException Locked="false" Priority="64" Name="Medium Shading 2 Accent 5"/> <w:LsdException Locked="false" Priority="65" Name="Medium List 1 Accent 5"/> <w:LsdException Locked="false" Priority="66" Name="Medium List 2 Accent 5"/> <w:LsdException Locked="false" Priority="67" Name="Medium Grid 1 Accent 5"/> <w:LsdException Locked="false" Priority="68" Name="Medium Grid 2 Accent 5"/> <w:LsdException Locked="false" Priority="69" Name="Medium Grid 3 Accent 5"/> <w:LsdException Locked="false" Priority="70" Name="Dark List Accent 5"/> <w:LsdException Locked="false" Priority="71" Name="Colorful Shading Accent 5"/> <w:LsdException Locked="false" Priority="72" Name="Colorful List Accent 5"/> <w:LsdException Locked="false" Priority="73" Name="Colorful Grid Accent 5"/> <w:LsdException Locked="false" Priority="60" Name="Light Shading Accent 6"/> <w:LsdException Locked="false" Priority="61" Name="Light List Accent 6"/> <w:LsdException Locked="false" Priority="62" Name="Light Grid Accent 6"/> <w:LsdException Locked="false" Priority="63" Name="Medium Shading 1 Accent 6"/> <w:LsdException Locked="false" Priority="64" Name="Medium Shading 2 Accent 6"/> <w:LsdException Locked="false" Priority="65" Name="Medium List 1 Accent 6"/> <w:LsdException Locked="false" Priority="66" Name="Medium List 2 Accent 6"/> <w:LsdException Locked="false" Priority="67" Name="Medium Grid 1 Accent 6"/> <w:LsdException Locked="false" Priority="68" Name="Medium Grid 2 Accent 6"/> <w:LsdException Locked="false" Priority="69" Name="Medium Grid 3 Accent 6"/> <w:LsdException Locked="false" Priority="70" Name="Dark List Accent 6"/> <w:LsdException Locked="false" Priority="71" Name="Colorful Shading Accent 6"/> <w:LsdException Locked="false" Priority="72" Name="Colorful List Accent 6"/> <w:LsdException Locked="false" Priority="73" Name="Colorful Grid Accent 6"/> <w:LsdException Locked="false" Priority="19" QFormat="true" Name="Subtle Emphasis"/> <w:LsdException Locked="false" Priority="21" QFormat="true" Name="Intense Emphasis"/> <w:LsdException Locked="false" Priority="31" QFormat="true" Name="Subtle Reference"/> <w:LsdException Locked="false" Priority="32" QFormat="true" Name="Intense Reference"/> <w:LsdException Locked="false" Priority="33" QFormat="true" Name="Book Title"/> <w:LsdException Locked="false" Priority="37" SemiHidden="true" UnhideWhenUsed="true" Name="Bibliography"/> <w:LsdException Locked="false" Priority="39" SemiHidden="true" UnhideWhenUsed="true" QFormat="true" Name="TOC Heading"/> <w:LsdException Locked="false" Priority="41" Name="Plain Table 1"/> <w:LsdException Locked="false" Priority="42" Name="Plain Table 2"/> <w:LsdException Locked="false" Priority="43" Name="Plain Table 3"/> <w:LsdException Locked="false" Priority="44" Name="Plain Table 4"/> <w:LsdException Locked="false" Priority="45" Name="Plain Table 5"/> <w:LsdException Locked="false" Priority="40" Name="Grid Table Light"/> <w:LsdException Locked="false" Priority="46" Name="Grid Table 1 Light"/> <w:LsdException Locked="false" Priority="47" Name="Grid Table 2"/> <w:LsdException Locked="false" Priority="48" Name="Grid Table 3"/> <w:LsdException Locked="false" Priority="49" Name="Grid Table 4"/> <w:LsdException Locked="false" Priority="50" Name="Grid Table 5 Dark"/> <w:LsdException Locked="false" Priority="51" Name="Grid Table 6 Colorful"/> <w:LsdException Locked="false" Priority="52" Name="Grid Table 7 Colorful"/> <w:LsdException Locked="false" Priority="46" Name="Grid Table 1 Light Accent 1"/> <w:LsdException Locked="false" Priority="47" Name="Grid Table 2 Accent 1"/> <w:LsdException Locked="false" Priority="48" Name="Grid Table 3 Accent 1"/> <w:LsdException Locked="false" Priority="49" Name="Grid Table 4 Accent 1"/> <w:LsdException Locked="false" Priority="50" Name="Grid Table 5 Dark Accent 1"/> <w:LsdException Locked="false" Priority="51" Name="Grid Table 6 Colorful Accent 1"/> <w:LsdException Locked="false" Priority="52" Name="Grid Table 7 Colorful Accent 1"/> <w:LsdException Locked="false" Priority="46" Name="Grid Table 1 Light Accent 2"/> <w:LsdException Locked="false" Priority="47" Name="Grid Table 2 Accent 2"/> <w:LsdException Locked="false" Priority="48" Name="Grid Table 3 Accent 2"/> <w:LsdException Locked="false" Priority="49" Name="Grid Table 4 Accent 2"/> <w:LsdException Locked="false" Priority="50" Name="Grid Table 5 Dark Accent 2"/> <w:LsdException Locked="false" Priority="51" Name="Grid Table 6 Colorful Accent 2"/> <w:LsdException Locked="false" Priority="52" Name="Grid Table 7 Colorful Accent 2"/> <w:LsdException Locked="false" Priority="46" Name="Grid Table 1 Light Accent 3"/> <w:LsdException Locked="false" Priority="47" Name="Grid Table 2 Accent 3"/> <w:LsdException Locked="false" Priority="48" Name="Grid Table 3 Accent 3"/> <w:LsdException Locked="false" Priority="49" Name="Grid Table 4 Accent 3"/> <w:LsdException Locked="false" Priority="50" Name="Grid Table 5 Dark Accent 3"/> <w:LsdException Locked="false" Priority="51" Name="Grid Table 6 Colorful Accent 3"/> <w:LsdException Locked="false" Priority="52" Name="Grid Table 7 Colorful Accent 3"/> <w:LsdException Locked="false" Priority="46" Name="Grid Table 1 Light Accent 4"/> <w:LsdException Locked="false" Priority="47" Name="Grid Table 2 Accent 4"/> <w:LsdException Locked="false" Priority="48" Name="Grid Table 3 Accent 4"/> <w:LsdException Locked="false" Priority="49" Name="Grid Table 4 Accent 4"/> <w:LsdException Locked="false" Priority="50" Name="Grid Table 5 Dark Accent 4"/> <w:LsdException Locked="false" Priority="51" Name="Grid Table 6 Colorful Accent 4"/> <w:LsdException Locked="false" Priority="52" Name="Grid Table 7 Colorful Accent 4"/> <w:LsdException Locked="false" Priority="46" Name="Grid Table 1 Light Accent 5"/> <w:LsdException Locked="false" Priority="47" Name="Grid Table 2 Accent 5"/> <w:LsdException Locked="false" Priority="48" Name="Grid Table 3 Accent 5"/> <w:LsdException Locked="false" Priority="49" Name="Grid Table 4 Accent 5"/> <w:LsdException Locked="false" Priority="50" Name="Grid Table 5 Dark Accent 5"/> <w:LsdException Locked="false" Priority="51" Name="Grid Table 6 Colorful Accent 5"/> <w:LsdException Locked="false" Priority="52" Name="Grid Table 7 Colorful Accent 5"/> <w:LsdException Locked="false" Priority="46" Name="Grid Table 1 Light Accent 6"/> <w:LsdException Locked="false" Priority="47" Name="Grid Table 2 Accent 6"/> <w:LsdException Locked="false" Priority="48" Name="Grid Table 3 Accent 6"/> <w:LsdException Locked="false" Priority="49" Name="Grid Table 4 Accent 6"/> <w:LsdException Locked="false" Priority="50" Name="Grid Table 5 Dark Accent 6"/> <w:LsdException Locked="false" Priority="51" Name="Grid Table 6 Colorful Accent 6"/> <w:LsdException Locked="false" Priority="52" Name="Grid Table 7 Colorful Accent 6"/> <w:LsdException Locked="false" Priority="46" Name="List Table 1 Light"/> <w:LsdException Locked="false" Priority="47" Name="List Table 2"/> <w:LsdException Locked="false" Priority="48" Name="List Table 3"/> <w:LsdException Locked="false" Priority="49" Name="List Table 4"/> <w:LsdException Locked="false" Priority="50" Name="List Table 5 Dark"/> <w:LsdException Locked="false" Priority="51" Name="List Table 6 Colorful"/> <w:LsdException Locked="false" Priority="52" Name="List Table 7 Colorful"/> <w:LsdException Locked="false" Priority="46" Name="List Table 1 Light Accent 1"/> <w:LsdException Locked="false" Priority="47" Name="List Table 2 Accent 1"/> <w:LsdException Locked="false" Priority="48" Name="List Table 3 Accent 1"/> <w:LsdException Locked="false" Priority="49" Name="List Table 4 Accent 1"/> <w:LsdException Locked="false" Priority="50" Name="List Table 5 Dark Accent 1"/> <w:LsdException Locked="false" Priority="51" Name="List Table 6 Colorful Accent 1"/> <w:LsdException Locked="false" Priority="52" Name="List Table 7 Colorful Accent 1"/> <w:LsdException Locked="false" Priority="46" Name="List Table 1 Light Accent 2"/> <w:LsdException Locked="false" Priority="47" Name="List Table 2 Accent 2"/> <w:LsdException Locked="false" Priority="48" Name="List Table 3 Accent 2"/> <w:LsdException Locked="false" Priority="49" Name="List Table 4 Accent 2"/> <w:LsdException Locked="false" Priority="50" Name="List Table 5 Dark Accent 2"/> <w:LsdException Locked="false" Priority="51" Name="List Table 6 Colorful Accent 2"/> <w:LsdException Locked="false" Priority="52" Name="List Table 7 Colorful Accent 2"/> <w:LsdException Locked="false" Priority="46" Name="List Table 1 Light Accent 3"/> <w:LsdException Locked="false" Priority="47" Name="List Table 2 Accent 3"/> <w:LsdException Locked="false" Priority="48" Name="List Table 3 Accent 3"/> <w:LsdException Locked="false" Priority="49" Name="List Table 4 Accent 3"/> <w:LsdException Locked="false" Priority="50" Name="List Table 5 Dark Accent 3"/> <w:LsdException Locked="false" Priority="51" Name="List Table 6 Colorful Accent 3"/> <w:LsdException Locked="false" Priority="52" Name="List Table 7 Colorful Accent 3"/> <w:LsdException Locked="false" Priority="46" Name="List Table 1 Light Accent 4"/> <w:LsdException Locked="false" Priority="47" Name="List Table 2 Accent 4"/> <w:LsdException Locked="false" Priority="48" Name="List Table 3 Accent 4"/> <w:LsdException Locked="false" Priority="49" Name="List Table 4 Accent 4"/> <w:LsdException Locked="false" Priority="50" Name="List Table 5 Dark Accent 4"/> <w:LsdException Locked="false" Priority="51" Name="List Table 6 Colorful Accent 4"/> <w:LsdException Locked="false" Priority="52" Name="List Table 7 Colorful Accent 4"/> <w:LsdException Locked="false" Priority="46" Name="List Table 1 Light Accent 5"/> <w:LsdException Locked="false" Priority="47" Name="List Table 2 Accent 5"/> <w:LsdException Locked="false" Priority="48" Name="List Table 3 Accent 5"/> <w:LsdException Locked="false" Priority="49" Name="List Table 4 Accent 5"/> <w:LsdException Locked="false" Priority="50" Name="List Table 5 Dark Accent 5"/> <w:LsdException Locked="false" Priority="51" Name="List Table 6 Colorful Accent 5"/> <w:LsdException Locked="false" Priority="52" Name="List Table 7 Colorful Accent 5"/> <w:LsdException Locked="false" Priority="46" Name="List Table 1 Light Accent 6"/> <w:LsdException Locked="false" Priority="47" Name="List Table 2 Accent 6"/> <w:LsdException Locked="false" Priority="48" Name="List Table 3 Accent 6"/> <w:LsdException Locked="false" Priority="49" Name="List Table 4 Accent 6"/> <w:LsdException Locked="false" Priority="50" Name="List Table 5 Dark Accent 6"/> <w:LsdException Locked="false" Priority="51" Name="List Table 6 Colorful Accent 6"/> <w:LsdException Locked="false" Priority="52" Name="List Table 7 Colorful Accent 6"/> </w:LatentStyles> </xml><![endif]--><!--[if gte mso 10]> <style> /* Style Definitions */ table.MsoNormalTable {mso-style-name:"Table Normal"; mso-tstyle-rowband-size:0; mso-tstyle-colband-size:0; mso-style-noshow:yes; mso-style-priority:99; mso-style-parent:""; mso-padding-alt:0in 5.4pt 0in 5.4pt; mso-para-margin:0in; mso-para-margin-bottom:.0001pt; mso-pagination:widow-orphan; font-size:10.0pt; font-family:"Times New Roman","serif";} </style> <![endif]-->*This is an electronic gift card and no physical gift card will be mailed. Email may take 1 business day to be delivered. <br></p><br>

Quantity

Product Info

Jelly Belly Gift Card - Thank You<br><p>Gift-Giving in Just 3 Easy Steps:<br> 1. Choose from a variety of occasions<br> 2. Select the value<br> 3. Email it to the lucky recipient.</p> <p>A Jelly Belly Gift Card makes a convenient and fun last-minute thank you gift! We offer a variety of fun, colorful designs in denominations up to $100 so that you can give just the right gift.</p> <p><strong>Gift Card information</strong></p> <ul> <li>Jelly Belly Online Gift Cards do not expire.</li> <li>Jelly Belly Online Gift Cards are only redeemable at JellyBelly.com.</li> <li>Jelly Belly Online Gift Cards are not redeemable for cash, except to the extent required by law. </li> <li>Jelly Belly Online Gift Cards may not be used to purchase other Gift Cards or applied to any order containing another Gift Card. You'll need to provide a credit card, debit card, or other valid payment method to pay for the order if you have Gift Cards in your Shopping Cart. </li> <li>Discount coupons and promotional codes may not be applied to purchases of Jelly Belly Online Gift Cards. If you use a discount or promotional code when ordering a combination of physical Jelly Belly products and Jelly Belly Online Gift Cards, the discount will only be applied to the physical products on your order.</li> </ul> <!-- <p>Please note: These Gift Cards have no fees or expiration date and are redeemable only at JellyBelly.com. Discount coupons and codes may not be applied to purchases of online gift cards.</p><p><!--[if gte mso 9]><xml> <w:worddocument> <w:view>Normal</w:view> <w:zoom>0</w:zoom> <w:trackmoves> <w:trackformatting> <w:punctuationkerning> <w:validateagainstschemas> <w:saveifxmlinvalid>false</w:saveifxmlinvalid> <w:ignoremixedcontent>false</w:ignoremixedcontent> <w:alwaysshowplaceholdertext>false</w:alwaysshowplaceholdertext> <w:donotpromoteqf> <w:lidthemeother>EN-US</w:lidthemeother> <w:lidthemeasian>X-NONE</w:lidthemeasian> <w:lidthemecomplexscript>X-NONE</w:lidthemecomplexscript> <w:compatibility> <w:breakwrappedtables> <w:snaptogridincell> <w:wraptextwithpunct> <w:useasianbreakrules> <w:dontgrowautofit> <w:splitpgbreakandparamark> <w:enableopentypekerning> <w:dontflipmirrorindents> <w:overridetablestylehps> </w:overridetablestylehps></w:dontflipmirrorindents></w:enableopentypekerning></w:splitpgbreakandparamark></w:dontgrowautofit></w:useasianbreakrules></w:wraptextwithpunct></w:snaptogridincell></w:breakwrappedtables></w:compatibility> <w:browserlevel>MicrosoftInternetExplorer4</w:browserlevel> <m:mathpr> <m:mathfont m:val="Cambria Math"> <m:brkbin m:val="before"> <m:brkbinsub m:val="--"> <m:smallfrac m:val="off"> <m:dispdef> <m:lmargin m:val="0"> <m:rmargin m:val="0"> <m:defjc m:val="centerGroup"> <m:wrapindent m:val="1440"> <m:intlim m:val="subSup"> <m:narylim m:val="undOvr"> </m:narylim></m:intlim></m:wrapindent></m:defjc></m:rmargin></m:lmargin></m:dispdef></m:smallfrac></m:brkbinsub></m:brkbin></m:mathfont></m:mathpr></w:donotpromoteqf></w:validateagainstschemas></w:punctuationkerning></w:trackformatting></w:trackmoves></w:worddocument> <!--[endif]----><p></p><p><!--[if gte mso 9]><xml> <w:LatentStyles DefLockedState="false" DefUnhideWhenUsed="false" DefSemiHidden="false" DefQFormat="false" DefPriority="99" LatentStyleCount="371"> <w:LsdException Locked="false" Priority="0" QFormat="true" Name="Normal"/> <w:LsdException Locked="false" Priority="9" QFormat="true" Name="heading 1"/> <w:LsdException Locked="false" Priority="9" SemiHidden="true" UnhideWhenUsed="true" QFormat="true" Name="heading 2"/> <w:LsdException Locked="false" Priority="9" SemiHidden="true" UnhideWhenUsed="true" QFormat="true" Name="heading 3"/> <w:LsdException Locked="false" Priority="9" SemiHidden="true" UnhideWhenUsed="true" QFormat="true" Name="heading 4"/> <w:LsdException Locked="false" Priority="9" SemiHidden="true" UnhideWhenUsed="true" QFormat="true" Name="heading 5"/> <w:LsdException Locked="false" Priority="9" SemiHidden="true" UnhideWhenUsed="true" QFormat="true" Name="heading 6"/> <w:LsdException Locked="false" Priority="9" SemiHidden="true" UnhideWhenUsed="true" QFormat="true" Name="heading 7"/> <w:LsdException Locked="false" Priority="9" SemiHidden="true" UnhideWhenUsed="true" QFormat="true" Name="heading 8"/> <w:LsdException Locked="false" Priority="9" SemiHidden="true" UnhideWhenUsed="true" QFormat="true" Name="heading 9"/> <w:LsdException Locked="false" SemiHidden="true" UnhideWhenUsed="true" Name="index 1"/> <w:LsdException Locked="false" SemiHidden="true" UnhideWhenUsed="true" Name="index 2"/> <w:LsdException Locked="false" SemiHidden="true" UnhideWhenUsed="true" Name="index 3"/> <w:LsdException Locked="false" SemiHidden="true" UnhideWhenUsed="true" Name="index 4"/> <w:LsdException Locked="false" SemiHidden="true" UnhideWhenUsed="true" Name="index 5"/> <w:LsdException Locked="false" SemiHidden="true" UnhideWhenUsed="true" Name="index 6"/> <w:LsdException Locked="false" SemiHidden="true" UnhideWhenUsed="true" Name="index 7"/> <w:LsdException Locked="false" SemiHidden="true" UnhideWhenUsed="true" Name="index 8"/> <w:LsdException Locked="false" SemiHidden="true" UnhideWhenUsed="true" Name="index 9"/> <w:LsdException Locked="false" Priority="39" SemiHidden="true" UnhideWhenUsed="true" Name="toc 1"/> <w:LsdException Locked="false" Priority="39" SemiHidden="true" UnhideWhenUsed="true" Name="toc 2"/> <w:LsdException Locked="false" Priority="39" SemiHidden="true" UnhideWhenUsed="true" Name="toc 3"/> <w:LsdException Locked="false" Priority="39" SemiHidden="true" UnhideWhenUsed="true" Name="toc 4"/> <w:LsdException Locked="false" Priority="39" SemiHidden="true" UnhideWhenUsed="true" Name="toc 5"/> <w:LsdException Locked="false" Priority="39" SemiHidden="true" UnhideWhenUsed="true" Name="toc 6"/> <w:LsdException Locked="false" Priority="39" SemiHidden="true" UnhideWhenUsed="true" Name="toc 7"/> <w:LsdException Locked="false" Priority="39" SemiHidden="true" UnhideWhenUsed="true" Name="toc 8"/> <w:LsdException Locked="false" Priority="39" SemiHidden="true" UnhideWhenUsed="true" Name="toc 9"/> <w:LsdException Locked="false" SemiHidden="true" UnhideWhenUsed="true" Name="Normal Indent"/> <w:LsdException Locked="false" SemiHidden="true" UnhideWhenUsed="true" Name="footnote text"/> <w:LsdException Locked="false" SemiHidden="true" UnhideWhenUsed="true" Name="annotation text"/> <w:LsdException Locked="false" SemiHidden="true" UnhideWhenUsed="true" Name="header"/> <w:LsdException Locked="false" SemiHidden="true" UnhideWhenUsed="true" Name="footer"/> <w:LsdException Locked="false" SemiHidden="true" UnhideWhenUsed="true" Name="index heading"/> <w:LsdException Locked="false" Priority="35" SemiHidden="true" UnhideWhenUsed="true" QFormat="true" Name="caption"/> <w:LsdException Locked="false" SemiHidden="true" UnhideWhenUsed="true" Name="table of figures"/> <w:LsdException Locked="false" SemiHidden="true" UnhideWhenUsed="true" Name="envelope address"/> <w:LsdException Locked="false" SemiHidden="true" UnhideWhenUsed="true" Name="envelope return"/> <w:LsdException Locked="false" SemiHidden="true" UnhideWhenUsed="true" Name="footnote reference"/> <w:LsdException Locked="false" SemiHidden="true" UnhideWhenUsed="true" Name="annotation reference"/> <w:LsdException Locked="false" SemiHidden="true" UnhideWhenUsed="true" Name="line number"/> <w:LsdException Locked="false" SemiHidden="true" UnhideWhenUsed="true" Name="page number"/> <w:LsdException Locked="false" SemiHidden="true" UnhideWhenUsed="true" Name="endnote reference"/> <w:LsdException Locked="false" SemiHidden="true" UnhideWhenUsed="true" Name="endnote text"/> <w:LsdException Locked="false" SemiHidden="true" UnhideWhenUsed="true" Name="table of authorities"/> <w:LsdException Locked="false" SemiHidden="true" UnhideWhenUsed="true" Name="macro"/> <w:LsdException Locked="false" SemiHidden="true" UnhideWhenUsed="true" Name="toa heading"/> <w:LsdException Locked="false" SemiHidden="true" UnhideWhenUsed="true" Name="List"/> <w:LsdException Locked="false" SemiHidden="true" UnhideWhenUsed="true" Name="List Bullet"/> <w:LsdException Locked="false" SemiHidden="true" UnhideWhenUsed="true" Name="List Number"/> <w:LsdException Locked="false" SemiHidden="true" UnhideWhenUsed="true" Name="List 2"/> <w:LsdException Locked="false" SemiHidden="true" UnhideWhenUsed="true" Name="List 3"/> <w:LsdException Locked="false" SemiHidden="true" UnhideWhenUsed="true" Name="List 4"/> <w:LsdException Locked="false" SemiHidden="true" UnhideWhenUsed="true" Name="List 5"/> <w:LsdException Locked="false" SemiHidden="true" UnhideWhenUsed="true" Name="List Bullet 2"/> <w:LsdException Locked="false" SemiHidden="true" UnhideWhenUsed="true" Name="List Bullet 3"/> <w:LsdException Locked="false" SemiHidden="true" UnhideWhenUsed="true" Name="List Bullet 4"/> <w:LsdException Locked="false" SemiHidden="true" UnhideWhenUsed="true" Name="List Bullet 5"/> <w:LsdException Locked="false" SemiHidden="true" UnhideWhenUsed="true" Name="List Number 2"/> <w:LsdException Locked="false" SemiHidden="true" UnhideWhenUsed="true" Name="List Number 3"/> <w:LsdException Locked="false" SemiHidden="true" UnhideWhenUsed="true" Name="List Number 4"/> <w:LsdException Locked="false" SemiHidden="true" UnhideWhenUsed="true" Name="List Number 5"/> <w:LsdException Locked="false" Priority="10" QFormat="true" Name="Title"/> <w:LsdException Locked="false" SemiHidden="true" UnhideWhenUsed="true" Name="Closing"/> <w:LsdException Locked="false" SemiHidden="true" UnhideWhenUsed="true" Name="Signature"/> <w:LsdException Locked="false" Priority="1" SemiHidden="true" UnhideWhenUsed="true" Name="Default Paragraph Font"/> <w:LsdException Locked="false" SemiHidden="true" UnhideWhenUsed="true" Name="Body Text"/> <w:LsdException Locked="false" SemiHidden="true" UnhideWhenUsed="true" Name="Body Text Indent"/> <w:LsdException Locked="false" SemiHidden="true" UnhideWhenUsed="true" Name="List Continue"/> <w:LsdException Locked="false" SemiHidden="true" UnhideWhenUsed="true" Name="List Continue 2"/> <w:LsdException Locked="false" SemiHidden="true" UnhideWhenUsed="true" Name="List Continue 3"/> <w:LsdException Locked="false" SemiHidden="true" UnhideWhenUsed="true" Name="List Continue 4"/> <w:LsdException Locked="false" SemiHidden="true" UnhideWhenUsed="true" Name="List Continue 5"/> <w:LsdException Locked="false" SemiHidden="true" UnhideWhenUsed="true" Name="Message Header"/> <w:LsdException Locked="false" Priority="11" QFormat="true" Name="Subtitle"/> <w:LsdException Locked="false" SemiHidden="true" UnhideWhenUsed="true" Name="Salutation"/> <w:LsdException Locked="false" SemiHidden="true" UnhideWhenUsed="true" Name="Date"/> <w:LsdException Locked="false" SemiHidden="true" UnhideWhenUsed="true" Name="Body Text First Indent"/> <w:LsdException Locked="false" SemiHidden="true" UnhideWhenUsed="true" Name="Body Text First Indent 2"/> <w:LsdException Locked="false" SemiHidden="true" UnhideWhenUsed="true" Name="Note Heading"/> <w:LsdException Locked="false" SemiHidden="true" UnhideWhenUsed="true" Name="Body Text 2"/> <w:LsdException Locked="false" SemiHidden="true" UnhideWhenUsed="true" Name="Body Text 3"/> <w:LsdException Locked="false" SemiHidden="true" UnhideWhenUsed="true" Name="Body Text Indent 2"/> <w:LsdException Locked="false" SemiHidden="true" UnhideWhenUsed="true" Name="Body Text Indent 3"/> <w:LsdException Locked="false" SemiHidden="true" UnhideWhenUsed="true" Name="Block Text"/> <w:LsdException Locked="false" SemiHidden="true" UnhideWhenUsed="true" Name="Hyperlink"/> <w:LsdException Locked="false" SemiHidden="true" UnhideWhenUsed="true" Name="FollowedHyperlink"/> <w:LsdException Locked="false" Priority="22" QFormat="true" Name="Strong"/> <w:LsdException Locked="false" Priority="20" QFormat="true" Name="Emphasis"/> <w:LsdException Locked="false" SemiHidden="true" UnhideWhenUsed="true" Name="Document Map"/> <w:LsdException Locked="false" SemiHidden="true" UnhideWhenUsed="true" Name="Plain Text"/> <w:LsdException Locked="false" SemiHidden="true" UnhideWhenUsed="true" Name="E-mail Signature"/> <w:LsdException Locked="false" SemiHidden="true" UnhideWhenUsed="true" Name="HTML Top of Form"/> <w:LsdException Locked="false" SemiHidden="true" UnhideWhenUsed="true" Name="HTML Bottom of Form"/> <w:LsdException Locked="false" SemiHidden="true" UnhideWhenUsed="true" Name="Normal (Web)"/> <w:LsdException Locked="false" SemiHidden="true" UnhideWhenUsed="true" Name="HTML Acronym"/> <w:LsdException Locked="false" SemiHidden="true" UnhideWhenUsed="true" Name="HTML Address"/> <w:LsdException Locked="false" SemiHidden="true" UnhideWhenUsed="true" Name="HTML Cite"/> <w:LsdException Locked="false" SemiHidden="true" UnhideWhenUsed="true" Name="HTML Code"/> <w:LsdException Locked="false" SemiHidden="true" UnhideWhenUsed="true" Name="HTML Definition"/> <w:LsdException Locked="false" SemiHidden="true" UnhideWhenUsed="true" Name="HTML Keyboard"/> <w:LsdException Locked="false" SemiHidden="true" UnhideWhenUsed="true" Name="HTML Preformatted"/> <w:LsdException Locked="false" SemiHidden="true" UnhideWhenUsed="true" Name="HTML Sample"/> <w:LsdException Locked="false" SemiHidden="true" UnhideWhenUsed="true" Name="HTML Typewriter"/> <w:LsdException Locked="false" SemiHidden="true" UnhideWhenUsed="true" Name="HTML Variable"/> <w:LsdException Locked="false" SemiHidden="true" UnhideWhenUsed="true" Name="Normal Table"/> <w:LsdException Locked="false" SemiHidden="true" UnhideWhenUsed="true" Name="annotation subject"/> <w:LsdException Locked="false" SemiHidden="true" UnhideWhenUsed="true" Name="No List"/> <w:LsdException Locked="false" SemiHidden="true" UnhideWhenUsed="true" Name="Outline List 1"/> <w:LsdException Locked="false" SemiHidden="true" UnhideWhenUsed="true" Name="Outline List 2"/> <w:LsdException Locked="false" SemiHidden="true" UnhideWhenUsed="true" Name="Outline List 3"/> <w:LsdException Locked="false" SemiHidden="true" UnhideWhenUsed="true" Name="Table Simple 1"/> <w:LsdException Locked="false" SemiHidden="true" UnhideWhenUsed="true" Name="Table Simple 2"/> <w:LsdException Locked="false" SemiHidden="true" UnhideWhenUsed="true" Name="Table Simple 3"/> <w:LsdException Locked="false" SemiHidden="true" UnhideWhenUsed="true" Name="Table Classic 1"/> <w:LsdException Locked="false" SemiHidden="true" UnhideWhenUsed="true" Name="Table Classic 2"/> <w:LsdException Locked="false" SemiHidden="true" UnhideWhenUsed="true" Name="Table Classic 3"/> <w:LsdException Locked="false" SemiHidden="true" UnhideWhenUsed="true" Name="Table Classic 4"/> <w:LsdException Locked="false" SemiHidden="true" UnhideWhenUsed="true" Name="Table Colorful 1"/> <w:LsdException Locked="false" SemiHidden="true" UnhideWhenUsed="true" Name="Table Colorful 2"/> <w:LsdException Locked="false" SemiHidden="true" UnhideWhenUsed="true" Name="Table Colorful 3"/> <w:LsdException Locked="false" SemiHidden="true" UnhideWhenUsed="true" Name="Table Columns 1"/> <w:LsdException Locked="false" SemiHidden="true" UnhideWhenUsed="true" Name="Table Columns 2"/> <w:LsdException Locked="false" SemiHidden="true" UnhideWhenUsed="true" Name="Table Columns 3"/> <w:LsdException Locked="false" SemiHidden="true" UnhideWhenUsed="true" Name="Table Columns 4"/> <w:LsdException Locked="false" SemiHidden="true" UnhideWhenUsed="true" Name="Table Columns 5"/> <w:LsdException Locked="false" SemiHidden="true" UnhideWhenUsed="true" Name="Table Grid 1"/> <w:LsdException Locked="false" SemiHidden="true" UnhideWhenUsed="true" Name="Table Grid 2"/> <w:LsdException Locked="false" SemiHidden="true" UnhideWhenUsed="true" Name="Table Grid 3"/> <w:LsdException Locked="false" SemiHidden="true" UnhideWhenUsed="true" Name="Table Grid 4"/> <w:LsdException Locked="false" SemiHidden="true" UnhideWhenUsed="true" Name="Table Grid 5"/> <w:LsdException Locked="false" SemiHidden="true" UnhideWhenUsed="true" Name="Table Grid 6"/> <w:LsdException Locked="false" SemiHidden="true" UnhideWhenUsed="true" Name="Table Grid 7"/> <w:LsdException Locked="false" SemiHidden="true" UnhideWhenUsed="true" Name="Table Grid 8"/> <w:LsdException Locked="false" SemiHidden="true" UnhideWhenUsed="true" Name="Table List 1"/> <w:LsdException Locked="false" SemiHidden="true" UnhideWhenUsed="true" Name="Table List 2"/> <w:LsdException Locked="false" SemiHidden="true" UnhideWhenUsed="true" Name="Table List 3"/> <w:LsdException Locked="false" SemiHidden="true" UnhideWhenUsed="true" Name="Table List 4"/> <w:LsdException Locked="false" SemiHidden="true" UnhideWhenUsed="true" Name="Table List 5"/> <w:LsdException Locked="false" SemiHidden="true" UnhideWhenUsed="true" Name="Table List 6"/> <w:LsdException Locked="false" SemiHidden="true" UnhideWhenUsed="true" Name="Table List 7"/> <w:LsdException Locked="false" SemiHidden="true" UnhideWhenUsed="true" Name="Table List 8"/> <w:LsdException Locked="false" SemiHidden="true" UnhideWhenUsed="true" Name="Table 3D effects 1"/> <w:LsdException Locked="false" SemiHidden="true" UnhideWhenUsed="true" Name="Table 3D effects 2"/> <w:LsdException Locked="false" SemiHidden="true" UnhideWhenUsed="true" Name="Table 3D effects 3"/> <w:LsdException Locked="false" SemiHidden="true" UnhideWhenUsed="true" Name="Table Contemporary"/> <w:LsdException Locked="false" SemiHidden="true" UnhideWhenUsed="true" Name="Table Elegant"/> <w:LsdException Locked="false" SemiHidden="true" UnhideWhenUsed="true" Name="Table Professional"/> <w:LsdException Locked="false" SemiHidden="true" UnhideWhenUsed="true" Name="Table Subtle 1"/> <w:LsdException Locked="false" SemiHidden="true" UnhideWhenUsed="true" Name="Table Subtle 2"/> <w:LsdException Locked="false" SemiHidden="true" UnhideWhenUsed="true" Name="Table Web 1"/> <w:LsdException Locked="false" SemiHidden="true" UnhideWhenUsed="true" Name="Table Web 2"/> <w:LsdException Locked="false" SemiHidden="true" UnhideWhenUsed="true" Name="Table Web 3"/> <w:LsdException Locked="false" SemiHidden="true" UnhideWhenUsed="true" Name="Balloon Text"/> <w:LsdException Locked="false" Priority="39" Name="Table Grid"/> <w:LsdException Locked="false" SemiHidden="true" UnhideWhenUsed="true" Name="Table Theme"/> <w:LsdException Locked="false" SemiHidden="true" Name="Placeholder Text"/> <w:LsdException Locked="false" Priority="1" QFormat="true" Name="No Spacing"/> <w:LsdException Locked="false" Priority="60" Name="Light Shading"/> <w:LsdException Locked="false" Priority="61" Name="Light List"/> <w:LsdException Locked="false" Priority="62" Name="Light Grid"/> <w:LsdException Locked="false" Priority="63" Name="Medium Shading 1"/> <w:LsdException Locked="false" Priority="64" Name="Medium Shading 2"/> <w:LsdException Locked="false" Priority="65" Name="Medium List 1"/> <w:LsdException Locked="false" Priority="66" Name="Medium List 2"/> <w:LsdException Locked="false" Priority="67" Name="Medium Grid 1"/> <w:LsdException Locked="false" Priority="68" Name="Medium Grid 2"/> <w:LsdException Locked="false" Priority="69" Name="Medium Grid 3"/> <w:LsdException Locked="false" Priority="70" Name="Dark List"/> <w:LsdException Locked="false" Priority="71" Name="Colorful Shading"/> <w:LsdException Locked="false" Priority="72" Name="Colorful List"/> <w:LsdException Locked="false" Priority="73" Name="Colorful Grid"/> <w:LsdException Locked="false" Priority="60" Name="Light Shading Accent 1"/> <w:LsdException Locked="false" Priority="61" Name="Light List Accent 1"/> <w:LsdException Locked="false" Priority="62" Name="Light Grid Accent 1"/> <w:LsdException Locked="false" Priority="63" Name="Medium Shading 1 Accent 1"/> <w:LsdException Locked="false" Priority="64" Name="Medium Shading 2 Accent 1"/> <w:LsdException Locked="false" Priority="65" Name="Medium List 1 Accent 1"/> <w:LsdException Locked="false" SemiHidden="true" Name="Revision"/> <w:LsdException Locked="false" Priority="34" QFormat="true" Name="List Paragraph"/> <w:LsdException Locked="false" Priority="29" QFormat="true" Name="Quote"/> <w:LsdException Locked="false" Priority="30" QFormat="true" Name="Intense Quote"/> <w:LsdException Locked="false" Priority="66" Name="Medium List 2 Accent 1"/> <w:LsdException Locked="false" Priority="67" Name="Medium Grid 1 Accent 1"/> <w:LsdException Locked="false" Priority="68" Name="Medium Grid 2 Accent 1"/> <w:LsdException Locked="false" Priority="69" Name="Medium Grid 3 Accent 1"/> <w:LsdException Locked="false" Priority="70" Name="Dark List Accent 1"/> <w:LsdException Locked="false" Priority="71" Name="Colorful Shading Accent 1"/> <w:LsdException Locked="false" Priority="72" Name="Colorful List Accent 1"/> <w:LsdException Locked="false" Priority="73" Name="Colorful Grid Accent 1"/> <w:LsdException Locked="false" Priority="60" Name="Light Shading Accent 2"/> <w:LsdException Locked="false" Priority="61" Name="Light List Accent 2"/> <w:LsdException Locked="false" Priority="62" Name="Light Grid Accent 2"/> <w:LsdException Locked="false" Priority="63" Name="Medium Shading 1 Accent 2"/> <w:LsdException Locked="false" Priority="64" Name="Medium Shading 2 Accent 2"/> <w:LsdException Locked="false" Priority="65" Name="Medium List 1 Accent 2"/> <w:LsdException Locked="false" Priority="66" Name="Medium List 2 Accent 2"/> <w:LsdException Locked="false" Priority="67" Name="Medium Grid 1 Accent 2"/> <w:LsdException Locked="false" Priority="68" Name="Medium Grid 2 Accent 2"/> <w:LsdException Locked="false" Priority="69" Name="Medium Grid 3 Accent 2"/> <w:LsdException Locked="false" Priority="70" Name="Dark List Accent 2"/> <w:LsdException Locked="false" Priority="71" Name="Colorful Shading Accent 2"/> <w:LsdException Locked="false" Priority="72" Name="Colorful List Accent 2"/> <w:LsdException Locked="false" Priority="73" Name="Colorful Grid Accent 2"/> <w:LsdException Locked="false" Priority="60" Name="Light Shading Accent 3"/> <w:LsdException Locked="false" Priority="61" Name="Light List Accent 3"/> <w:LsdException Locked="false" Priority="62" Name="Light Grid Accent 3"/> <w:LsdException Locked="false" Priority="63" Name="Medium Shading 1 Accent 3"/> <w:LsdException Locked="false" Priority="64" Name="Medium Shading 2 Accent 3"/> <w:LsdException Locked="false" Priority="65" Name="Medium List 1 Accent 3"/> <w:LsdException Locked="false" Priority="66" Name="Medium List 2 Accent 3"/> <w:LsdException Locked="false" Priority="67" Name="Medium Grid 1 Accent 3"/> <w:LsdException Locked="false" Priority="68" Name="Medium Grid 2 Accent 3"/> <w:LsdException Locked="false" Priority="69" Name="Medium Grid 3 Accent 3"/> <w:LsdException Locked="false" Priority="70" Name="Dark List Accent 3"/> <w:LsdException Locked="false" Priority="71" Name="Colorful Shading Accent 3"/> <w:LsdException Locked="false" Priority="72" Name="Colorful List Accent 3"/> <w:LsdException Locked="false" Priority="73" Name="Colorful Grid Accent 3"/> <w:LsdException Locked="false" Priority="60" Name="Light Shading Accent 4"/> <w:LsdException Locked="false" Priority="61" Name="Light List Accent 4"/> <w:LsdException Locked="false" Priority="62" Name="Light Grid Accent 4"/> <w:LsdException Locked="false" Priority="63" Name="Medium Shading 1 Accent 4"/> <w:LsdException Locked="false" Priority="64" Name="Medium Shading 2 Accent 4"/> <w:LsdException Locked="false" Priority="65" Name="Medium List 1 Accent 4"/> <w:LsdException Locked="false" Priority="66" Name="Medium List 2 Accent 4"/> <w:LsdException Locked="false" Priority="67" Name="Medium Grid 1 Accent 4"/> <w:LsdException Locked="false" Priority="68" Name="Medium Grid 2 Accent 4"/> <w:LsdException Locked="false" Priority="69" Name="Medium Grid 3 Accent 4"/> <w:LsdException Locked="false" Priority="70" Name="Dark List Accent 4"/> <w:LsdException Locked="false" Priority="71" Name="Colorful Shading Accent 4"/> <w:LsdException Locked="false" Priority="72" Name="Colorful List Accent 4"/> <w:LsdException Locked="false" Priority="73" Name="Colorful Grid Accent 4"/> <w:LsdException Locked="false" Priority="60" Name="Light Shading Accent 5"/> <w:LsdException Locked="false" Priority="61" Name="Light List Accent 5"/> <w:LsdException Locked="false" Priority="62" Name="Light Grid Accent 5"/> <w:LsdException Locked="false" Priority="63" Name="Medium Shading 1 Accent 5"/> <w:LsdException Locked="false" Priority="64" Name="Medium Shading 2 Accent 5"/> <w:LsdException Locked="false" Priority="65" Name="Medium List 1 Accent 5"/> <w:LsdException Locked="false" Priority="66" Name="Medium List 2 Accent 5"/> <w:LsdException Locked="false" Priority="67" Name="Medium Grid 1 Accent 5"/> <w:LsdException Locked="false" Priority="68" Name="Medium Grid 2 Accent 5"/> <w:LsdException Locked="false" Priority="69" Name="Medium Grid 3 Accent 5"/> <w:LsdException Locked="false" Priority="70" Name="Dark List Accent 5"/> <w:LsdException Locked="false" Priority="71" Name="Colorful Shading Accent 5"/> <w:LsdException Locked="false" Priority="72" Name="Colorful List Accent 5"/> <w:LsdException Locked="false" Priority="73" Name="Colorful Grid Accent 5"/> <w:LsdException Locked="false" Priority="60" Name="Light Shading Accent 6"/> <w:LsdException Locked="false" Priority="61" Name="Light List Accent 6"/> <w:LsdException Locked="false" Priority="62" Name="Light Grid Accent 6"/> <w:LsdException Locked="false" Priority="63" Name="Medium Shading 1 Accent 6"/> <w:LsdException Locked="false" Priority="64" Name="Medium Shading 2 Accent 6"/> <w:LsdException Locked="false" Priority="65" Name="Medium List 1 Accent 6"/> <w:LsdException Locked="false" Priority="66" Name="Medium List 2 Accent 6"/> <w:LsdException Locked="false" Priority="67" Name="Medium Grid 1 Accent 6"/> <w:LsdException Locked="false" Priority="68" Name="Medium Grid 2 Accent 6"/> <w:LsdException Locked="false" Priority="69" Name="Medium Grid 3 Accent 6"/> <w:LsdException Locked="false" Priority="70" Name="Dark List Accent 6"/> <w:LsdException Locked="false" Priority="71" Name="Colorful Shading Accent 6"/> <w:LsdException Locked="false" Priority="72" Name="Colorful List Accent 6"/> <w:LsdException Locked="false" Priority="73" Name="Colorful Grid Accent 6"/> <w:LsdException Locked="false" Priority="19" QFormat="true" Name="Subtle Emphasis"/> <w:LsdException Locked="false" Priority="21" QFormat="true" Name="Intense Emphasis"/> <w:LsdException Locked="false" Priority="31" QFormat="true" Name="Subtle Reference"/> <w:LsdException Locked="false" Priority="32" QFormat="true" Name="Intense Reference"/> <w:LsdException Locked="false" Priority="33" QFormat="true" Name="Book Title"/> <w:LsdException Locked="false" Priority="37" SemiHidden="true" UnhideWhenUsed="true" Name="Bibliography"/> <w:LsdException Locked="false" Priority="39" SemiHidden="true" UnhideWhenUsed="true" QFormat="true" Name="TOC Heading"/> <w:LsdException Locked="false" Priority="41" Name="Plain Table 1"/> <w:LsdException Locked="false" Priority="42" Name="Plain Table 2"/> <w:LsdException Locked="false" Priority="43" Name="Plain Table 3"/> <w:LsdException Locked="false" Priority="44" Name="Plain Table 4"/> <w:LsdException Locked="false" Priority="45" Name="Plain Table 5"/> <w:LsdException Locked="false" Priority="40" Name="Grid Table Light"/> <w:LsdException Locked="false" Priority="46" Name="Grid Table 1 Light"/> <w:LsdException Locked="false" Priority="47" Name="Grid Table 2"/> <w:LsdException Locked="false" Priority="48" Name="Grid Table 3"/> <w:LsdException Locked="false" Priority="49" Name="Grid Table 4"/> <w:LsdException Locked="false" Priority="50" Name="Grid Table 5 Dark"/> <w:LsdException Locked="false" Priority="51" Name="Grid Table 6 Colorful"/> <w:LsdException Locked="false" Priority="52" Name="Grid Table 7 Colorful"/> <w:LsdException Locked="false" Priority="46" Name="Grid Table 1 Light Accent 1"/> <w:LsdException Locked="false" Priority="47" Name="Grid Table 2 Accent 1"/> <w:LsdException Locked="false" Priority="48" Name="Grid Table 3 Accent 1"/> <w:LsdException Locked="false" Priority="49" Name="Grid Table 4 Accent 1"/> <w:LsdException Locked="false" Priority="50" Name="Grid Table 5 Dark Accent 1"/> <w:LsdException Locked="false" Priority="51" Name="Grid Table 6 Colorful Accent 1"/> <w:LsdException Locked="false" Priority="52" Name="Grid Table 7 Colorful Accent 1"/> <w:LsdException Locked="false" Priority="46" Name="Grid Table 1 Light Accent 2"/> <w:LsdException Locked="false" Priority="47" Name="Grid Table 2 Accent 2"/> <w:LsdException Locked="false" Priority="48" Name="Grid Table 3 Accent 2"/> <w:LsdException Locked="false" Priority="49" Name="Grid Table 4 Accent 2"/> <w:LsdException Locked="false" Priority="50" Name="Grid Table 5 Dark Accent 2"/> <w:LsdException Locked="false" Priority="51" Name="Grid Table 6 Colorful Accent 2"/> <w:LsdException Locked="false" Priority="52" Name="Grid Table 7 Colorful Accent 2"/> <w:LsdException Locked="false" Priority="46" Name="Grid Table 1 Light Accent 3"/> <w:LsdException Locked="false" Priority="47" Name="Grid Table 2 Accent 3"/> <w:LsdException Locked="false" Priority="48" Name="Grid Table 3 Accent 3"/> <w:LsdException Locked="false" Priority="49" Name="Grid Table 4 Accent 3"/> <w:LsdException Locked="false" Priority="50" Name="Grid Table 5 Dark Accent 3"/> <w:LsdException Locked="false" Priority="51" Name="Grid Table 6 Colorful Accent 3"/> <w:LsdException Locked="false" Priority="52" Name="Grid Table 7 Colorful Accent 3"/> <w:LsdException Locked="false" Priority="46" Name="Grid Table 1 Light Accent 4"/> <w:LsdException Locked="false" Priority="47" Name="Grid Table 2 Accent 4"/> <w:LsdException Locked="false" Priority="48" Name="Grid Table 3 Accent 4"/> <w:LsdException Locked="false" Priority="49" Name="Grid Table 4 Accent 4"/> <w:LsdException Locked="false" Priority="50" Name="Grid Table 5 Dark Accent 4"/> <w:LsdException Locked="false" Priority="51" Name="Grid Table 6 Colorful Accent 4"/> <w:LsdException Locked="false" Priority="52" Name="Grid Table 7 Colorful Accent 4"/> <w:LsdException Locked="false" Priority="46" Name="Grid Table 1 Light Accent 5"/> <w:LsdException Locked="false" Priority="47" Name="Grid Table 2 Accent 5"/> <w:LsdException Locked="false" Priority="48" Name="Grid Table 3 Accent 5"/> <w:LsdException Locked="false" Priority="49" Name="Grid Table 4 Accent 5"/> <w:LsdException Locked="false" Priority="50" Name="Grid Table 5 Dark Accent 5"/> <w:LsdException Locked="false" Priority="51" Name="Grid Table 6 Colorful Accent 5"/> <w:LsdException Locked="false" Priority="52" Name="Grid Table 7 Colorful Accent 5"/> <w:LsdException Locked="false" Priority="46" Name="Grid Table 1 Light Accent 6"/> <w:LsdException Locked="false" Priority="47" Name="Grid Table 2 Accent 6"/> <w:LsdException Locked="false" Priority="48" Name="Grid Table 3 Accent 6"/> <w:LsdException Locked="false" Priority="49" Name="Grid Table 4 Accent 6"/> <w:LsdException Locked="false" Priority="50" Name="Grid Table 5 Dark Accent 6"/> <w:LsdException Locked="false" Priority="51" Name="Grid Table 6 Colorful Accent 6"/> <w:LsdException Locked="false" Priority="52" Name="Grid Table 7 Colorful Accent 6"/> <w:LsdException Locked="false" Priority="46" Name="List Table 1 Light"/> <w:LsdException Locked="false" Priority="47" Name="List Table 2"/> <w:LsdException Locked="false" Priority="48" Name="List Table 3"/> <w:LsdException Locked="false" Priority="49" Name="List Table 4"/> <w:LsdException Locked="false" Priority="50" Name="List Table 5 Dark"/> <w:LsdException Locked="false" Priority="51" Name="List Table 6 Colorful"/> <w:LsdException Locked="false" Priority="52" Name="List Table 7 Colorful"/> <w:LsdException Locked="false" Priority="46" Name="List Table 1 Light Accent 1"/> <w:LsdException Locked="false" Priority="47" Name="List Table 2 Accent 1"/> <w:LsdException Locked="false" Priority="48" Name="List Table 3 Accent 1"/> <w:LsdException Locked="false" Priority="49" Name="List Table 4 Accent 1"/> <w:LsdException Locked="false" Priority="50" Name="List Table 5 Dark Accent 1"/> <w:LsdException Locked="false" Priority="51" Name="List Table 6 Colorful Accent 1"/> <w:LsdException Locked="false" Priority="52" Name="List Table 7 Colorful Accent 1"/> <w:LsdException Locked="false" Priority="46" Name="List Table 1 Light Accent 2"/> <w:LsdException Locked="false" Priority="47" Name="List Table 2 Accent 2"/> <w:LsdException Locked="false" Priority="48" Name="List Table 3 Accent 2"/> <w:LsdException Locked="false" Priority="49" Name="List Table 4 Accent 2"/> <w:LsdException Locked="false" Priority="50" Name="List Table 5 Dark Accent 2"/> <w:LsdException Locked="false" Priority="51" Name="List Table 6 Colorful Accent 2"/> <w:LsdException Locked="false" Priority="52" Name="List Table 7 Colorful Accent 2"/> <w:LsdException Locked="false" Priority="46" Name="List Table 1 Light Accent 3"/> <w:LsdException Locked="false" Priority="47" Name="List Table 2 Accent 3"/> <w:LsdException Locked="false" Priority="48" Name="List Table 3 Accent 3"/> <w:LsdException Locked="false" Priority="49" Name="List Table 4 Accent 3"/> <w:LsdException Locked="false" Priority="50" Name="List Table 5 Dark Accent 3"/> <w:LsdException Locked="false" Priority="51" Name="List Table 6 Colorful Accent 3"/> <w:LsdException Locked="false" Priority="52" Name="List Table 7 Colorful Accent 3"/> <w:LsdException Locked="false" Priority="46" Name="List Table 1 Light Accent 4"/> <w:LsdException Locked="false" Priority="47" Name="List Table 2 Accent 4"/> <w:LsdException Locked="false" Priority="48" Name="List Table 3 Accent 4"/> <w:LsdException Locked="false" Priority="49" Name="List Table 4 Accent 4"/> <w:LsdException Locked="false" Priority="50" Name="List Table 5 Dark Accent 4"/> <w:LsdException Locked="false" Priority="51" Name="List Table 6 Colorful Accent 4"/> <w:LsdException Locked="false" Priority="52" Name="List Table 7 Colorful Accent 4"/> <w:LsdException Locked="false" Priority="46" Name="List Table 1 Light Accent 5"/> <w:LsdException Locked="false" Priority="47" Name="List Table 2 Accent 5"/> <w:LsdException Locked="false" Priority="48" Name="List Table 3 Accent 5"/> <w:LsdException Locked="false" Priority="49" Name="List Table 4 Accent 5"/> <w:LsdException Locked="false" Priority="50" Name="List Table 5 Dark Accent 5"/> <w:LsdException Locked="false" Priority="51" Name="List Table 6 Colorful Accent 5"/> <w:LsdException Locked="false" Priority="52" Name="List Table 7 Colorful Accent 5"/> <w:LsdException Locked="false" Priority="46" Name="List Table 1 Light Accent 6"/> <w:LsdException Locked="false" Priority="47" Name="List Table 2 Accent 6"/> <w:LsdException Locked="false" Priority="48" Name="List Table 3 Accent 6"/> <w:LsdException Locked="false" Priority="49" Name="List Table 4 Accent 6"/> <w:LsdException Locked="false" Priority="50" Name="List Table 5 Dark Accent 6"/> <w:LsdException Locked="false" Priority="51" Name="List Table 6 Colorful Accent 6"/> <w:LsdException Locked="false" Priority="52" Name="List Table 7 Colorful Accent 6"/> </w:LatentStyles> </xml><![endif]--><!--[if gte mso 10]> <style> /* Style Definitions */ table.MsoNormalTable {mso-style-name:"Table Normal"; mso-tstyle-rowband-size:0; mso-tstyle-colband-size:0; mso-style-noshow:yes; mso-style-priority:99; mso-style-parent:""; mso-padding-alt:0in 5.4pt 0in 5.4pt; mso-para-margin:0in; mso-para-margin-bottom:.0001pt; mso-pagination:widow-orphan; font-size:10.0pt; font-family:"Times New Roman","serif";} </style> <![endif]-->*This is an electronic gift card and no physical gift card will be mailed. Email may take 1 business day to be delivered. <br></p><br>

Jelly Belly Online Gift Card - Happy Birthday

See more...

Quantity

Product Info

Jelly Belly Gift Card - Happy Birthday<br><p>Gift-Giving in Just 3 Easy Steps:<br> 1. Choose from a variety of occasions<br> 2. Select the value<br> 3. Email it to the lucky recipient.</p> <p>A Jelly Belly Gift Card makes a convenient and fun last-minute birthday gift! We offer a variety of fun, colorful designs in denominations up to $100 so that you can give just the right gift.</p> <p><strong>Gift Card information</strong></p> <ul> <li>Jelly Belly Online Gift Cards do not expire.</li> <li>Jelly Belly Online Gift Cards are only redeemable at JellyBelly.com.</li> <li>Jelly Belly Online Gift Cards are not redeemable for cash, except to the extent required by law. </li> <li>Jelly Belly Online Gift Cards may not be used to purchase other Gift Cards or applied to any order containing another Gift Card. You'll need to provide a credit card, debit card, or other valid payment method to pay for the order if you have Gift Cards in your Shopping Cart. </li> <li>Discount coupons and promotional codes may not be applied to purchases of Jelly Belly Online Gift Cards. If you use a discount or promotional code when ordering a combination of physical Jelly Belly products and Jelly Belly Online Gift Cards, the discount will only be applied to the physical products on your order.</li> </ul> <!-- <p>Please note: These Gift Cards have no fees or expiration date and are redeemable only at JellyBelly.com. Discount coupons and codes may not be applied to purchases of online gift cards.</p><p><!--[if gte mso 9]><xml> <w:worddocument> <w:view>Normal</w:view> <w:zoom>0</w:zoom> <w:trackmoves> <w:trackformatting> <w:punctuationkerning> <w:validateagainstschemas> <w:saveifxmlinvalid>false</w:saveifxmlinvalid> <w:ignoremixedcontent>false</w:ignoremixedcontent> <w:alwaysshowplaceholdertext>false</w:alwaysshowplaceholdertext> <w:donotpromoteqf> <w:lidthemeother>EN-US</w:lidthemeother> <w:lidthemeasian>X-NONE</w:lidthemeasian> <w:lidthemecomplexscript>X-NONE</w:lidthemecomplexscript> <w:compatibility> <w:breakwrappedtables> <w:snaptogridincell> <w:wraptextwithpunct> <w:useasianbreakrules> <w:dontgrowautofit> <w:splitpgbreakandparamark> <w:enableopentypekerning> <w:dontflipmirrorindents> <w:overridetablestylehps> </w:overridetablestylehps></w:dontflipmirrorindents></w:enableopentypekerning></w:splitpgbreakandparamark></w:dontgrowautofit></w:useasianbreakrules></w:wraptextwithpunct></w:snaptogridincell></w:breakwrappedtables></w:compatibility> <w:browserlevel>MicrosoftInternetExplorer4</w:browserlevel> <m:mathpr> <m:mathfont m:val="Cambria Math"> <m:brkbin m:val="before"> <m:brkbinsub m:val="--"> <m:smallfrac m:val="off"> <m:dispdef> <m:lmargin m:val="0"> <m:rmargin m:val="0"> <m:defjc m:val="centerGroup"> <m:wrapindent m:val="1440"> <m:intlim m:val="subSup"> <m:narylim m:val="undOvr"> </m:narylim></m:intlim></m:wrapindent></m:defjc></m:rmargin></m:lmargin></m:dispdef></m:smallfrac></m:brkbinsub></m:brkbin></m:mathfont></m:mathpr></w:donotpromoteqf></w:validateagainstschemas></w:punctuationkerning></w:trackformatting></w:trackmoves></w:worddocument> <!--[endif]----><p></p><p><!--[if gte mso 9]><xml> <w:LatentStyles DefLockedState="false" DefUnhideWhenUsed="false" DefSemiHidden="false" DefQFormat="false" DefPriority="99" LatentStyleCount="371"> <w:LsdException Locked="false" Priority="0" QFormat="true" Name="Normal"/> <w:LsdException Locked="false" Priority="9" QFormat="true" Name="heading 1"/> <w:LsdException Locked="false" Priority="9" SemiHidden="true" UnhideWhenUsed="true" QFormat="true" Name="heading 2"/> <w:LsdException Locked="false" Priority="9" SemiHidden="true" UnhideWhenUsed="true" QFormat="true" Name="heading 3"/> <w:LsdException Locked="false" Priority="9" SemiHidden="true" UnhideWhenUsed="true" QFormat="true" Name="heading 4"/> <w:LsdException Locked="false" Priority="9" SemiHidden="true" UnhideWhenUsed="true" QFormat="true" Name="heading 5"/> <w:LsdException Locked="false" Priority="9" SemiHidden="true" UnhideWhenUsed="true" QFormat="true" Name="heading 6"/> <w:LsdException Locked="false" Priority="9" SemiHidden="true" UnhideWhenUsed="true" QFormat="true" Name="heading 7"/> <w:LsdException Locked="false" Priority="9" SemiHidden="true" UnhideWhenUsed="true" QFormat="true" Name="heading 8"/> <w:LsdException Locked="false" Priority="9" SemiHidden="true" UnhideWhenUsed="true" QFormat="true" Name="heading 9"/> <w:LsdException Locked="false" SemiHidden="true" UnhideWhenUsed="true" Name="index 1"/> <w:LsdException Locked="false" SemiHidden="true" UnhideWhenUsed="true" Name="index 2"/> <w:LsdException Locked="false" SemiHidden="true" UnhideWhenUsed="true" Name="index 3"/> <w:LsdException Locked="false" SemiHidden="true" UnhideWhenUsed="true" Name="index 4"/> <w:LsdException Locked="false" SemiHidden="true" UnhideWhenUsed="true" Name="index 5"/> <w:LsdException Locked="false" SemiHidden="true" UnhideWhenUsed="true" Name="index 6"/> <w:LsdException Locked="false" SemiHidden="true" UnhideWhenUsed="true" Name="index 7"/> <w:LsdException Locked="false" SemiHidden="true" UnhideWhenUsed="true" Name="index 8"/> <w:LsdException Locked="false" SemiHidden="true" UnhideWhenUsed="true" Name="index 9"/> <w:LsdException Locked="false" Priority="39" SemiHidden="true" UnhideWhenUsed="true" Name="toc 1"/> <w:LsdException Locked="false" Priority="39" SemiHidden="true" UnhideWhenUsed="true" Name="toc 2"/> <w:LsdException Locked="false" Priority="39" SemiHidden="true" UnhideWhenUsed="true" Name="toc 3"/> <w:LsdException Locked="false" Priority="39" SemiHidden="true" UnhideWhenUsed="true" Name="toc 4"/> <w:LsdException Locked="false" Priority="39" SemiHidden="true" UnhideWhenUsed="true" Name="toc 5"/> <w:LsdException Locked="false" Priority="39" SemiHidden="true" UnhideWhenUsed="true" Name="toc 6"/> <w:LsdException Locked="false" Priority="39" SemiHidden="true" UnhideWhenUsed="true" Name="toc 7"/> <w:LsdException Locked="false" Priority="39" SemiHidden="true" UnhideWhenUsed="true" Name="toc 8"/> <w:LsdException Locked="false" Priority="39" SemiHidden="true" UnhideWhenUsed="true" Name="toc 9"/> <w:LsdException Locked="false" SemiHidden="true" UnhideWhenUsed="true" Name="Normal Indent"/> <w:LsdException Locked="false" SemiHidden="true" UnhideWhenUsed="true" Name="footnote text"/> <w:LsdException Locked="false" SemiHidden="true" UnhideWhenUsed="true" Name="annotation text"/> <w:LsdException Locked="false" SemiHidden="true" UnhideWhenUsed="true" Name="header"/> <w:LsdException Locked="false" SemiHidden="true" UnhideWhenUsed="true" Name="footer"/> <w:LsdException Locked="false" SemiHidden="true" UnhideWhenUsed="true" Name="index heading"/> <w:LsdException Locked="false" Priority="35" SemiHidden="true" UnhideWhenUsed="true" QFormat="true" Name="caption"/> <w:LsdException Locked="false" SemiHidden="true" UnhideWhenUsed="true" Name="table of figures"/> <w:LsdException Locked="false" SemiHidden="true" UnhideWhenUsed="true" Name="envelope address"/> <w:LsdException Locked="false" SemiHidden="true" UnhideWhenUsed="true" Name="envelope return"/> <w:LsdException Locked="false" SemiHidden="true" UnhideWhenUsed="true" Name="footnote reference"/> <w:LsdException Locked="false" SemiHidden="true" UnhideWhenUsed="true" Name="annotation reference"/> <w:LsdException Locked="false" SemiHidden="true" UnhideWhenUsed="true" Name="line number"/> <w:LsdException Locked="false" SemiHidden="true" UnhideWhenUsed="true" Name="page number"/> <w:LsdException Locked="false" SemiHidden="true" UnhideWhenUsed="true" Name="endnote reference"/> <w:LsdException Locked="false" SemiHidden="true" UnhideWhenUsed="true" Name="endnote text"/> <w:LsdException Locked="false" SemiHidden="true" UnhideWhenUsed="true" Name="table of authorities"/> <w:LsdException Locked="false" SemiHidden="true" UnhideWhenUsed="true" Name="macro"/> <w:LsdException Locked="false" SemiHidden="true" UnhideWhenUsed="true" Name="toa heading"/> <w:LsdException Locked="false" SemiHidden="true" UnhideWhenUsed="true" Name="List"/> <w:LsdException Locked="false" SemiHidden="true" UnhideWhenUsed="true" Name="List Bullet"/> <w:LsdException Locked="false" SemiHidden="true" UnhideWhenUsed="true" Name="List Number"/> <w:LsdException Locked="false" SemiHidden="true" UnhideWhenUsed="true" Name="List 2"/> <w:LsdException Locked="false" SemiHidden="true" UnhideWhenUsed="true" Name="List 3"/> <w:LsdException Locked="false" SemiHidden="true" UnhideWhenUsed="true" Name="List 4"/> <w:LsdException Locked="false" SemiHidden="true" UnhideWhenUsed="true" Name="List 5"/> <w:LsdException Locked="false" SemiHidden="true" UnhideWhenUsed="true" Name="List Bullet 2"/> <w:LsdException Locked="false" SemiHidden="true" UnhideWhenUsed="true" Name="List Bullet 3"/> <w:LsdException Locked="false" SemiHidden="true" UnhideWhenUsed="true" Name="List Bullet 4"/> <w:LsdException Locked="false" SemiHidden="true" UnhideWhenUsed="true" Name="List Bullet 5"/> <w:LsdException Locked="false" SemiHidden="true" UnhideWhenUsed="true" Name="List Number 2"/> <w:LsdException Locked="false" SemiHidden="true" UnhideWhenUsed="true" Name="List Number 3"/> <w:LsdException Locked="false" SemiHidden="true" UnhideWhenUsed="true" Name="List Number 4"/> <w:LsdException Locked="false" SemiHidden="true" UnhideWhenUsed="true" Name="List Number 5"/> <w:LsdException Locked="false" Priority="10" QFormat="true" Name="Title"/> <w:LsdException Locked="false" SemiHidden="true" UnhideWhenUsed="true" Name="Closing"/> <w:LsdException Locked="false" SemiHidden="true" UnhideWhenUsed="true" Name="Signature"/> <w:LsdException Locked="false" Priority="1" SemiHidden="true" UnhideWhenUsed="true" Name="Default Paragraph Font"/> <w:LsdException Locked="false" SemiHidden="true" UnhideWhenUsed="true" Name="Body Text"/> <w:LsdException Locked="false" SemiHidden="true" UnhideWhenUsed="true" Name="Body Text Indent"/> <w:LsdException Locked="false" SemiHidden="true" UnhideWhenUsed="true" Name="List Continue"/> <w:LsdException Locked="false" SemiHidden="true" UnhideWhenUsed="true" Name="List Continue 2"/> <w:LsdException Locked="false" SemiHidden="true" UnhideWhenUsed="true" Name="List Continue 3"/> <w:LsdException Locked="false" SemiHidden="true" UnhideWhenUsed="true" Name="List Continue 4"/> <w:LsdException Locked="false" SemiHidden="true" UnhideWhenUsed="true" Name="List Continue 5"/> <w:LsdException Locked="false" SemiHidden="true" UnhideWhenUsed="true" Name="Message Header"/> <w:LsdException Locked="false" Priority="11" QFormat="true" Name="Subtitle"/> <w:LsdException Locked="false" SemiHidden="true" UnhideWhenUsed="true" Name="Salutation"/> <w:LsdException Locked="false" SemiHidden="true" UnhideWhenUsed="true" Name="Date"/> <w:LsdException Locked="false" SemiHidden="true" UnhideWhenUsed="true" Name="Body Text First Indent"/> <w:LsdException Locked="false" SemiHidden="true" UnhideWhenUsed="true" Name="Body Text First Indent 2"/> <w:LsdException Locked="false" SemiHidden="true" UnhideWhenUsed="true" Name="Note Heading"/> <w:LsdException Locked="false" SemiHidden="true" UnhideWhenUsed="true" Name="Body Text 2"/> <w:LsdException Locked="false" SemiHidden="true" UnhideWhenUsed="true" Name="Body Text 3"/> <w:LsdException Locked="false" SemiHidden="true" UnhideWhenUsed="true" Name="Body Text Indent 2"/> <w:LsdException Locked="false" SemiHidden="true" UnhideWhenUsed="true" Name="Body Text Indent 3"/> <w:LsdException Locked="false" SemiHidden="true" UnhideWhenUsed="true" Name="Block Text"/> <w:LsdException Locked="false" SemiHidden="true" UnhideWhenUsed="true" Name="Hyperlink"/> <w:LsdException Locked="false" SemiHidden="true" UnhideWhenUsed="true" Name="FollowedHyperlink"/> <w:LsdException Locked="false" Priority="22" QFormat="true" Name="Strong"/> <w:LsdException Locked="false" Priority="20" QFormat="true" Name="Emphasis"/> <w:LsdException Locked="false" SemiHidden="true" UnhideWhenUsed="true" Name="Document Map"/> <w:LsdException Locked="false" SemiHidden="true" UnhideWhenUsed="true" Name="Plain Text"/> <w:LsdException Locked="false" SemiHidden="true" UnhideWhenUsed="true" Name="E-mail Signature"/> <w:LsdException Locked="false" SemiHidden="true" UnhideWhenUsed="true" Name="HTML Top of Form"/> <w:LsdException Locked="false" SemiHidden="true" UnhideWhenUsed="true" Name="HTML Bottom of Form"/> <w:LsdException Locked="false" SemiHidden="true" UnhideWhenUsed="true" Name="Normal (Web)"/> <w:LsdException Locked="false" SemiHidden="true" UnhideWhenUsed="true" Name="HTML Acronym"/> <w:LsdException Locked="false" SemiHidden="true" UnhideWhenUsed="true" Name="HTML Address"/> <w:LsdException Locked="false" SemiHidden="true" UnhideWhenUsed="true" Name="HTML Cite"/> <w:LsdException Locked="false" SemiHidden="true" UnhideWhenUsed="true" Name="HTML Code"/> <w:LsdException Locked="false" SemiHidden="true" UnhideWhenUsed="true" Name="HTML Definition"/> <w:LsdException Locked="false" SemiHidden="true" UnhideWhenUsed="true" Name="HTML Keyboard"/> <w:LsdException Locked="false" SemiHidden="true" UnhideWhenUsed="true" Name="HTML Preformatted"/> <w:LsdException Locked="false" SemiHidden="true" UnhideWhenUsed="true" Name="HTML Sample"/> <w:LsdException Locked="false" SemiHidden="true" UnhideWhenUsed="true" Name="HTML Typewriter"/> <w:LsdException Locked="false" SemiHidden="true" UnhideWhenUsed="true" Name="HTML Variable"/> <w:LsdException Locked="false" SemiHidden="true" UnhideWhenUsed="true" Name="Normal Table"/> <w:LsdException Locked="false" SemiHidden="true" UnhideWhenUsed="true" Name="annotation subject"/> <w:LsdException Locked="false" SemiHidden="true" UnhideWhenUsed="true" Name="No List"/> <w:LsdException Locked="false" SemiHidden="true" UnhideWhenUsed="true" Name="Outline List 1"/> <w:LsdException Locked="false" SemiHidden="true" UnhideWhenUsed="true" Name="Outline List 2"/> <w:LsdException Locked="false" SemiHidden="true" UnhideWhenUsed="true" Name="Outline List 3"/> <w:LsdException Locked="false" SemiHidden="true" UnhideWhenUsed="true" Name="Table Simple 1"/> <w:LsdException Locked="false" SemiHidden="true" UnhideWhenUsed="true" Name="Table Simple 2"/> <w:LsdException Locked="false" SemiHidden="true" UnhideWhenUsed="true" Name="Table Simple 3"/> <w:LsdException Locked="false" SemiHidden="true" UnhideWhenUsed="true" Name="Table Classic 1"/> <w:LsdException Locked="false" SemiHidden="true" UnhideWhenUsed="true" Name="Table Classic 2"/> <w:LsdException Locked="false" SemiHidden="true" UnhideWhenUsed="true" Name="Table Classic 3"/> <w:LsdException Locked="false" SemiHidden="true" UnhideWhenUsed="true" Name="Table Classic 4"/> <w:LsdException Locked="false" SemiHidden="true" UnhideWhenUsed="true" Name="Table Colorful 1"/> <w:LsdException Locked="false" SemiHidden="true" UnhideWhenUsed="true" Name="Table Colorful 2"/> <w:LsdException Locked="false" SemiHidden="true" UnhideWhenUsed="true" Name="Table Colorful 3"/> <w:LsdException Locked="false" SemiHidden="true" UnhideWhenUsed="true" Name="Table Columns 1"/> <w:LsdException Locked="false" SemiHidden="true" UnhideWhenUsed="true" Name="Table Columns 2"/> <w:LsdException Locked="false" SemiHidden="true" UnhideWhenUsed="true" Name="Table Columns 3"/> <w:LsdException Locked="false" SemiHidden="true" UnhideWhenUsed="true" Name="Table Columns 4"/> <w:LsdException Locked="false" SemiHidden="true" UnhideWhenUsed="true" Name="Table Columns 5"/> <w:LsdException Locked="false" SemiHidden="true" UnhideWhenUsed="true" Name="Table Grid 1"/> <w:LsdException Locked="false" SemiHidden="true" UnhideWhenUsed="true" Name="Table Grid 2"/> <w:LsdException Locked="false" SemiHidden="true" UnhideWhenUsed="true" Name="Table Grid 3"/> <w:LsdException Locked="false" SemiHidden="true" UnhideWhenUsed="true" Name="Table Grid 4"/> <w:LsdException Locked="false" SemiHidden="true" UnhideWhenUsed="true" Name="Table Grid 5"/> <w:LsdException Locked="false" SemiHidden="true" UnhideWhenUsed="true" Name="Table Grid 6"/> <w:LsdException Locked="false" SemiHidden="true" UnhideWhenUsed="true" Name="Table Grid 7"/> <w:LsdException Locked="false" SemiHidden="true" UnhideWhenUsed="true" Name="Table Grid 8"/> <w:LsdException Locked="false" SemiHidden="true" UnhideWhenUsed="true" Name="Table List 1"/> <w:LsdException Locked="false" SemiHidden="true" UnhideWhenUsed="true" Name="Table List 2"/> <w:LsdException Locked="false" SemiHidden="true" UnhideWhenUsed="true" Name="Table List 3"/> <w:LsdException Locked="false" SemiHidden="true" UnhideWhenUsed="true" Name="Table List 4"/> <w:LsdException Locked="false" SemiHidden="true" UnhideWhenUsed="true" Name="Table List 5"/> <w:LsdException Locked="false" SemiHidden="true" UnhideWhenUsed="true" Name="Table List 6"/> <w:LsdException Locked="false" SemiHidden="true" UnhideWhenUsed="true" Name="Table List 7"/> <w:LsdException Locked="false" SemiHidden="true" UnhideWhenUsed="true" Name="Table List 8"/> <w:LsdException Locked="false" SemiHidden="true" UnhideWhenUsed="true" Name="Table 3D effects 1"/> <w:LsdException Locked="false" SemiHidden="true" UnhideWhenUsed="true" Name="Table 3D effects 2"/> <w:LsdException Locked="false" SemiHidden="true" UnhideWhenUsed="true" Name="Table 3D effects 3"/> <w:LsdException Locked="false" SemiHidden="true" UnhideWhenUsed="true" Name="Table Contemporary"/> <w:LsdException Locked="false" SemiHidden="true" UnhideWhenUsed="true" Name="Table Elegant"/> <w:LsdException Locked="false" SemiHidden="true" UnhideWhenUsed="true" Name="Table Professional"/> <w:LsdException Locked="false" SemiHidden="true" UnhideWhenUsed="true" Name="Table Subtle 1"/> <w:LsdException Locked="false" SemiHidden="true" UnhideWhenUsed="true" Name="Table Subtle 2"/> <w:LsdException Locked="false" SemiHidden="true" UnhideWhenUsed="true" Name="Table Web 1"/> <w:LsdException Locked="false" SemiHidden="true" UnhideWhenUsed="true" Name="Table Web 2"/> <w:LsdException Locked="false" SemiHidden="true" UnhideWhenUsed="true" Name="Table Web 3"/> <w:LsdException Locked="false" SemiHidden="true" UnhideWhenUsed="true" Name="Balloon Text"/> <w:LsdException Locked="false" Priority="39" Name="Table Grid"/> <w:LsdException Locked="false" SemiHidden="true" UnhideWhenUsed="true" Name="Table Theme"/> <w:LsdException Locked="false" SemiHidden="true" Name="Placeholder Text"/> <w:LsdException Locked="false" Priority="1" QFormat="true" Name="No Spacing"/> <w:LsdException Locked="false" Priority="60" Name="Light Shading"/> <w:LsdException Locked="false" Priority="61" Name="Light List"/> <w:LsdException Locked="false" Priority="62" Name="Light Grid"/> <w:LsdException Locked="false" Priority="63" Name="Medium Shading 1"/> <w:LsdException Locked="false" Priority="64" Name="Medium Shading 2"/> <w:LsdException Locked="false" Priority="65" Name="Medium List 1"/> <w:LsdException Locked="false" Priority="66" Name="Medium List 2"/> <w:LsdException Locked="false" Priority="67" Name="Medium Grid 1"/> <w:LsdException Locked="false" Priority="68" Name="Medium Grid 2"/> <w:LsdException Locked="false" Priority="69" Name="Medium Grid 3"/> <w:LsdException Locked="false" Priority="70" Name="Dark List"/> <w:LsdException Locked="false" Priority="71" Name="Colorful Shading"/> <w:LsdException Locked="false" Priority="72" Name="Colorful List"/> <w:LsdException Locked="false" Priority="73" Name="Colorful Grid"/> <w:LsdException Locked="false" Priority="60" Name="Light Shading Accent 1"/> <w:LsdException Locked="false" Priority="61" Name="Light List Accent 1"/> <w:LsdException Locked="false" Priority="62" Name="Light Grid Accent 1"/> <w:LsdException Locked="false" Priority="63" Name="Medium Shading 1 Accent 1"/> <w:LsdException Locked="false" Priority="64" Name="Medium Shading 2 Accent 1"/> <w:LsdException Locked="false" Priority="65" Name="Medium List 1 Accent 1"/> <w:LsdException Locked="false" SemiHidden="true" Name="Revision"/> <w:LsdException Locked="false" Priority="34" QFormat="true" Name="List Paragraph"/> <w:LsdException Locked="false" Priority="29" QFormat="true" Name="Quote"/> <w:LsdException Locked="false" Priority="30" QFormat="true" Name="Intense Quote"/> <w:LsdException Locked="false" Priority="66" Name="Medium List 2 Accent 1"/> <w:LsdException Locked="false" Priority="67" Name="Medium Grid 1 Accent 1"/> <w:LsdException Locked="false" Priority="68" Name="Medium Grid 2 Accent 1"/> <w:LsdException Locked="false" Priority="69" Name="Medium Grid 3 Accent 1"/> <w:LsdException Locked="false" Priority="70" Name="Dark List Accent 1"/> <w:LsdException Locked="false" Priority="71" Name="Colorful Shading Accent 1"/> <w:LsdException Locked="false" Priority="72" Name="Colorful List Accent 1"/> <w:LsdException Locked="false" Priority="73" Name="Colorful Grid Accent 1"/> <w:LsdException Locked="false" Priority="60" Name="Light Shading Accent 2"/> <w:LsdException Locked="false" Priority="61" Name="Light List Accent 2"/> <w:LsdException Locked="false" Priority="62" Name="Light Grid Accent 2"/> <w:LsdException Locked="false" Priority="63" Name="Medium Shading 1 Accent 2"/> <w:LsdException Locked="false" Priority="64" Name="Medium Shading 2 Accent 2"/> <w:LsdException Locked="false" Priority="65" Name="Medium List 1 Accent 2"/> <w:LsdException Locked="false" Priority="66" Name="Medium List 2 Accent 2"/> <w:LsdException Locked="false" Priority="67" Name="Medium Grid 1 Accent 2"/> <w:LsdException Locked="false" Priority="68" Name="Medium Grid 2 Accent 2"/> <w:LsdException Locked="false" Priority="69" Name="Medium Grid 3 Accent 2"/> <w:LsdException Locked="false" Priority="70" Name="Dark List Accent 2"/> <w:LsdException Locked="false" Priority="71" Name="Colorful Shading Accent 2"/> <w:LsdException Locked="false" Priority="72" Name="Colorful List Accent 2"/> <w:LsdException Locked="false" Priority="73" Name="Colorful Grid Accent 2"/> <w:LsdException Locked="false" Priority="60" Name="Light Shading Accent 3"/> <w:LsdException Locked="false" Priority="61" Name="Light List Accent 3"/> <w:LsdException Locked="false" Priority="62" Name="Light Grid Accent 3"/> <w:LsdException Locked="false" Priority="63" Name="Medium Shading 1 Accent 3"/> <w:LsdException Locked="false" Priority="64" Name="Medium Shading 2 Accent 3"/> <w:LsdException Locked="false" Priority="65" Name="Medium List 1 Accent 3"/> <w:LsdException Locked="false" Priority="66" Name="Medium List 2 Accent 3"/> <w:LsdException Locked="false" Priority="67" Name="Medium Grid 1 Accent 3"/> <w:LsdException Locked="false" Priority="68" Name="Medium Grid 2 Accent 3"/> <w:LsdException Locked="false" Priority="69" Name="Medium Grid 3 Accent 3"/> <w:LsdException Locked="false" Priority="70" Name="Dark List Accent 3"/> <w:LsdException Locked="false" Priority="71" Name="Colorful Shading Accent 3"/> <w:LsdException Locked="false" Priority="72" Name="Colorful List Accent 3"/> <w:LsdException Locked="false" Priority="73" Name="Colorful Grid Accent 3"/> <w:LsdException Locked="false" Priority="60" Name="Light Shading Accent 4"/> <w:LsdException Locked="false" Priority="61" Name="Light List Accent 4"/> <w:LsdException Locked="false" Priority="62" Name="Light Grid Accent 4"/> <w:LsdException Locked="false" Priority="63" Name="Medium Shading 1 Accent 4"/> <w:LsdException Locked="false" Priority="64" Name="Medium Shading 2 Accent 4"/> <w:LsdException Locked="false" Priority="65" Name="Medium List 1 Accent 4"/> <w:LsdException Locked="false" Priority="66" Name="Medium List 2 Accent 4"/> <w:LsdException Locked="false" Priority="67" Name="Medium Grid 1 Accent 4"/> <w:LsdException Locked="false" Priority="68" Name="Medium Grid 2 Accent 4"/> <w:LsdException Locked="false" Priority="69" Name="Medium Grid 3 Accent 4"/> <w:LsdException Locked="false" Priority="70" Name="Dark List Accent 4"/> <w:LsdException Locked="false" Priority="71" Name="Colorful Shading Accent 4"/> <w:LsdException Locked="false" Priority="72" Name="Colorful List Accent 4"/> <w:LsdException Locked="false" Priority="73" Name="Colorful Grid Accent 4"/> <w:LsdException Locked="false" Priority="60" Name="Light Shading Accent 5"/> <w:LsdException Locked="false" Priority="61" Name="Light List Accent 5"/> <w:LsdException Locked="false" Priority="62" Name="Light Grid Accent 5"/> <w:LsdException Locked="false" Priority="63" Name="Medium Shading 1 Accent 5"/> <w:LsdException Locked="false" Priority="64" Name="Medium Shading 2 Accent 5"/> <w:LsdException Locked="false" Priority="65" Name="Medium List 1 Accent 5"/> <w:LsdException Locked="false" Priority="66" Name="Medium List 2 Accent 5"/> <w:LsdException Locked="false" Priority="67" Name="Medium Grid 1 Accent 5"/> <w:LsdException Locked="false" Priority="68" Name="Medium Grid 2 Accent 5"/> <w:LsdException Locked="false" Priority="69" Name="Medium Grid 3 Accent 5"/> <w:LsdException Locked="false" Priority="70" Name="Dark List Accent 5"/> <w:LsdException Locked="false" Priority="71" Name="Colorful Shading Accent 5"/> <w:LsdException Locked="false" Priority="72" Name="Colorful List Accent 5"/> <w:LsdException Locked="false" Priority="73" Name="Colorful Grid Accent 5"/> <w:LsdException Locked="false" Priority="60" Name="Light Shading Accent 6"/> <w:LsdException Locked="false" Priority="61" Name="Light List Accent 6"/> <w:LsdException Locked="false" Priority="62" Name="Light Grid Accent 6"/> <w:LsdException Locked="false" Priority="63" Name="Medium Shading 1 Accent 6"/> <w:LsdException Locked="false" Priority="64" Name="Medium Shading 2 Accent 6"/> <w:LsdException Locked="false" Priority="65" Name="Medium List 1 Accent 6"/> <w:LsdException Locked="false" Priority="66" Name="Medium List 2 Accent 6"/> <w:LsdException Locked="false" Priority="67" Name="Medium Grid 1 Accent 6"/> <w:LsdException Locked="false" Priority="68" Name="Medium Grid 2 Accent 6"/> <w:LsdException Locked="false" Priority="69" Name="Medium Grid 3 Accent 6"/> <w:LsdException Locked="false" Priority="70" Name="Dark List Accent 6"/> <w:LsdException Locked="false" Priority="71" Name="Colorful Shading Accent 6"/> <w:LsdException Locked="false" Priority="72" Name="Colorful List Accent 6"/> <w:LsdException Locked="false" Priority="73" Name="Colorful Grid Accent 6"/> <w:LsdException Locked="false" Priority="19" QFormat="true" Name="Subtle Emphasis"/> <w:LsdException Locked="false" Priority="21" QFormat="true" Name="Intense Emphasis"/> <w:LsdException Locked="false" Priority="31" QFormat="true" Name="Subtle Reference"/> <w:LsdException Locked="false" Priority="32" QFormat="true" Name="Intense Reference"/> <w:LsdException Locked="false" Priority="33" QFormat="true" Name="Book Title"/> <w:LsdException Locked="false" Priority="37" SemiHidden="true" UnhideWhenUsed="true" Name="Bibliography"/> <w:LsdException Locked="false" Priority="39" SemiHidden="true" UnhideWhenUsed="true" QFormat="true" Name="TOC Heading"/> <w:LsdException Locked="false" Priority="41" Name="Plain Table 1"/> <w:LsdException Locked="false" Priority="42" Name="Plain Table 2"/> <w:LsdException Locked="false" Priority="43" Name="Plain Table 3"/> <w:LsdException Locked="false" Priority="44" Name="Plain Table 4"/> <w:LsdException Locked="false" Priority="45" Name="Plain Table 5"/> <w:LsdException Locked="false" Priority="40" Name="Grid Table Light"/> <w:LsdException Locked="false" Priority="46" Name="Grid Table 1 Light"/> <w:LsdException Locked="false" Priority="47" Name="Grid Table 2"/> <w:LsdException Locked="false" Priority="48" Name="Grid Table 3"/> <w:LsdException Locked="false" Priority="49" Name="Grid Table 4"/> <w:LsdException Locked="false" Priority="50" Name="Grid Table 5 Dark"/> <w:LsdException Locked="false" Priority="51" Name="Grid Table 6 Colorful"/> <w:LsdException Locked="false" Priority="52" Name="Grid Table 7 Colorful"/> <w:LsdException Locked="false" Priority="46" Name="Grid Table 1 Light Accent 1"/> <w:LsdException Locked="false" Priority="47" Name="Grid Table 2 Accent 1"/> <w:LsdException Locked="false" Priority="48" Name="Grid Table 3 Accent 1"/> <w:LsdException Locked="false" Priority="49" Name="Grid Table 4 Accent 1"/> <w:LsdException Locked="false" Priority="50" Name="Grid Table 5 Dark Accent 1"/> <w:LsdException Locked="false" Priority="51" Name="Grid Table 6 Colorful Accent 1"/> <w:LsdException Locked="false" Priority="52" Name="Grid Table 7 Colorful Accent 1"/> <w:LsdException Locked="false" Priority="46" Name="Grid Table 1 Light Accent 2"/> <w:LsdException Locked="false" Priority="47" Name="Grid Table 2 Accent 2"/> <w:LsdException Locked="false" Priority="48" Name="Grid Table 3 Accent 2"/> <w:LsdException Locked="false" Priority="49" Name="Grid Table 4 Accent 2"/> <w:LsdException Locked="false" Priority="50" Name="Grid Table 5 Dark Accent 2"/> <w:LsdException Locked="false" Priority="51" Name="Grid Table 6 Colorful Accent 2"/> <w:LsdException Locked="false" Priority="52" Name="Grid Table 7 Colorful Accent 2"/> <w:LsdException Locked="false" Priority="46" Name="Grid Table 1 Light Accent 3"/> <w:LsdException Locked="false" Priority="47" Name="Grid Table 2 Accent 3"/> <w:LsdException Locked="false" Priority="48" Name="Grid Table 3 Accent 3"/> <w:LsdException Locked="false" Priority="49" Name="Grid Table 4 Accent 3"/> <w:LsdException Locked="false" Priority="50" Name="Grid Table 5 Dark Accent 3"/> <w:LsdException Locked="false" Priority="51" Name="Grid Table 6 Colorful Accent 3"/> <w:LsdException Locked="false" Priority="52" Name="Grid Table 7 Colorful Accent 3"/> <w:LsdException Locked="false" Priority="46" Name="Grid Table 1 Light Accent 4"/> <w:LsdException Locked="false" Priority="47" Name="Grid Table 2 Accent 4"/> <w:LsdException Locked="false" Priority="48" Name="Grid Table 3 Accent 4"/> <w:LsdException Locked="false" Priority="49" Name="Grid Table 4 Accent 4"/> <w:LsdException Locked="false" Priority="50" Name="Grid Table 5 Dark Accent 4"/> <w:LsdException Locked="false" Priority="51" Name="Grid Table 6 Colorful Accent 4"/> <w:LsdException Locked="false" Priority="52" Name="Grid Table 7 Colorful Accent 4"/> <w:LsdException Locked="false" Priority="46" Name="Grid Table 1 Light Accent 5"/> <w:LsdException Locked="false" Priority="47" Name="Grid Table 2 Accent 5"/> <w:LsdException Locked="false" Priority="48" Name="Grid Table 3 Accent 5"/> <w:LsdException Locked="false" Priority="49" Name="Grid Table 4 Accent 5"/> <w:LsdException Locked="false" Priority="50" Name="Grid Table 5 Dark Accent 5"/> <w:LsdException Locked="false" Priority="51" Name="Grid Table 6 Colorful Accent 5"/> <w:LsdException Locked="false" Priority="52" Name="Grid Table 7 Colorful Accent 5"/> <w:LsdException Locked="false" Priority="46" Name="Grid Table 1 Light Accent 6"/> <w:LsdException Locked="false" Priority="47" Name="Grid Table 2 Accent 6"/> <w:LsdException Locked="false" Priority="48" Name="Grid Table 3 Accent 6"/> <w:LsdException Locked="false" Priority="49" Name="Grid Table 4 Accent 6"/> <w:LsdException Locked="false" Priority="50" Name="Grid Table 5 Dark Accent 6"/> <w:LsdException Locked="false" Priority="51" Name="Grid Table 6 Colorful Accent 6"/> <w:LsdException Locked="false" Priority="52" Name="Grid Table 7 Colorful Accent 6"/> <w:LsdException Locked="false" Priority="46" Name="List Table 1 Light"/> <w:LsdException Locked="false" Priority="47" Name="List Table 2"/> <w:LsdException Locked="false" Priority="48" Name="List Table 3"/> <w:LsdException Locked="false" Priority="49" Name="List Table 4"/> <w:LsdException Locked="false" Priority="50" Name="List Table 5 Dark"/> <w:LsdException Locked="false" Priority="51" Name="List Table 6 Colorful"/> <w:LsdException Locked="false" Priority="52" Name="List Table 7 Colorful"/> <w:LsdException Locked="false" Priority="46" Name="List Table 1 Light Accent 1"/> <w:LsdException Locked="false" Priority="47" Name="List Table 2 Accent 1"/> <w:LsdException Locked="false" Priority="48" Name="List Table 3 Accent 1"/> <w:LsdException Locked="false" Priority="49" Name="List Table 4 Accent 1"/> <w:LsdException Locked="false" Priority="50" Name="List Table 5 Dark Accent 1"/> <w:LsdException Locked="false" Priority="51" Name="List Table 6 Colorful Accent 1"/> <w:LsdException Locked="false" Priority="52" Name="List Table 7 Colorful Accent 1"/> <w:LsdException Locked="false" Priority="46" Name="List Table 1 Light Accent 2"/> <w:LsdException Locked="false" Priority="47" Name="List Table 2 Accent 2"/> <w:LsdException Locked="false" Priority="48" Name="List Table 3 Accent 2"/> <w:LsdException Locked="false" Priority="49" Name="List Table 4 Accent 2"/> <w:LsdException Locked="false" Priority="50" Name="List Table 5 Dark Accent 2"/> <w:LsdException Locked="false" Priority="51" Name="List Table 6 Colorful Accent 2"/> <w:LsdException Locked="false" Priority="52" Name="List Table 7 Colorful Accent 2"/> <w:LsdException Locked="false" Priority="46" Name="List Table 1 Light Accent 3"/> <w:LsdException Locked="false" Priority="47" Name="List Table 2 Accent 3"/> <w:LsdException Locked="false" Priority="48" Name="List Table 3 Accent 3"/> <w:LsdException Locked="false" Priority="49" Name="List Table 4 Accent 3"/> <w:LsdException Locked="false" Priority="50" Name="List Table 5 Dark Accent 3"/> <w:LsdException Locked="false" Priority="51" Name="List Table 6 Colorful Accent 3"/> <w:LsdException Locked="false" Priority="52" Name="List Table 7 Colorful Accent 3"/> <w:LsdException Locked="false" Priority="46" Name="List Table 1 Light Accent 4"/> <w:LsdException Locked="false" Priority="47" Name="List Table 2 Accent 4"/> <w:LsdException Locked="false" Priority="48" Name="List Table 3 Accent 4"/> <w:LsdException Locked="false" Priority="49" Name="List Table 4 Accent 4"/> <w:LsdException Locked="false" Priority="50" Name="List Table 5 Dark Accent 4"/> <w:LsdException Locked="false" Priority="51" Name="List Table 6 Colorful Accent 4"/> <w:LsdException Locked="false" Priority="52" Name="List Table 7 Colorful Accent 4"/> <w:LsdException Locked="false" Priority="46" Name="List Table 1 Light Accent 5"/> <w:LsdException Locked="false" Priority="47" Name="List Table 2 Accent 5"/> <w:LsdException Locked="false" Priority="48" Name="List Table 3 Accent 5"/> <w:LsdException Locked="false" Priority="49" Name="List Table 4 Accent 5"/> <w:LsdException Locked="false" Priority="50" Name="List Table 5 Dark Accent 5"/> <w:LsdException Locked="false" Priority="51" Name="List Table 6 Colorful Accent 5"/> <w:LsdException Locked="false" Priority="52" Name="List Table 7 Colorful Accent 5"/> <w:LsdException Locked="false" Priority="46" Name="List Table 1 Light Accent 6"/> <w:LsdException Locked="false" Priority="47" Name="List Table 2 Accent 6"/> <w:LsdException Locked="false" Priority="48" Name="List Table 3 Accent 6"/> <w:LsdException Locked="false" Priority="49" Name="List Table 4 Accent 6"/> <w:LsdException Locked="false" Priority="50" Name="List Table 5 Dark Accent 6"/> <w:LsdException Locked="false" Priority="51" Name="List Table 6 Colorful Accent 6"/> <w:LsdException Locked="false" Priority="52" Name="List Table 7 Colorful Accent 6"/> </w:LatentStyles> </xml><![endif]--><!--[if gte mso 10]> <style> /* Style Definitions */ table.MsoNormalTable {mso-style-name:"Table Normal"; mso-tstyle-rowband-size:0; mso-tstyle-colband-size:0; mso-style-noshow:yes; mso-style-priority:99; mso-style-parent:""; mso-padding-alt:0in 5.4pt 0in 5.4pt; mso-para-margin:0in; mso-para-margin-bottom:.0001pt; mso-pagination:widow-orphan; font-size:10.0pt; font-family:"Times New Roman","serif";} </style> <![endif]-->*This is an electronic Gift Card and no physical gift card will be mailed. Email may take 1 business day to be delivered. <br></p><br>

Jelly Belly Online Gift Card - Congratulations

See more...

Quantity

Product Info

Jelly Belly Gift Card - Congratulations<br><p>Gift-Giving in Just 3 Easy Steps:<br> 1. Choose from a variety of occasions<br> 2. Select the value<br> 3. Email it to the lucky recipient.</p> <p>A Jelly Belly Gift Card makes a convenient and fun last-minute congratulations gift! We offer a variety of fun, colorful designs in denominations up to $100 so that you can give just the right gift.</p> <p><strong>Gift Card information</strong></p> <ul> <li>Jelly Belly Online Gift Cards do not expire.</li> <li>Jelly Belly Online Gift Cards are only redeemable at JellyBelly.com.</li> <li>Jelly Belly Online Gift Cards are not redeemable for cash, except to the extent required by law. </li> <li>Jelly Belly Online Gift Cards may not be used to purchase other Gift Cards or applied to any order containing another Gift Card. You'll need to provide a credit card, debit card, or other valid payment method to pay for the order if you have gift cards in your Shopping Cart. </li> <li>Discount coupons and promotional codes may not be applied to purchases of Jelly Belly Online Gift Cards. If you use a discount or promotional code when ordering a combination of physical Jelly Belly products and Jelly Belly Online Gift Cards, the discount will only be applied to the physical products on your order.</li> </ul> <!-- <p>Please note: These Gift Cards have no fees or expiration date and are redeemable only at JellyBelly.com. Discount coupons and codes may not be applied to purchases of online gift cards.</p><p><!--[if gte mso 9]><xml> <w:worddocument> <w:view>Normal</w:view> <w:zoom>0</w:zoom> <w:trackmoves> <w:trackformatting> <w:punctuationkerning> <w:validateagainstschemas> <w:saveifxmlinvalid>false</w:saveifxmlinvalid> <w:ignoremixedcontent>false</w:ignoremixedcontent> <w:alwaysshowplaceholdertext>false</w:alwaysshowplaceholdertext> <w:donotpromoteqf> <w:lidthemeother>EN-US</w:lidthemeother> <w:lidthemeasian>X-NONE</w:lidthemeasian> <w:lidthemecomplexscript>X-NONE</w:lidthemecomplexscript> <w:compatibility> <w:breakwrappedtables> <w:snaptogridincell> <w:wraptextwithpunct> <w:useasianbreakrules> <w:dontgrowautofit> <w:splitpgbreakandparamark> <w:enableopentypekerning> <w:dontflipmirrorindents> <w:overridetablestylehps> </w:overridetablestylehps></w:dontflipmirrorindents></w:enableopentypekerning></w:splitpgbreakandparamark></w:dontgrowautofit></w:useasianbreakrules></w:wraptextwithpunct></w:snaptogridincell></w:breakwrappedtables></w:compatibility> <w:browserlevel>MicrosoftInternetExplorer4</w:browserlevel> <m:mathpr> <m:mathfont m:val="Cambria Math"> <m:brkbin m:val="before"> <m:brkbinsub m:val="--"> <m:smallfrac m:val="off"> <m:dispdef> <m:lmargin m:val="0"> <m:rmargin m:val="0"> <m:defjc m:val="centerGroup"> <m:wrapindent m:val="1440"> <m:intlim m:val="subSup"> <m:narylim m:val="undOvr"> </m:narylim></m:intlim></m:wrapindent></m:defjc></m:rmargin></m:lmargin></m:dispdef></m:smallfrac></m:brkbinsub></m:brkbin></m:mathfont></m:mathpr></w:donotpromoteqf></w:validateagainstschemas></w:punctuationkerning></w:trackformatting></w:trackmoves></w:worddocument> <!--[endif]----><p></p><p><!--[if gte mso 9]><xml> <w:LatentStyles DefLockedState="false" DefUnhideWhenUsed="false" DefSemiHidden="false" DefQFormat="false" DefPriority="99" LatentStyleCount="371"> <w:LsdException Locked="false" Priority="0" QFormat="true" Name="Normal"/> <w:LsdException Locked="false" Priority="9" QFormat="true" Name="heading 1"/> <w:LsdException Locked="false" Priority="9" SemiHidden="true" UnhideWhenUsed="true" QFormat="true" Name="heading 2"/> <w:LsdException Locked="false" Priority="9" SemiHidden="true" UnhideWhenUsed="true" QFormat="true" Name="heading 3"/> <w:LsdException Locked="false" Priority="9" SemiHidden="true" UnhideWhenUsed="true" QFormat="true" Name="heading 4"/> <w:LsdException Locked="false" Priority="9" SemiHidden="true" UnhideWhenUsed="true" QFormat="true" Name="heading 5"/> <w:LsdException Locked="false" Priority="9" SemiHidden="true" UnhideWhenUsed="true" QFormat="true" Name="heading 6"/> <w:LsdException Locked="false" Priority="9" SemiHidden="true" UnhideWhenUsed="true" QFormat="true" Name="heading 7"/> <w:LsdException Locked="false" Priority="9" SemiHidden="true" UnhideWhenUsed="true" QFormat="true" Name="heading 8"/> <w:LsdException Locked="false" Priority="9" SemiHidden="true" UnhideWhenUsed="true" QFormat="true" Name="heading 9"/> <w:LsdException Locked="false" SemiHidden="true" UnhideWhenUsed="true" Name="index 1"/> <w:LsdException Locked="false" SemiHidden="true" UnhideWhenUsed="true" Name="index 2"/> <w:LsdException Locked="false" SemiHidden="true" UnhideWhenUsed="true" Name="index 3"/> <w:LsdException Locked="false" SemiHidden="true" UnhideWhenUsed="true" Name="index 4"/> <w:LsdException Locked="false" SemiHidden="true" UnhideWhenUsed="true" Name="index 5"/> <w:LsdException Locked="false" SemiHidden="true" UnhideWhenUsed="true" Name="index 6"/> <w:LsdException Locked="false" SemiHidden="true" UnhideWhenUsed="true" Name="index 7"/> <w:LsdException Locked="false" SemiHidden="true" UnhideWhenUsed="true" Name="index 8"/> <w:LsdException Locked="false" SemiHidden="true" UnhideWhenUsed="true" Name="index 9"/> <w:LsdException Locked="false" Priority="39" SemiHidden="true" UnhideWhenUsed="true" Name="toc 1"/> <w:LsdException Locked="false" Priority="39" SemiHidden="true" UnhideWhenUsed="true" Name="toc 2"/> <w:LsdException Locked="false" Priority="39" SemiHidden="true" UnhideWhenUsed="true" Name="toc 3"/> <w:LsdException Locked="false" Priority="39" SemiHidden="true" UnhideWhenUsed="true" Name="toc 4"/> <w:LsdException Locked="false" Priority="39" SemiHidden="true" UnhideWhenUsed="true" Name="toc 5"/> <w:LsdException Locked="false" Priority="39" SemiHidden="true" UnhideWhenUsed="true" Name="toc 6"/> <w:LsdException Locked="false" Priority="39" SemiHidden="true" UnhideWhenUsed="true" Name="toc 7"/> <w:LsdException Locked="false" Priority="39" SemiHidden="true" UnhideWhenUsed="true" Name="toc 8"/> <w:LsdException Locked="false" Priority="39" SemiHidden="true" UnhideWhenUsed="true" Name="toc 9"/> <w:LsdException Locked="false" SemiHidden="true" UnhideWhenUsed="true" Name="Normal Indent"/> <w:LsdException Locked="false" SemiHidden="true" UnhideWhenUsed="true" Name="footnote text"/> <w:LsdException Locked="false" SemiHidden="true" UnhideWhenUsed="true" Name="annotation text"/> <w:LsdException Locked="false" SemiHidden="true" UnhideWhenUsed="true" Name="header"/> <w:LsdException Locked="false" SemiHidden="true" UnhideWhenUsed="true" Name="footer"/> <w:LsdException Locked="false" SemiHidden="true" UnhideWhenUsed="true" Name="index heading"/> <w:LsdException Locked="false" Priority="35" SemiHidden="true" UnhideWhenUsed="true" QFormat="true" Name="caption"/> <w:LsdException Locked="false" SemiHidden="true" UnhideWhenUsed="true" Name="table of figures"/> <w:LsdException Locked="false" SemiHidden="true" UnhideWhenUsed="true" Name="envelope address"/> <w:LsdException Locked="false" SemiHidden="true" UnhideWhenUsed="true" Name="envelope return"/> <w:LsdException Locked="false" SemiHidden="true" UnhideWhenUsed="true" Name="footnote reference"/> <w:LsdException Locked="false" SemiHidden="true" UnhideWhenUsed="true" Name="annotation reference"/> <w:LsdException Locked="false" SemiHidden="true" UnhideWhenUsed="true" Name="line number"/> <w:LsdException Locked="false" SemiHidden="true" UnhideWhenUsed="true" Name="page number"/> <w:LsdException Locked="false" SemiHidden="true" UnhideWhenUsed="true" Name="endnote reference"/> <w:LsdException Locked="false" SemiHidden="true" UnhideWhenUsed="true" Name="endnote text"/> <w:LsdException Locked="false" SemiHidden="true" UnhideWhenUsed="true" Name="table of authorities"/> <w:LsdException Locked="false" SemiHidden="true" UnhideWhenUsed="true" Name="macro"/> <w:LsdException Locked="false" SemiHidden="true" UnhideWhenUsed="true" Name="toa heading"/> <w:LsdException Locked="false" SemiHidden="true" UnhideWhenUsed="true" Name="List"/> <w:LsdException Locked="false" SemiHidden="true" UnhideWhenUsed="true" Name="List Bullet"/> <w:LsdException Locked="false" SemiHidden="true" UnhideWhenUsed="true" Name="List Number"/> <w:LsdException Locked="false" SemiHidden="true" UnhideWhenUsed="true" Name="List 2"/> <w:LsdException Locked="false" SemiHidden="true" UnhideWhenUsed="true" Name="List 3"/> <w:LsdException Locked="false" SemiHidden="true" UnhideWhenUsed="true" Name="List 4"/> <w:LsdException Locked="false" SemiHidden="true" UnhideWhenUsed="true" Name="List 5"/> <w:LsdException Locked="false" SemiHidden="true" UnhideWhenUsed="true" Name="List Bullet 2"/> <w:LsdException Locked="false" SemiHidden="true" UnhideWhenUsed="true" Name="List Bullet 3"/> <w:LsdException Locked="false" SemiHidden="true" UnhideWhenUsed="true" Name="List Bullet 4"/> <w:LsdException Locked="false" SemiHidden="true" UnhideWhenUsed="true" Name="List Bullet 5"/> <w:LsdException Locked="false" SemiHidden="true" UnhideWhenUsed="true" Name="List Number 2"/> <w:LsdException Locked="false" SemiHidden="true" UnhideWhenUsed="true" Name="List Number 3"/> <w:LsdException Locked="false" SemiHidden="true" UnhideWhenUsed="true" Name="List Number 4"/> <w:LsdException Locked="false" SemiHidden="true" UnhideWhenUsed="true" Name="List Number 5"/> <w:LsdException Locked="false" Priority="10" QFormat="true" Name="Title"/> <w:LsdException Locked="false" SemiHidden="true" UnhideWhenUsed="true" Name="Closing"/> <w:LsdException Locked="false" SemiHidden="true" UnhideWhenUsed="true" Name="Signature"/> <w:LsdException Locked="false" Priority="1" SemiHidden="true" UnhideWhenUsed="true" Name="Default Paragraph Font"/> <w:LsdException Locked="false" SemiHidden="true" UnhideWhenUsed="true" Name="Body Text"/> <w:LsdException Locked="false" SemiHidden="true" UnhideWhenUsed="true" Name="Body Text Indent"/> <w:LsdException Locked="false" SemiHidden="true" UnhideWhenUsed="true" Name="List Continue"/> <w:LsdException Locked="false" SemiHidden="true" UnhideWhenUsed="true" Name="List Continue 2"/> <w:LsdException Locked="false" SemiHidden="true" UnhideWhenUsed="true" Name="List Continue 3"/> <w:LsdException Locked="false" SemiHidden="true" UnhideWhenUsed="true" Name="List Continue 4"/> <w:LsdException Locked="false" SemiHidden="true" UnhideWhenUsed="true" Name="List Continue 5"/> <w:LsdException Locked="false" SemiHidden="true" UnhideWhenUsed="true" Name="Message Header"/> <w:LsdException Locked="false" Priority="11" QFormat="true" Name="Subtitle"/> <w:LsdException Locked="false" SemiHidden="true" UnhideWhenUsed="true" Name="Salutation"/> <w:LsdException Locked="false" SemiHidden="true" UnhideWhenUsed="true" Name="Date"/> <w:LsdException Locked="false" SemiHidden="true" UnhideWhenUsed="true" Name="Body Text First Indent"/> <w:LsdException Locked="false" SemiHidden="true" UnhideWhenUsed="true" Name="Body Text First Indent 2"/> <w:LsdException Locked="false" SemiHidden="true" UnhideWhenUsed="true" Name="Note Heading"/> <w:LsdException Locked="false" SemiHidden="true" UnhideWhenUsed="true" Name="Body Text 2"/> <w:LsdException Locked="false" SemiHidden="true" UnhideWhenUsed="true" Name="Body Text 3"/> <w:LsdException Locked="false" SemiHidden="true" UnhideWhenUsed="true" Name="Body Text Indent 2"/> <w:LsdException Locked="false" SemiHidden="true" UnhideWhenUsed="true" Name="Body Text Indent 3"/> <w:LsdException Locked="false" SemiHidden="true" UnhideWhenUsed="true" Name="Block Text"/> <w:LsdException Locked="false" SemiHidden="true" UnhideWhenUsed="true" Name="Hyperlink"/> <w:LsdException Locked="false" SemiHidden="true" UnhideWhenUsed="true" Name="FollowedHyperlink"/> <w:LsdException Locked="false" Priority="22" QFormat="true" Name="Strong"/> <w:LsdException Locked="false" Priority="20" QFormat="true" Name="Emphasis"/> <w:LsdException Locked="false" SemiHidden="true" UnhideWhenUsed="true" Name="Document Map"/> <w:LsdException Locked="false" SemiHidden="true" UnhideWhenUsed="true" Name="Plain Text"/> <w:LsdException Locked="false" SemiHidden="true" UnhideWhenUsed="true" Name="E-mail Signature"/> <w:LsdException Locked="false" SemiHidden="true" UnhideWhenUsed="true" Name="HTML Top of Form"/> <w:LsdException Locked="false" SemiHidden="true" UnhideWhenUsed="true" Name="HTML Bottom of Form"/> <w:LsdException Locked="false" SemiHidden="true" UnhideWhenUsed="true" Name="Normal (Web)"/> <w:LsdException Locked="false" SemiHidden="true" UnhideWhenUsed="true" Name="HTML Acronym"/> <w:LsdException Locked="false" SemiHidden="true" UnhideWhenUsed="true" Name="HTML Address"/> <w:LsdException Locked="false" SemiHidden="true" UnhideWhenUsed="true" Name="HTML Cite"/> <w:LsdException Locked="false" SemiHidden="true" UnhideWhenUsed="true" Name="HTML Code"/> <w:LsdException Locked="false" SemiHidden="true" UnhideWhenUsed="true" Name="HTML Definition"/> <w:LsdException Locked="false" SemiHidden="true" UnhideWhenUsed="true" Name="HTML Keyboard"/> <w:LsdException Locked="false" SemiHidden="true" UnhideWhenUsed="true" Name="HTML Preformatted"/> <w:LsdException Locked="false" SemiHidden="true" UnhideWhenUsed="true" Name="HTML Sample"/> <w:LsdException Locked="false" SemiHidden="true" UnhideWhenUsed="true" Name="HTML Typewriter"/> <w:LsdException Locked="false" SemiHidden="true" UnhideWhenUsed="true" Name="HTML Variable"/> <w:LsdException Locked="false" SemiHidden="true" UnhideWhenUsed="true" Name="Normal Table"/> <w:LsdException Locked="false" SemiHidden="true" UnhideWhenUsed="true" Name="annotation subject"/> <w:LsdException Locked="false" SemiHidden="true" UnhideWhenUsed="true" Name="No List"/> <w:LsdException Locked="false" SemiHidden="true" UnhideWhenUsed="true" Name="Outline List 1"/> <w:LsdException Locked="false" SemiHidden="true" UnhideWhenUsed="true" Name="Outline List 2"/> <w:LsdException Locked="false" SemiHidden="true" UnhideWhenUsed="true" Name="Outline List 3"/> <w:LsdException Locked="false" SemiHidden="true" UnhideWhenUsed="true" Name="Table Simple 1"/> <w:LsdException Locked="false" SemiHidden="true" UnhideWhenUsed="true" Name="Table Simple 2"/> <w:LsdException Locked="false" SemiHidden="true" UnhideWhenUsed="true" Name="Table Simple 3"/> <w:LsdException Locked="false" SemiHidden="true" UnhideWhenUsed="true" Name="Table Classic 1"/> <w:LsdException Locked="false" SemiHidden="true" UnhideWhenUsed="true" Name="Table Classic 2"/> <w:LsdException Locked="false" SemiHidden="true" UnhideWhenUsed="true" Name="Table Classic 3"/> <w:LsdException Locked="false" SemiHidden="true" UnhideWhenUsed="true" Name="Table Classic 4"/> <w:LsdException Locked="false" SemiHidden="true" UnhideWhenUsed="true" Name="Table Colorful 1"/> <w:LsdException Locked="false" SemiHidden="true" UnhideWhenUsed="true" Name="Table Colorful 2"/> <w:LsdException Locked="false" SemiHidden="true" UnhideWhenUsed="true" Name="Table Colorful 3"/> <w:LsdException Locked="false" SemiHidden="true" UnhideWhenUsed="true" Name="Table Columns 1"/> <w:LsdException Locked="false" SemiHidden="true" UnhideWhenUsed="true" Name="Table Columns 2"/> <w:LsdException Locked="false" SemiHidden="true" UnhideWhenUsed="true" Name="Table Columns 3"/> <w:LsdException Locked="false" SemiHidden="true" UnhideWhenUsed="true" Name="Table Columns 4"/> <w:LsdException Locked="false" SemiHidden="true" UnhideWhenUsed="true" Name="Table Columns 5"/> <w:LsdException Locked="false" SemiHidden="true" UnhideWhenUsed="true" Name="Table Grid 1"/> <w:LsdException Locked="false" SemiHidden="true" UnhideWhenUsed="true" Name="Table Grid 2"/> <w:LsdException Locked="false" SemiHidden="true" UnhideWhenUsed="true" Name="Table Grid 3"/> <w:LsdException Locked="false" SemiHidden="true" UnhideWhenUsed="true" Name="Table Grid 4"/> <w:LsdException Locked="false" SemiHidden="true" UnhideWhenUsed="true" Name="Table Grid 5"/> <w:LsdException Locked="false" SemiHidden="true" UnhideWhenUsed="true" Name="Table Grid 6"/> <w:LsdException Locked="false" SemiHidden="true" UnhideWhenUsed="true" Name="Table Grid 7"/> <w:LsdException Locked="false" SemiHidden="true" UnhideWhenUsed="true" Name="Table Grid 8"/> <w:LsdException Locked="false" SemiHidden="true" UnhideWhenUsed="true" Name="Table List 1"/> <w:LsdException Locked="false" SemiHidden="true" UnhideWhenUsed="true" Name="Table List 2"/> <w:LsdException Locked="false" SemiHidden="true" UnhideWhenUsed="true" Name="Table List 3"/> <w:LsdException Locked="false" SemiHidden="true" UnhideWhenUsed="true" Name="Table List 4"/> <w:LsdException Locked="false" SemiHidden="true" UnhideWhenUsed="true" Name="Table List 5"/> <w:LsdException Locked="false" SemiHidden="true" UnhideWhenUsed="true" Name="Table List 6"/> <w:LsdException Locked="false" SemiHidden="true" UnhideWhenUsed="true" Name="Table List 7"/> <w:LsdException Locked="false" SemiHidden="true" UnhideWhenUsed="true" Name="Table List 8"/> <w:LsdException Locked="false" SemiHidden="true" UnhideWhenUsed="true" Name="Table 3D effects 1"/> <w:LsdException Locked="false" SemiHidden="true" UnhideWhenUsed="true" Name="Table 3D effects 2"/> <w:LsdException Locked="false" SemiHidden="true" UnhideWhenUsed="true" Name="Table 3D effects 3"/> <w:LsdException Locked="false" SemiHidden="true" UnhideWhenUsed="true" Name="Table Contemporary"/> <w:LsdException Locked="false" SemiHidden="true" UnhideWhenUsed="true" Name="Table Elegant"/> <w:LsdException Locked="false" SemiHidden="true" UnhideWhenUsed="true" Name="Table Professional"/> <w:LsdException Locked="false" SemiHidden="true" UnhideWhenUsed="true" Name="Table Subtle 1"/> <w:LsdException Locked="false" SemiHidden="true" UnhideWhenUsed="true" Name="Table Subtle 2"/> <w:LsdException Locked="false" SemiHidden="true" UnhideWhenUsed="true" Name="Table Web 1"/> <w:LsdException Locked="false" SemiHidden="true" UnhideWhenUsed="true" Name="Table Web 2"/> <w:LsdException Locked="false" SemiHidden="true" UnhideWhenUsed="true" Name="Table Web 3"/> <w:LsdException Locked="false" SemiHidden="true" UnhideWhenUsed="true" Name="Balloon Text"/> <w:LsdException Locked="false" Priority="39" Name="Table Grid"/> <w:LsdException Locked="false" SemiHidden="true" UnhideWhenUsed="true" Name="Table Theme"/> <w:LsdException Locked="false" SemiHidden="true" Name="Placeholder Text"/> <w:LsdException Locked="false" Priority="1" QFormat="true" Name="No Spacing"/> <w:LsdException Locked="false" Priority="60" Name="Light Shading"/> <w:LsdException Locked="false" Priority="61" Name="Light List"/> <w:LsdException Locked="false" Priority="62" Name="Light Grid"/> <w:LsdException Locked="false" Priority="63" Name="Medium Shading 1"/> <w:LsdException Locked="false" Priority="64" Name="Medium Shading 2"/> <w:LsdException Locked="false" Priority="65" Name="Medium List 1"/> <w:LsdException Locked="false" Priority="66" Name="Medium List 2"/> <w:LsdException Locked="false" Priority="67" Name="Medium Grid 1"/> <w:LsdException Locked="false" Priority="68" Name="Medium Grid 2"/> <w:LsdException Locked="false" Priority="69" Name="Medium Grid 3"/> <w:LsdException Locked="false" Priority="70" Name="Dark List"/> <w:LsdException Locked="false" Priority="71" Name="Colorful Shading"/> <w:LsdException Locked="false" Priority="72" Name="Colorful List"/> <w:LsdException Locked="false" Priority="73" Name="Colorful Grid"/> <w:LsdException Locked="false" Priority="60" Name="Light Shading Accent 1"/> <w:LsdException Locked="false" Priority="61" Name="Light List Accent 1"/> <w:LsdException Locked="false" Priority="62" Name="Light Grid Accent 1"/> <w:LsdException Locked="false" Priority="63" Name="Medium Shading 1 Accent 1"/> <w:LsdException Locked="false" Priority="64" Name="Medium Shading 2 Accent 1"/> <w:LsdException Locked="false" Priority="65" Name="Medium List 1 Accent 1"/> <w:LsdException Locked="false" SemiHidden="true" Name="Revision"/> <w:LsdException Locked="false" Priority="34" QFormat="true" Name="List Paragraph"/> <w:LsdException Locked="false" Priority="29" QFormat="true" Name="Quote"/> <w:LsdException Locked="false" Priority="30" QFormat="true" Name="Intense Quote"/> <w:LsdException Locked="false" Priority="66" Name="Medium List 2 Accent 1"/> <w:LsdException Locked="false" Priority="67" Name="Medium Grid 1 Accent 1"/> <w:LsdException Locked="false" Priority="68" Name="Medium Grid 2 Accent 1"/> <w:LsdException Locked="false" Priority="69" Name="Medium Grid 3 Accent 1"/> <w:LsdException Locked="false" Priority="70" Name="Dark List Accent 1"/> <w:LsdException Locked="false" Priority="71" Name="Colorful Shading Accent 1"/> <w:LsdException Locked="false" Priority="72" Name="Colorful List Accent 1"/> <w:LsdException Locked="false" Priority="73" Name="Colorful Grid Accent 1"/> <w:LsdException Locked="false" Priority="60" Name="Light Shading Accent 2"/> <w:LsdException Locked="false" Priority="61" Name="Light List Accent 2"/> <w:LsdException Locked="false" Priority="62" Name="Light Grid Accent 2"/> <w:LsdException Locked="false" Priority="63" Name="Medium Shading 1 Accent 2"/> <w:LsdException Locked="false" Priority="64" Name="Medium Shading 2 Accent 2"/> <w:LsdException Locked="false" Priority="65" Name="Medium List 1 Accent 2"/> <w:LsdException Locked="false" Priority="66" Name="Medium List 2 Accent 2"/> <w:LsdException Locked="false" Priority="67" Name="Medium Grid 1 Accent 2"/> <w:LsdException Locked="false" Priority="68" Name="Medium Grid 2 Accent 2"/> <w:LsdException Locked="false" Priority="69" Name="Medium Grid 3 Accent 2"/> <w:LsdException Locked="false" Priority="70" Name="Dark List Accent 2"/> <w:LsdException Locked="false" Priority="71" Name="Colorful Shading Accent 2"/> <w:LsdException Locked="false" Priority="72" Name="Colorful List Accent 2"/> <w:LsdException Locked="false" Priority="73" Name="Colorful Grid Accent 2"/> <w:LsdException Locked="false" Priority="60" Name="Light Shading Accent 3"/> <w:LsdException Locked="false" Priority="61" Name="Light List Accent 3"/> <w:LsdException Locked="false" Priority="62" Name="Light Grid Accent 3"/> <w:LsdException Locked="false" Priority="63" Name="Medium Shading 1 Accent 3"/> <w:LsdException Locked="false" Priority="64" Name="Medium Shading 2 Accent 3"/> <w:LsdException Locked="false" Priority="65" Name="Medium List 1 Accent 3"/> <w:LsdException Locked="false" Priority="66" Name="Medium List 2 Accent 3"/> <w:LsdException Locked="false" Priority="67" Name="Medium Grid 1 Accent 3"/> <w:LsdException Locked="false" Priority="68" Name="Medium Grid 2 Accent 3"/> <w:LsdException Locked="false" Priority="69" Name="Medium Grid 3 Accent 3"/> <w:LsdException Locked="false" Priority="70" Name="Dark List Accent 3"/> <w:LsdException Locked="false" Priority="71" Name="Colorful Shading Accent 3"/> <w:LsdException Locked="false" Priority="72" Name="Colorful List Accent 3"/> <w:LsdException Locked="false" Priority="73" Name="Colorful Grid Accent 3"/> <w:LsdException Locked="false" Priority="60" Name="Light Shading Accent 4"/> <w:LsdException Locked="false" Priority="61" Name="Light List Accent 4"/> <w:LsdException Locked="false" Priority="62" Name="Light Grid Accent 4"/> <w:LsdException Locked="false" Priority="63" Name="Medium Shading 1 Accent 4"/> <w:LsdException Locked="false" Priority="64" Name="Medium Shading 2 Accent 4"/> <w:LsdException Locked="false" Priority="65" Name="Medium List 1 Accent 4"/> <w:LsdException Locked="false" Priority="66" Name="Medium List 2 Accent 4"/> <w:LsdException Locked="false" Priority="67" Name="Medium Grid 1 Accent 4"/> <w:LsdException Locked="false" Priority="68" Name="Medium Grid 2 Accent 4"/> <w:LsdException Locked="false" Priority="69" Name="Medium Grid 3 Accent 4"/> <w:LsdException Locked="false" Priority="70" Name="Dark List Accent 4"/> <w:LsdException Locked="false" Priority="71" Name="Colorful Shading Accent 4"/> <w:LsdException Locked="false" Priority="72" Name="Colorful List Accent 4"/> <w:LsdException Locked="false" Priority="73" Name="Colorful Grid Accent 4"/> <w:LsdException Locked="false" Priority="60" Name="Light Shading Accent 5"/> <w:LsdException Locked="false" Priority="61" Name="Light List Accent 5"/> <w:LsdException Locked="false" Priority="62" Name="Light Grid Accent 5"/> <w:LsdException Locked="false" Priority="63" Name="Medium Shading 1 Accent 5"/> <w:LsdException Locked="false" Priority="64" Name="Medium Shading 2 Accent 5"/> <w:LsdException Locked="false" Priority="65" Name="Medium List 1 Accent 5"/> <w:LsdException Locked="false" Priority="66" Name="Medium List 2 Accent 5"/> <w:LsdException Locked="false" Priority="67" Name="Medium Grid 1 Accent 5"/> <w:LsdException Locked="false" Priority="68" Name="Medium Grid 2 Accent 5"/> <w:LsdException Locked="false" Priority="69" Name="Medium Grid 3 Accent 5"/> <w:LsdException Locked="false" Priority="70" Name="Dark List Accent 5"/> <w:LsdException Locked="false" Priority="71" Name="Colorful Shading Accent 5"/> <w:LsdException Locked="false" Priority="72" Name="Colorful List Accent 5"/> <w:LsdException Locked="false" Priority="73" Name="Colorful Grid Accent 5"/> <w:LsdException Locked="false" Priority="60" Name="Light Shading Accent 6"/> <w:LsdException Locked="false" Priority="61" Name="Light List Accent 6"/> <w:LsdException Locked="false" Priority="62" Name="Light Grid Accent 6"/> <w:LsdException Locked="false" Priority="63" Name="Medium Shading 1 Accent 6"/> <w:LsdException Locked="false" Priority="64" Name="Medium Shading 2 Accent 6"/> <w:LsdException Locked="false" Priority="65" Name="Medium List 1 Accent 6"/> <w:LsdException Locked="false" Priority="66" Name="Medium List 2 Accent 6"/> <w:LsdException Locked="false" Priority="67" Name="Medium Grid 1 Accent 6"/> <w:LsdException Locked="false" Priority="68" Name="Medium Grid 2 Accent 6"/> <w:LsdException Locked="false" Priority="69" Name="Medium Grid 3 Accent 6"/> <w:LsdException Locked="false" Priority="70" Name="Dark List Accent 6"/> <w:LsdException Locked="false" Priority="71" Name="Colorful Shading Accent 6"/> <w:LsdException Locked="false" Priority="72" Name="Colorful List Accent 6"/> <w:LsdException Locked="false" Priority="73" Name="Colorful Grid Accent 6"/> <w:LsdException Locked="false" Priority="19" QFormat="true" Name="Subtle Emphasis"/> <w:LsdException Locked="false" Priority="21" QFormat="true" Name="Intense Emphasis"/> <w:LsdException Locked="false" Priority="31" QFormat="true" Name="Subtle Reference"/> <w:LsdException Locked="false" Priority="32" QFormat="true" Name="Intense Reference"/> <w:LsdException Locked="false" Priority="33" QFormat="true" Name="Book Title"/> <w:LsdException Locked="false" Priority="37" SemiHidden="true" UnhideWhenUsed="true" Name="Bibliography"/> <w:LsdException Locked="false" Priority="39" SemiHidden="true" UnhideWhenUsed="true" QFormat="true" Name="TOC Heading"/> <w:LsdException Locked="false" Priority="41" Name="Plain Table 1"/> <w:LsdException Locked="false" Priority="42" Name="Plain Table 2"/> <w:LsdException Locked="false" Priority="43" Name="Plain Table 3"/> <w:LsdException Locked="false" Priority="44" Name="Plain Table 4"/> <w:LsdException Locked="false" Priority="45" Name="Plain Table 5"/> <w:LsdException Locked="false" Priority="40" Name="Grid Table Light"/> <w:LsdException Locked="false" Priority="46" Name="Grid Table 1 Light"/> <w:LsdException Locked="false" Priority="47" Name="Grid Table 2"/> <w:LsdException Locked="false" Priority="48" Name="Grid Table 3"/> <w:LsdException Locked="false" Priority="49" Name="Grid Table 4"/> <w:LsdException Locked="false" Priority="50" Name="Grid Table 5 Dark"/> <w:LsdException Locked="false" Priority="51" Name="Grid Table 6 Colorful"/> <w:LsdException Locked="false" Priority="52" Name="Grid Table 7 Colorful"/> <w:LsdException Locked="false" Priority="46" Name="Grid Table 1 Light Accent 1"/> <w:LsdException Locked="false" Priority="47" Name="Grid Table 2 Accent 1"/> <w:LsdException Locked="false" Priority="48" Name="Grid Table 3 Accent 1"/> <w:LsdException Locked="false" Priority="49" Name="Grid Table 4 Accent 1"/> <w:LsdException Locked="false" Priority="50" Name="Grid Table 5 Dark Accent 1"/> <w:LsdException Locked="false" Priority="51" Name="Grid Table 6 Colorful Accent 1"/> <w:LsdException Locked="false" Priority="52" Name="Grid Table 7 Colorful Accent 1"/> <w:LsdException Locked="false" Priority="46" Name="Grid Table 1 Light Accent 2"/> <w:LsdException Locked="false" Priority="47" Name="Grid Table 2 Accent 2"/> <w:LsdException Locked="false" Priority="48" Name="Grid Table 3 Accent 2"/> <w:LsdException Locked="false" Priority="49" Name="Grid Table 4 Accent 2"/> <w:LsdException Locked="false" Priority="50" Name="Grid Table 5 Dark Accent 2"/> <w:LsdException Locked="false" Priority="51" Name="Grid Table 6 Colorful Accent 2"/> <w:LsdException Locked="false" Priority="52" Name="Grid Table 7 Colorful Accent 2"/> <w:LsdException Locked="false" Priority="46" Name="Grid Table 1 Light Accent 3"/> <w:LsdException Locked="false" Priority="47" Name="Grid Table 2 Accent 3"/> <w:LsdException Locked="false" Priority="48" Name="Grid Table 3 Accent 3"/> <w:LsdException Locked="false" Priority="49" Name="Grid Table 4 Accent 3"/> <w:LsdException Locked="false" Priority="50" Name="Grid Table 5 Dark Accent 3"/> <w:LsdException Locked="false" Priority="51" Name="Grid Table 6 Colorful Accent 3"/> <w:LsdException Locked="false" Priority="52" Name="Grid Table 7 Colorful Accent 3"/> <w:LsdException Locked="false" Priority="46" Name="Grid Table 1 Light Accent 4"/> <w:LsdException Locked="false" Priority="47" Name="Grid Table 2 Accent 4"/> <w:LsdException Locked="false" Priority="48" Name="Grid Table 3 Accent 4"/> <w:LsdException Locked="false" Priority="49" Name="Grid Table 4 Accent 4"/> <w:LsdException Locked="false" Priority="50" Name="Grid Table 5 Dark Accent 4"/> <w:LsdException Locked="false" Priority="51" Name="Grid Table 6 Colorful Accent 4"/> <w:LsdException Locked="false" Priority="52" Name="Grid Table 7 Colorful Accent 4"/> <w:LsdException Locked="false" Priority="46" Name="Grid Table 1 Light Accent 5"/> <w:LsdException Locked="false" Priority="47" Name="Grid Table 2 Accent 5"/> <w:LsdException Locked="false" Priority="48" Name="Grid Table 3 Accent 5"/> <w:LsdException Locked="false" Priority="49" Name="Grid Table 4 Accent 5"/> <w:LsdException Locked="false" Priority="50" Name="Grid Table 5 Dark Accent 5"/> <w:LsdException Locked="false" Priority="51" Name="Grid Table 6 Colorful Accent 5"/> <w:LsdException Locked="false" Priority="52" Name="Grid Table 7 Colorful Accent 5"/> <w:LsdException Locked="false" Priority="46" Name="Grid Table 1 Light Accent 6"/> <w:LsdException Locked="false" Priority="47" Name="Grid Table 2 Accent 6"/> <w:LsdException Locked="false" Priority="48" Name="Grid Table 3 Accent 6"/> <w:LsdException Locked="false" Priority="49" Name="Grid Table 4 Accent 6"/> <w:LsdException Locked="false" Priority="50" Name="Grid Table 5 Dark Accent 6"/> <w:LsdException Locked="false" Priority="51" Name="Grid Table 6 Colorful Accent 6"/> <w:LsdException Locked="false" Priority="52" Name="Grid Table 7 Colorful Accent 6"/> <w:LsdException Locked="false" Priority="46" Name="List Table 1 Light"/> <w:LsdException Locked="false" Priority="47" Name="List Table 2"/> <w:LsdException Locked="false" Priority="48" Name="List Table 3"/> <w:LsdException Locked="false" Priority="49" Name="List Table 4"/> <w:LsdException Locked="false" Priority="50" Name="List Table 5 Dark"/> <w:LsdException Locked="false" Priority="51" Name="List Table 6 Colorful"/> <w:LsdException Locked="false" Priority="52" Name="List Table 7 Colorful"/> <w:LsdException Locked="false" Priority="46" Name="List Table 1 Light Accent 1"/> <w:LsdException Locked="false" Priority="47" Name="List Table 2 Accent 1"/> <w:LsdException Locked="false" Priority="48" Name="List Table 3 Accent 1"/> <w:LsdException Locked="false" Priority="49" Name="List Table 4 Accent 1"/> <w:LsdException Locked="false" Priority="50" Name="List Table 5 Dark Accent 1"/> <w:LsdException Locked="false" Priority="51" Name="List Table 6 Colorful Accent 1"/> <w:LsdException Locked="false" Priority="52" Name="List Table 7 Colorful Accent 1"/> <w:LsdException Locked="false" Priority="46" Name="List Table 1 Light Accent 2"/> <w:LsdException Locked="false" Priority="47" Name="List Table 2 Accent 2"/> <w:LsdException Locked="false" Priority="48" Name="List Table 3 Accent 2"/> <w:LsdException Locked="false" Priority="49" Name="List Table 4 Accent 2"/> <w:LsdException Locked="false" Priority="50" Name="List Table 5 Dark Accent 2"/> <w:LsdException Locked="false" Priority="51" Name="List Table 6 Colorful Accent 2"/> <w:LsdException Locked="false" Priority="52" Name="List Table 7 Colorful Accent 2"/> <w:LsdException Locked="false" Priority="46" Name="List Table 1 Light Accent 3"/> <w:LsdException Locked="false" Priority="47" Name="List Table 2 Accent 3"/> <w:LsdException Locked="false" Priority="48" Name="List Table 3 Accent 3"/> <w:LsdException Locked="false" Priority="49" Name="List Table 4 Accent 3"/> <w:LsdException Locked="false" Priority="50" Name="List Table 5 Dark Accent 3"/> <w:LsdException Locked="false" Priority="51" Name="List Table 6 Colorful Accent 3"/> <w:LsdException Locked="false" Priority="52" Name="List Table 7 Colorful Accent 3"/> <w:LsdException Locked="false" Priority="46" Name="List Table 1 Light Accent 4"/> <w:LsdException Locked="false" Priority="47" Name="List Table 2 Accent 4"/> <w:LsdException Locked="false" Priority="48" Name="List Table 3 Accent 4"/> <w:LsdException Locked="false" Priority="49" Name="List Table 4 Accent 4"/> <w:LsdException Locked="false" Priority="50" Name="List Table 5 Dark Accent 4"/> <w:LsdException Locked="false" Priority="51" Name="List Table 6 Colorful Accent 4"/> <w:LsdException Locked="false" Priority="52" Name="List Table 7 Colorful Accent 4"/> <w:LsdException Locked="false" Priority="46" Name="List Table 1 Light Accent 5"/> <w:LsdException Locked="false" Priority="47" Name="List Table 2 Accent 5"/> <w:LsdException Locked="false" Priority="48" Name="List Table 3 Accent 5"/> <w:LsdException Locked="false" Priority="49" Name="List Table 4 Accent 5"/> <w:LsdException Locked="false" Priority="50" Name="List Table 5 Dark Accent 5"/> <w:LsdException Locked="false" Priority="51" Name="List Table 6 Colorful Accent 5"/> <w:LsdException Locked="false" Priority="52" Name="List Table 7 Colorful Accent 5"/> <w:LsdException Locked="false" Priority="46" Name="List Table 1 Light Accent 6"/> <w:LsdException Locked="false" Priority="47" Name="List Table 2 Accent 6"/> <w:LsdException Locked="false" Priority="48" Name="List Table 3 Accent 6"/> <w:LsdException Locked="false" Priority="49" Name="List Table 4 Accent 6"/> <w:LsdException Locked="false" Priority="50" Name="List Table 5 Dark Accent 6"/> <w:LsdException Locked="false" Priority="51" Name="List Table 6 Colorful Accent 6"/> <w:LsdException Locked="false" Priority="52" Name="List Table 7 Colorful Accent 6"/> </w:LatentStyles> </xml><![endif]--><!--[if gte mso 10]> <style> /* Style Definitions */ table.MsoNormalTable {mso-style-name:"Table Normal"; mso-tstyle-rowband-size:0; mso-tstyle-colband-size:0; mso-style-noshow:yes; mso-style-priority:99; mso-style-parent:""; mso-padding-alt:0in 5.4pt 0in 5.4pt; mso-para-margin:0in; mso-para-margin-bottom:.0001pt; mso-pagination:widow-orphan; font-size:10.0pt; font-family:"Times New Roman","serif";} </style> <![endif]-->*This is an electronic gift card and no physical gift card will be mailed. Email may take 1 business day to be delivered. <br></p><br>

Jelly Belly Tropical Mix jelly beans in a 7.5 oz gift bag. Perfect present for candy lovers. Convenient size bag!

See more...

Quantity

Product Info

Whisk yourself away to a tropical paradise with the Jelly Belly Tropical Mix. Our tropical mix includes 15 of our most exotic flavors, including Piña Colada, Strawberry Daiquiri, Island Punch, Coconut and may more!<br><br>7.5 oz. gift bag.<br><br>Also available in a <a href="/p/76837">12 count case</a>.<br><br>All Jelly Belly jelly beans are OU Kosher, gluten free, peanut free, dairy free, fat free and vegetarian friendly.

Hello Kitty mellocreme candy in a 3 oz bag. 3 delicious flavors in pink, red and white. Perfect for any Hello Kitty fan.

See more...

Quantity

Product Info

Talk about the world's sweetest candy! Luscious Jelly Belly mellocreme candy in adorable Hello Kitty head shapes in 3 flavors. They make perfect party favors or gift for any Hello Kitty fan. <br><br>3 oz bag.<br><br>Also available in a <a href="/p/45121">12 count case</a>.<br><br>OU Kosher. Gluten free, peanut free, dairy free, fat free and vegetarian friendly.

Jelly Belly Assorted jelly beans in a 7.5 oz gift bag. 49 flavors. Perfect present for candy lovers. Convenient size bag!

See more...

Quantity

Product Info

We collected our official flavors and stirred them up for the ultimate Jelly Belly assortment. Only one flavor is left out: Chili Mango. It's just a little too hot to be eaten randomly.<br><br>7.5 oz. bag.<br><br>Also available in a <a href="/p/76830">12 count case.</a><br><br>All Jelly Belly jelly beans are OU Kosher, gluten free, peanut free, dairy free, fat free and vegetarian friendly.

Quantity

Product Info

<ul><li>​Includes 1,000 bags/case (125/wicket)<br></li><li>Can be held by Plastic Adapter Plate (<a href="/p/PS0260">Item #PS0260</a>)</li></ul>

Assorted Organic Fruit Flavored Snacks. Ten pounds of six fruit flavors to keep your snack bags, lunch boxes and desk drawers full.

See more...

Quantity

Product Info

Organic Fruit Flavored Snacks from the makers of Jelly Belly<sup>®&nbsp;</sup>are USDA-Certified organic, made with non-GMO ingredients, colors from natural sources, and flavored with real fruit juices. Six delicious fruit flavors include Apple, Berry, Cherry, Lemon, Orange and Strawberry, everybody will love the fun fruit flavored shapes. <br><br> 10 lbs bulk case<br><br> Organic Fruit Flavored Snacks are made with non-GMO ingredients, certified OU Kosher, vegetarian and are free of gelatin, gluten, peanut, fat and dairy.<br><br>

Jelly Belly Online Gift Card - Merry Christmas

See more...

Quantity

Product Info

Jelly Belly Gift Card - Merry Christmas<br><p>Gift-Giving in Just 3 Easy Steps:<br> 1. Choose from a variety of occasions<br> 2. Select the value<br> 3. Email it to the lucky recipient.</p> <p>A Jelly Belly Gift Card makes a convenient and fun last-minute Christmas gift! We offer a variety of fun, colorful designs in denominations up to $100 so that you can give just the right gift.</p> <p><strong>Gift Card information</strong></p> <ul> <li>Jelly Belly Online Gift Cards do not expire.</li> <li>Jelly Belly Online Gift Cards are only redeemable at JellyBelly.com.</li> <li>Jelly Belly Online Gift Cards are not redeemable for cash, except to the extent required by law. </li> <li>Jelly Belly Online Gift Cards may not be used to purchase other Gift Cards or applied to any order containing another Gift Card. You'll need to provide a credit card, debit card, or other valid payment method to pay for the order if you have Gift Cards in your Shopping Cart. </li> <li>Discount coupons and promotional codes may not be applied to purchases of Jelly Belly Online Gift Cards. If you use a discount or promotional code when ordering a combination of physical Jelly Belly products and Jelly Belly Online Gift Cards, the discount will only be applied to the physical products on your order.</li> </ul> <!-- <p>Please note: These Gift Cards have no fees or expiration date and are redeemable only at JellyBelly.com. Discount coupons and codes may not be applied to purchases of online gift cards.</p><p><!--[if gte mso 9]><xml> <w:worddocument> <w:view>Normal</w:view> <w:zoom>0</w:zoom> <w:trackmoves> <w:trackformatting> <w:punctuationkerning> <w:validateagainstschemas> <w:saveifxmlinvalid>false</w:saveifxmlinvalid> <w:ignoremixedcontent>false</w:ignoremixedcontent> <w:alwaysshowplaceholdertext>false</w:alwaysshowplaceholdertext> <w:donotpromoteqf> <w:lidthemeother>EN-US</w:lidthemeother> <w:lidthemeasian>X-NONE</w:lidthemeasian> <w:lidthemecomplexscript>X-NONE</w:lidthemecomplexscript> <w:compatibility> <w:breakwrappedtables> <w:snaptogridincell> <w:wraptextwithpunct> <w:useasianbreakrules> <w:dontgrowautofit> <w:splitpgbreakandparamark> <w:enableopentypekerning> <w:dontflipmirrorindents> <w:overridetablestylehps> </w:overridetablestylehps></w:dontflipmirrorindents></w:enableopentypekerning></w:splitpgbreakandparamark></w:dontgrowautofit></w:useasianbreakrules></w:wraptextwithpunct></w:snaptogridincell></w:breakwrappedtables></w:compatibility> <w:browserlevel>MicrosoftInternetExplorer4</w:browserlevel> <m:mathpr> <m:mathfont m:val="Cambria Math"> <m:brkbin m:val="before"> <m:brkbinsub m:val="--"> <m:smallfrac m:val="off"> <m:dispdef> <m:lmargin m:val="0"> <m:rmargin m:val="0"> <m:defjc m:val="centerGroup"> <m:wrapindent m:val="1440"> <m:intlim m:val="subSup"> <m:narylim m:val="undOvr"> </m:narylim></m:intlim></m:wrapindent></m:defjc></m:rmargin></m:lmargin></m:dispdef></m:smallfrac></m:brkbinsub></m:brkbin></m:mathfont></m:mathpr></w:donotpromoteqf></w:validateagainstschemas></w:punctuationkerning></w:trackformatting></w:trackmoves></w:worddocument> <!--[endif]----><p></p><p><!--[if gte mso 9]><xml> <w:LatentStyles DefLockedState="false" DefUnhideWhenUsed="false" DefSemiHidden="false" DefQFormat="false" DefPriority="99" LatentStyleCount="371"> <w:LsdException Locked="false" Priority="0" QFormat="true" Name="Normal"/> <w:LsdException Locked="false" Priority="9" QFormat="true" Name="heading 1"/> <w:LsdException Locked="false" Priority="9" SemiHidden="true" UnhideWhenUsed="true" QFormat="true" Name="heading 2"/> <w:LsdException Locked="false" Priority="9" SemiHidden="true" UnhideWhenUsed="true" QFormat="true" Name="heading 3"/> <w:LsdException Locked="false" Priority="9" SemiHidden="true" UnhideWhenUsed="true" QFormat="true" Name="heading 4"/> <w:LsdException Locked="false" Priority="9" SemiHidden="true" UnhideWhenUsed="true" QFormat="true" Name="heading 5"/> <w:LsdException Locked="false" Priority="9" SemiHidden="true" UnhideWhenUsed="true" QFormat="true" Name="heading 6"/> <w:LsdException Locked="false" Priority="9" SemiHidden="true" UnhideWhenUsed="true" QFormat="true" Name="heading 7"/> <w:LsdException Locked="false" Priority="9" SemiHidden="true" UnhideWhenUsed="true" QFormat="true" Name="heading 8"/> <w:LsdException Locked="false" Priority="9" SemiHidden="true" UnhideWhenUsed="true" QFormat="true" Name="heading 9"/> <w:LsdException Locked="false" SemiHidden="true" UnhideWhenUsed="true" Name="index 1"/> <w:LsdException Locked="false" SemiHidden="true" UnhideWhenUsed="true" Name="index 2"/> <w:LsdException Locked="false" SemiHidden="true" UnhideWhenUsed="true" Name="index 3"/> <w:LsdException Locked="false" SemiHidden="true" UnhideWhenUsed="true" Name="index 4"/> <w:LsdException Locked="false" SemiHidden="true" UnhideWhenUsed="true" Name="index 5"/> <w:LsdException Locked="false" SemiHidden="true" UnhideWhenUsed="true" Name="index 6"/> <w:LsdException Locked="false" SemiHidden="true" UnhideWhenUsed="true" Name="index 7"/> <w:LsdException Locked="false" SemiHidden="true" UnhideWhenUsed="true" Name="index 8"/> <w:LsdException Locked="false" SemiHidden="true" UnhideWhenUsed="true" Name="index 9"/> <w:LsdException Locked="false" Priority="39" SemiHidden="true" UnhideWhenUsed="true" Name="toc 1"/> <w:LsdException Locked="false" Priority="39" SemiHidden="true" UnhideWhenUsed="true" Name="toc 2"/> <w:LsdException Locked="false" Priority="39" SemiHidden="true" UnhideWhenUsed="true" Name="toc 3"/> <w:LsdException Locked="false" Priority="39" SemiHidden="true" UnhideWhenUsed="true" Name="toc 4"/> <w:LsdException Locked="false" Priority="39" SemiHidden="true" UnhideWhenUsed="true" Name="toc 5"/> <w:LsdException Locked="false" Priority="39" SemiHidden="true" UnhideWhenUsed="true" Name="toc 6"/> <w:LsdException Locked="false" Priority="39" SemiHidden="true" UnhideWhenUsed="true" Name="toc 7"/> <w:LsdException Locked="false" Priority="39" SemiHidden="true" UnhideWhenUsed="true" Name="toc 8"/> <w:LsdException Locked="false" Priority="39" SemiHidden="true" UnhideWhenUsed="true" Name="toc 9"/> <w:LsdException Locked="false" SemiHidden="true" UnhideWhenUsed="true" Name="Normal Indent"/> <w:LsdException Locked="false" SemiHidden="true" UnhideWhenUsed="true" Name="footnote text"/> <w:LsdException Locked="false" SemiHidden="true" UnhideWhenUsed="true" Name="annotation text"/> <w:LsdException Locked="false" SemiHidden="true" UnhideWhenUsed="true" Name="header"/> <w:LsdException Locked="false" SemiHidden="true" UnhideWhenUsed="true" Name="footer"/> <w:LsdException Locked="false" SemiHidden="true" UnhideWhenUsed="true" Name="index heading"/> <w:LsdException Locked="false" Priority="35" SemiHidden="true" UnhideWhenUsed="true" QFormat="true" Name="caption"/> <w:LsdException Locked="false" SemiHidden="true" UnhideWhenUsed="true" Name="table of figures"/> <w:LsdException Locked="false" SemiHidden="true" UnhideWhenUsed="true" Name="envelope address"/> <w:LsdException Locked="false" SemiHidden="true" UnhideWhenUsed="true" Name="envelope return"/> <w:LsdException Locked="false" SemiHidden="true" UnhideWhenUsed="true" Name="footnote reference"/> <w:LsdException Locked="false" SemiHidden="true" UnhideWhenUsed="true" Name="annotation reference"/> <w:LsdException Locked="false" SemiHidden="true" UnhideWhenUsed="true" Name="line number"/> <w:LsdException Locked="false" SemiHidden="true" UnhideWhenUsed="true" Name="page number"/> <w:LsdException Locked="false" SemiHidden="true" UnhideWhenUsed="true" Name="endnote reference"/> <w:LsdException Locked="false" SemiHidden="true" UnhideWhenUsed="true" Name="endnote text"/> <w:LsdException Locked="false" SemiHidden="true" UnhideWhenUsed="true" Name="table of authorities"/> <w:LsdException Locked="false" SemiHidden="true" UnhideWhenUsed="true" Name="macro"/> <w:LsdException Locked="false" SemiHidden="true" UnhideWhenUsed="true" Name="toa heading"/> <w:LsdException Locked="false" SemiHidden="true" UnhideWhenUsed="true" Name="List"/> <w:LsdException Locked="false" SemiHidden="true" UnhideWhenUsed="true" Name="List Bullet"/> <w:LsdException Locked="false" SemiHidden="true" UnhideWhenUsed="true" Name="List Number"/> <w:LsdException Locked="false" SemiHidden="true" UnhideWhenUsed="true" Name="List 2"/> <w:LsdException Locked="false" SemiHidden="true" UnhideWhenUsed="true" Name="List 3"/> <w:LsdException Locked="false" SemiHidden="true" UnhideWhenUsed="true" Name="List 4"/> <w:LsdException Locked="false" SemiHidden="true" UnhideWhenUsed="true" Name="List 5"/> <w:LsdException Locked="false" SemiHidden="true" UnhideWhenUsed="true" Name="List Bullet 2"/> <w:LsdException Locked="false" SemiHidden="true" UnhideWhenUsed="true" Name="List Bullet 3"/> <w:LsdException Locked="false" SemiHidden="true" UnhideWhenUsed="true" Name="List Bullet 4"/> <w:LsdException Locked="false" SemiHidden="true" UnhideWhenUsed="true" Name="List Bullet 5"/> <w:LsdException Locked="false" SemiHidden="true" UnhideWhenUsed="true" Name="List Number 2"/> <w:LsdException Locked="false" SemiHidden="true" UnhideWhenUsed="true" Name="List Number 3"/> <w:LsdException Locked="false" SemiHidden="true" UnhideWhenUsed="true" Name="List Number 4"/> <w:LsdException Locked="false" SemiHidden="true" UnhideWhenUsed="true" Name="List Number 5"/> <w:LsdException Locked="false" Priority="10" QFormat="true" Name="Title"/> <w:LsdException Locked="false" SemiHidden="true" UnhideWhenUsed="true" Name="Closing"/> <w:LsdException Locked="false" SemiHidden="true" UnhideWhenUsed="true" Name="Signature"/> <w:LsdException Locked="false" Priority="1" SemiHidden="true" UnhideWhenUsed="true" Name="Default Paragraph Font"/> <w:LsdException Locked="false" SemiHidden="true" UnhideWhenUsed="true" Name="Body Text"/> <w:LsdException Locked="false" SemiHidden="true" UnhideWhenUsed="true" Name="Body Text Indent"/> <w:LsdException Locked="false" SemiHidden="true" UnhideWhenUsed="true" Name="List Continue"/> <w:LsdException Locked="false" SemiHidden="true" UnhideWhenUsed="true" Name="List Continue 2"/> <w:LsdException Locked="false" SemiHidden="true" UnhideWhenUsed="true" Name="List Continue 3"/> <w:LsdException Locked="false" SemiHidden="true" UnhideWhenUsed="true" Name="List Continue 4"/> <w:LsdException Locked="false" SemiHidden="true" UnhideWhenUsed="true" Name="List Continue 5"/> <w:LsdException Locked="false" SemiHidden="true" UnhideWhenUsed="true" Name="Message Header"/> <w:LsdException Locked="false" Priority="11" QFormat="true" Name="Subtitle"/> <w:LsdException Locked="false" SemiHidden="true" UnhideWhenUsed="true" Name="Salutation"/> <w:LsdException Locked="false" SemiHidden="true" UnhideWhenUsed="true" Name="Date"/> <w:LsdException Locked="false" SemiHidden="true" UnhideWhenUsed="true" Name="Body Text First Indent"/> <w:LsdException Locked="false" SemiHidden="true" UnhideWhenUsed="true" Name="Body Text First Indent 2"/> <w:LsdException Locked="false" SemiHidden="true" UnhideWhenUsed="true" Name="Note Heading"/> <w:LsdException Locked="false" SemiHidden="true" UnhideWhenUsed="true" Name="Body Text 2"/> <w:LsdException Locked="false" SemiHidden="true" UnhideWhenUsed="true" Name="Body Text 3"/> <w:LsdException Locked="false" SemiHidden="true" UnhideWhenUsed="true" Name="Body Text Indent 2"/> <w:LsdException Locked="false" SemiHidden="true" UnhideWhenUsed="true" Name="Body Text Indent 3"/> <w:LsdException Locked="false" SemiHidden="true" UnhideWhenUsed="true" Name="Block Text"/> <w:LsdException Locked="false" SemiHidden="true" UnhideWhenUsed="true" Name="Hyperlink"/> <w:LsdException Locked="false" SemiHidden="true" UnhideWhenUsed="true" Name="FollowedHyperlink"/> <w:LsdException Locked="false" Priority="22" QFormat="true" Name="Strong"/> <w:LsdException Locked="false" Priority="20" QFormat="true" Name="Emphasis"/> <w:LsdException Locked="false" SemiHidden="true" UnhideWhenUsed="true" Name="Document Map"/> <w:LsdException Locked="false" SemiHidden="true" UnhideWhenUsed="true" Name="Plain Text"/> <w:LsdException Locked="false" SemiHidden="true" UnhideWhenUsed="true" Name="E-mail Signature"/> <w:LsdException Locked="false" SemiHidden="true" UnhideWhenUsed="true" Name="HTML Top of Form"/> <w:LsdException Locked="false" SemiHidden="true" UnhideWhenUsed="true" Name="HTML Bottom of Form"/> <w:LsdException Locked="false" SemiHidden="true" UnhideWhenUsed="true" Name="Normal (Web)"/> <w:LsdException Locked="false" SemiHidden="true" UnhideWhenUsed="true" Name="HTML Acronym"/> <w:LsdException Locked="false" SemiHidden="true" UnhideWhenUsed="true" Name="HTML Address"/> <w:LsdException Locked="false" SemiHidden="true" UnhideWhenUsed="true" Name="HTML Cite"/> <w:LsdException Locked="false" SemiHidden="true" UnhideWhenUsed="true" Name="HTML Code"/> <w:LsdException Locked="false" SemiHidden="true" UnhideWhenUsed="true" Name="HTML Definition"/> <w:LsdException Locked="false" SemiHidden="true" UnhideWhenUsed="true" Name="HTML Keyboard"/> <w:LsdException Locked="false" SemiHidden="true" UnhideWhenUsed="true" Name="HTML Preformatted"/> <w:LsdException Locked="false" SemiHidden="true" UnhideWhenUsed="true" Name="HTML Sample"/> <w:LsdException Locked="false" SemiHidden="true" UnhideWhenUsed="true" Name="HTML Typewriter"/> <w:LsdException Locked="false" SemiHidden="true" UnhideWhenUsed="true" Name="HTML Variable"/> <w:LsdException Locked="false" SemiHidden="true" UnhideWhenUsed="true" Name="Normal Table"/> <w:LsdException Locked="false" SemiHidden="true" UnhideWhenUsed="true" Name="annotation subject"/> <w:LsdException Locked="false" SemiHidden="true" UnhideWhenUsed="true" Name="No List"/> <w:LsdException Locked="false" SemiHidden="true" UnhideWhenUsed="true" Name="Outline List 1"/> <w:LsdException Locked="false" SemiHidden="true" UnhideWhenUsed="true" Name="Outline List 2"/> <w:LsdException Locked="false" SemiHidden="true" UnhideWhenUsed="true" Name="Outline List 3"/> <w:LsdException Locked="false" SemiHidden="true" UnhideWhenUsed="true" Name="Table Simple 1"/> <w:LsdException Locked="false" SemiHidden="true" UnhideWhenUsed="true" Name="Table Simple 2"/> <w:LsdException Locked="false" SemiHidden="true" UnhideWhenUsed="true" Name="Table Simple 3"/> <w:LsdException Locked="false" SemiHidden="true" UnhideWhenUsed="true" Name="Table Classic 1"/> <w:LsdException Locked="false" SemiHidden="true" UnhideWhenUsed="true" Name="Table Classic 2"/> <w:LsdException Locked="false" SemiHidden="true" UnhideWhenUsed="true" Name="Table Classic 3"/> <w:LsdException Locked="false" SemiHidden="true" UnhideWhenUsed="true" Name="Table Classic 4"/> <w:LsdException Locked="false" SemiHidden="true" UnhideWhenUsed="true" Name="Table Colorful 1"/> <w:LsdException Locked="false" SemiHidden="true" UnhideWhenUsed="true" Name="Table Colorful 2"/> <w:LsdException Locked="false" SemiHidden="true" UnhideWhenUsed="true" Name="Table Colorful 3"/> <w:LsdException Locked="false" SemiHidden="true" UnhideWhenUsed="true" Name="Table Columns 1"/> <w:LsdException Locked="false" SemiHidden="true" UnhideWhenUsed="true" Name="Table Columns 2"/> <w:LsdException Locked="false" SemiHidden="true" UnhideWhenUsed="true" Name="Table Columns 3"/> <w:LsdException Locked="false" SemiHidden="true" UnhideWhenUsed="true" Name="Table Columns 4"/> <w:LsdException Locked="false" SemiHidden="true" UnhideWhenUsed="true" Name="Table Columns 5"/> <w:LsdException Locked="false" SemiHidden="true" UnhideWhenUsed="true" Name="Table Grid 1"/> <w:LsdException Locked="false" SemiHidden="true" UnhideWhenUsed="true" Name="Table Grid 2"/> <w:LsdException Locked="false" SemiHidden="true" UnhideWhenUsed="true" Name="Table Grid 3"/> <w:LsdException Locked="false" SemiHidden="true" UnhideWhenUsed="true" Name="Table Grid 4"/> <w:LsdException Locked="false" SemiHidden="true" UnhideWhenUsed="true" Name="Table Grid 5"/> <w:LsdException Locked="false" SemiHidden="true" UnhideWhenUsed="true" Name="Table Grid 6"/> <w:LsdException Locked="false" SemiHidden="true" UnhideWhenUsed="true" Name="Table Grid 7"/> <w:LsdException Locked="false" SemiHidden="true" UnhideWhenUsed="true" Name="Table Grid 8"/> <w:LsdException Locked="false" SemiHidden="true" UnhideWhenUsed="true" Name="Table List 1"/> <w:LsdException Locked="false" SemiHidden="true" UnhideWhenUsed="true" Name="Table List 2"/> <w:LsdException Locked="false" SemiHidden="true" UnhideWhenUsed="true" Name="Table List 3"/> <w:LsdException Locked="false" SemiHidden="true" UnhideWhenUsed="true" Name="Table List 4"/> <w:LsdException Locked="false" SemiHidden="true" UnhideWhenUsed="true" Name="Table List 5"/> <w:LsdException Locked="false" SemiHidden="true" UnhideWhenUsed="true" Name="Table List 6"/> <w:LsdException Locked="false" SemiHidden="true" UnhideWhenUsed="true" Name="Table List 7"/> <w:LsdException Locked="false" SemiHidden="true" UnhideWhenUsed="true" Name="Table List 8"/> <w:LsdException Locked="false" SemiHidden="true" UnhideWhenUsed="true" Name="Table 3D effects 1"/> <w:LsdException Locked="false" SemiHidden="true" UnhideWhenUsed="true" Name="Table 3D effects 2"/> <w:LsdException Locked="false" SemiHidden="true" UnhideWhenUsed="true" Name="Table 3D effects 3"/> <w:LsdException Locked="false" SemiHidden="true" UnhideWhenUsed="true" Name="Table Contemporary"/> <w:LsdException Locked="false" SemiHidden="true" UnhideWhenUsed="true" Name="Table Elegant"/> <w:LsdException Locked="false" SemiHidden="true" UnhideWhenUsed="true" Name="Table Professional"/> <w:LsdException Locked="false" SemiHidden="true" UnhideWhenUsed="true" Name="Table Subtle 1"/> <w:LsdException Locked="false" SemiHidden="true" UnhideWhenUsed="true" Name="Table Subtle 2"/> <w:LsdException Locked="false" SemiHidden="true" UnhideWhenUsed="true" Name="Table Web 1"/> <w:LsdException Locked="false" SemiHidden="true" UnhideWhenUsed="true" Name="Table Web 2"/> <w:LsdException Locked="false" SemiHidden="true" UnhideWhenUsed="true" Name="Table Web 3"/> <w:LsdException Locked="false" SemiHidden="true" UnhideWhenUsed="true" Name="Balloon Text"/> <w:LsdException Locked="false" Priority="39" Name="Table Grid"/> <w:LsdException Locked="false" SemiHidden="true" UnhideWhenUsed="true" Name="Table Theme"/> <w:LsdException Locked="false" SemiHidden="true" Name="Placeholder Text"/> <w:LsdException Locked="false" Priority="1" QFormat="true" Name="No Spacing"/> <w:LsdException Locked="false" Priority="60" Name="Light Shading"/> <w:LsdException Locked="false" Priority="61" Name="Light List"/> <w:LsdException Locked="false" Priority="62" Name="Light Grid"/> <w:LsdException Locked="false" Priority="63" Name="Medium Shading 1"/> <w:LsdException Locked="false" Priority="64" Name="Medium Shading 2"/> <w:LsdException Locked="false" Priority="65" Name="Medium List 1"/> <w:LsdException Locked="false" Priority="66" Name="Medium List 2"/> <w:LsdException Locked="false" Priority="67" Name="Medium Grid 1"/> <w:LsdException Locked="false" Priority="68" Name="Medium Grid 2"/> <w:LsdException Locked="false" Priority="69" Name="Medium Grid 3"/> <w:LsdException Locked="false" Priority="70" Name="Dark List"/> <w:LsdException Locked="false" Priority="71" Name="Colorful Shading"/> <w:LsdException Locked="false" Priority="72" Name="Colorful List"/> <w:LsdException Locked="false" Priority="73" Name="Colorful Grid"/> <w:LsdException Locked="false" Priority="60" Name="Light Shading Accent 1"/> <w:LsdException Locked="false" Priority="61" Name="Light List Accent 1"/> <w:LsdException Locked="false" Priority="62" Name="Light Grid Accent 1"/> <w:LsdException Locked="false" Priority="63" Name="Medium Shading 1 Accent 1"/> <w:LsdException Locked="false" Priority="64" Name="Medium Shading 2 Accent 1"/> <w:LsdException Locked="false" Priority="65" Name="Medium List 1 Accent 1"/> <w:LsdException Locked="false" SemiHidden="true" Name="Revision"/> <w:LsdException Locked="false" Priority="34" QFormat="true" Name="List Paragraph"/> <w:LsdException Locked="false" Priority="29" QFormat="true" Name="Quote"/> <w:LsdException Locked="false" Priority="30" QFormat="true" Name="Intense Quote"/> <w:LsdException Locked="false" Priority="66" Name="Medium List 2 Accent 1"/> <w:LsdException Locked="false" Priority="67" Name="Medium Grid 1 Accent 1"/> <w:LsdException Locked="false" Priority="68" Name="Medium Grid 2 Accent 1"/> <w:LsdException Locked="false" Priority="69" Name="Medium Grid 3 Accent 1"/> <w:LsdException Locked="false" Priority="70" Name="Dark List Accent 1"/> <w:LsdException Locked="false" Priority="71" Name="Colorful Shading Accent 1"/> <w:LsdException Locked="false" Priority="72" Name="Colorful List Accent 1"/> <w:LsdException Locked="false" Priority="73" Name="Colorful Grid Accent 1"/> <w:LsdException Locked="false" Priority="60" Name="Light Shading Accent 2"/> <w:LsdException Locked="false" Priority="61" Name="Light List Accent 2"/> <w:LsdException Locked="false" Priority="62" Name="Light Grid Accent 2"/> <w:LsdException Locked="false" Priority="63" Name="Medium Shading 1 Accent 2"/> <w:LsdException Locked="false" Priority="64" Name="Medium Shading 2 Accent 2"/> <w:LsdException Locked="false" Priority="65" Name="Medium List 1 Accent 2"/> <w:LsdException Locked="false" Priority="66" Name="Medium List 2 Accent 2"/> <w:LsdException Locked="false" Priority="67" Name="Medium Grid 1 Accent 2"/> <w:LsdException Locked="false" Priority="68" Name="Medium Grid 2 Accent 2"/> <w:LsdException Locked="false" Priority="69" Name="Medium Grid 3 Accent 2"/> <w:LsdException Locked="false" Priority="70" Name="Dark List Accent 2"/> <w:LsdException Locked="false" Priority="71" Name="Colorful Shading Accent 2"/> <w:LsdException Locked="false" Priority="72" Name="Colorful List Accent 2"/> <w:LsdException Locked="false" Priority="73" Name="Colorful Grid Accent 2"/> <w:LsdException Locked="false" Priority="60" Name="Light Shading Accent 3"/> <w:LsdException Locked="false" Priority="61" Name="Light List Accent 3"/> <w:LsdException Locked="false" Priority="62" Name="Light Grid Accent 3"/> <w:LsdException Locked="false" Priority="63" Name="Medium Shading 1 Accent 3"/> <w:LsdException Locked="false" Priority="64" Name="Medium Shading 2 Accent 3"/> <w:LsdException Locked="false" Priority="65" Name="Medium List 1 Accent 3"/> <w:LsdException Locked="false" Priority="66" Name="Medium List 2 Accent 3"/> <w:LsdException Locked="false" Priority="67" Name="Medium Grid 1 Accent 3"/> <w:LsdException Locked="false" Priority="68" Name="Medium Grid 2 Accent 3"/> <w:LsdException Locked="false" Priority="69" Name="Medium Grid 3 Accent 3"/> <w:LsdException Locked="false" Priority="70" Name="Dark List Accent 3"/> <w:LsdException Locked="false" Priority="71" Name="Colorful Shading Accent 3"/> <w:LsdException Locked="false" Priority="72" Name="Colorful List Accent 3"/> <w:LsdException Locked="false" Priority="73" Name="Colorful Grid Accent 3"/> <w:LsdException Locked="false" Priority="60" Name="Light Shading Accent 4"/> <w:LsdException Locked="false" Priority="61" Name="Light List Accent 4"/> <w:LsdException Locked="false" Priority="62" Name="Light Grid Accent 4"/> <w:LsdException Locked="false" Priority="63" Name="Medium Shading 1 Accent 4"/> <w:LsdException Locked="false" Priority="64" Name="Medium Shading 2 Accent 4"/> <w:LsdException Locked="false" Priority="65" Name="Medium List 1 Accent 4"/> <w:LsdException Locked="false" Priority="66" Name="Medium List 2 Accent 4"/> <w:LsdException Locked="false" Priority="67" Name="Medium Grid 1 Accent 4"/> <w:LsdException Locked="false" Priority="68" Name="Medium Grid 2 Accent 4"/> <w:LsdException Locked="false" Priority="69" Name="Medium Grid 3 Accent 4"/> <w:LsdException Locked="false" Priority="70" Name="Dark List Accent 4"/> <w:LsdException Locked="false" Priority="71" Name="Colorful Shading Accent 4"/> <w:LsdException Locked="false" Priority="72" Name="Colorful List Accent 4"/> <w:LsdException Locked="false" Priority="73" Name="Colorful Grid Accent 4"/> <w:LsdException Locked="false" Priority="60" Name="Light Shading Accent 5"/> <w:LsdException Locked="false" Priority="61" Name="Light List Accent 5"/> <w:LsdException Locked="false" Priority="62" Name="Light Grid Accent 5"/> <w:LsdException Locked="false" Priority="63" Name="Medium Shading 1 Accent 5"/> <w:LsdException Locked="false" Priority="64" Name="Medium Shading 2 Accent 5"/> <w:LsdException Locked="false" Priority="65" Name="Medium List 1 Accent 5"/> <w:LsdException Locked="false" Priority="66" Name="Medium List 2 Accent 5"/> <w:LsdException Locked="false" Priority="67" Name="Medium Grid 1 Accent 5"/> <w:LsdException Locked="false" Priority="68" Name="Medium Grid 2 Accent 5"/> <w:LsdException Locked="false" Priority="69" Name="Medium Grid 3 Accent 5"/> <w:LsdException Locked="false" Priority="70" Name="Dark List Accent 5"/> <w:LsdException Locked="false" Priority="71" Name="Colorful Shading Accent 5"/> <w:LsdException Locked="false" Priority="72" Name="Colorful List Accent 5"/> <w:LsdException Locked="false" Priority="73" Name="Colorful Grid Accent 5"/> <w:LsdException Locked="false" Priority="60" Name="Light Shading Accent 6"/> <w:LsdException Locked="false" Priority="61" Name="Light List Accent 6"/> <w:LsdException Locked="false" Priority="62" Name="Light Grid Accent 6"/> <w:LsdException Locked="false" Priority="63" Name="Medium Shading 1 Accent 6"/> <w:LsdException Locked="false" Priority="64" Name="Medium Shading 2 Accent 6"/> <w:LsdException Locked="false" Priority="65" Name="Medium List 1 Accent 6"/> <w:LsdException Locked="false" Priority="66" Name="Medium List 2 Accent 6"/> <w:LsdException Locked="false" Priority="67" Name="Medium Grid 1 Accent 6"/> <w:LsdException Locked="false" Priority="68" Name="Medium Grid 2 Accent 6"/> <w:LsdException Locked="false" Priority="69" Name="Medium Grid 3 Accent 6"/> <w:LsdException Locked="false" Priority="70" Name="Dark List Accent 6"/> <w:LsdException Locked="false" Priority="71" Name="Colorful Shading Accent 6"/> <w:LsdException Locked="false" Priority="72" Name="Colorful List Accent 6"/> <w:LsdException Locked="false" Priority="73" Name="Colorful Grid Accent 6"/> <w:LsdException Locked="false" Priority="19" QFormat="true" Name="Subtle Emphasis"/> <w:LsdException Locked="false" Priority="21" QFormat="true" Name="Intense Emphasis"/> <w:LsdException Locked="false" Priority="31" QFormat="true" Name="Subtle Reference"/> <w:LsdException Locked="false" Priority="32" QFormat="true" Name="Intense Reference"/> <w:LsdException Locked="false" Priority="33" QFormat="true" Name="Book Title"/> <w:LsdException Locked="false" Priority="37" SemiHidden="true" UnhideWhenUsed="true" Name="Bibliography"/> <w:LsdException Locked="false" Priority="39" SemiHidden="true" UnhideWhenUsed="true" QFormat="true" Name="TOC Heading"/> <w:LsdException Locked="false" Priority="41" Name="Plain Table 1"/> <w:LsdException Locked="false" Priority="42" Name="Plain Table 2"/> <w:LsdException Locked="false" Priority="43" Name="Plain Table 3"/> <w:LsdException Locked="false" Priority="44" Name="Plain Table 4"/> <w:LsdException Locked="false" Priority="45" Name="Plain Table 5"/> <w:LsdException Locked="false" Priority="40" Name="Grid Table Light"/> <w:LsdException Locked="false" Priority="46" Name="Grid Table 1 Light"/> <w:LsdException Locked="false" Priority="47" Name="Grid Table 2"/> <w:LsdException Locked="false" Priority="48" Name="Grid Table 3"/> <w:LsdException Locked="false" Priority="49" Name="Grid Table 4"/> <w:LsdException Locked="false" Priority="50" Name="Grid Table 5 Dark"/> <w:LsdException Locked="false" Priority="51" Name="Grid Table 6 Colorful"/> <w:LsdException Locked="false" Priority="52" Name="Grid Table 7 Colorful"/> <w:LsdException Locked="false" Priority="46" Name="Grid Table 1 Light Accent 1"/> <w:LsdException Locked="false" Priority="47" Name="Grid Table 2 Accent 1"/> <w:LsdException Locked="false" Priority="48" Name="Grid Table 3 Accent 1"/> <w:LsdException Locked="false" Priority="49" Name="Grid Table 4 Accent 1"/> <w:LsdException Locked="false" Priority="50" Name="Grid Table 5 Dark Accent 1"/> <w:LsdException Locked="false" Priority="51" Name="Grid Table 6 Colorful Accent 1"/> <w:LsdException Locked="false" Priority="52" Name="Grid Table 7 Colorful Accent 1"/> <w:LsdException Locked="false" Priority="46" Name="Grid Table 1 Light Accent 2"/> <w:LsdException Locked="false" Priority="47" Name="Grid Table 2 Accent 2"/> <w:LsdException Locked="false" Priority="48" Name="Grid Table 3 Accent 2"/> <w:LsdException Locked="false" Priority="49" Name="Grid Table 4 Accent 2"/> <w:LsdException Locked="false" Priority="50" Name="Grid Table 5 Dark Accent 2"/> <w:LsdException Locked="false" Priority="51" Name="Grid Table 6 Colorful Accent 2"/> <w:LsdException Locked="false" Priority="52" Name="Grid Table 7 Colorful Accent 2"/> <w:LsdException Locked="false" Priority="46" Name="Grid Table 1 Light Accent 3"/> <w:LsdException Locked="false" Priority="47" Name="Grid Table 2 Accent 3"/> <w:LsdException Locked="false" Priority="48" Name="Grid Table 3 Accent 3"/> <w:LsdException Locked="false" Priority="49" Name="Grid Table 4 Accent 3"/> <w:LsdException Locked="false" Priority="50" Name="Grid Table 5 Dark Accent 3"/> <w:LsdException Locked="false" Priority="51" Name="Grid Table 6 Colorful Accent 3"/> <w:LsdException Locked="false" Priority="52" Name="Grid Table 7 Colorful Accent 3"/> <w:LsdException Locked="false" Priority="46" Name="Grid Table 1 Light Accent 4"/> <w:LsdException Locked="false" Priority="47" Name="Grid Table 2 Accent 4"/> <w:LsdException Locked="false" Priority="48" Name="Grid Table 3 Accent 4"/> <w:LsdException Locked="false" Priority="49" Name="Grid Table 4 Accent 4"/> <w:LsdException Locked="false" Priority="50" Name="Grid Table 5 Dark Accent 4"/> <w:LsdException Locked="false" Priority="51" Name="Grid Table 6 Colorful Accent 4"/> <w:LsdException Locked="false" Priority="52" Name="Grid Table 7 Colorful Accent 4"/> <w:LsdException Locked="false" Priority="46" Name="Grid Table 1 Light Accent 5"/> <w:LsdException Locked="false" Priority="47" Name="Grid Table 2 Accent 5"/> <w:LsdException Locked="false" Priority="48" Name="Grid Table 3 Accent 5"/> <w:LsdException Locked="false" Priority="49" Name="Grid Table 4 Accent 5"/> <w:LsdException Locked="false" Priority="50" Name="Grid Table 5 Dark Accent 5"/> <w:LsdException Locked="false" Priority="51" Name="Grid Table 6 Colorful Accent 5"/> <w:LsdException Locked="false" Priority="52" Name="Grid Table 7 Colorful Accent 5"/> <w:LsdException Locked="false" Priority="46" Name="Grid Table 1 Light Accent 6"/> <w:LsdException Locked="false" Priority="47" Name="Grid Table 2 Accent 6"/> <w:LsdException Locked="false" Priority="48" Name="Grid Table 3 Accent 6"/> <w:LsdException Locked="false" Priority="49" Name="Grid Table 4 Accent 6"/> <w:LsdException Locked="false" Priority="50" Name="Grid Table 5 Dark Accent 6"/> <w:LsdException Locked="false" Priority="51" Name="Grid Table 6 Colorful Accent 6"/> <w:LsdException Locked="false" Priority="52" Name="Grid Table 7 Colorful Accent 6"/> <w:LsdException Locked="false" Priority="46" Name="List Table 1 Light"/> <w:LsdException Locked="false" Priority="47" Name="List Table 2"/> <w:LsdException Locked="false" Priority="48" Name="List Table 3"/> <w:LsdException Locked="false" Priority="49" Name="List Table 4"/> <w:LsdException Locked="false" Priority="50" Name="List Table 5 Dark"/> <w:LsdException Locked="false" Priority="51" Name="List Table 6 Colorful"/> <w:LsdException Locked="false" Priority="52" Name="List Table 7 Colorful"/> <w:LsdException Locked="false" Priority="46" Name="List Table 1 Light Accent 1"/> <w:LsdException Locked="false" Priority="47" Name="List Table 2 Accent 1"/> <w:LsdException Locked="false" Priority="48" Name="List Table 3 Accent 1"/> <w:LsdException Locked="false" Priority="49" Name="List Table 4 Accent 1"/> <w:LsdException Locked="false" Priority="50" Name="List Table 5 Dark Accent 1"/> <w:LsdException Locked="false" Priority="51" Name="List Table 6 Colorful Accent 1"/> <w:LsdException Locked="false" Priority="52" Name="List Table 7 Colorful Accent 1"/> <w:LsdException Locked="false" Priority="46" Name="List Table 1 Light Accent 2"/> <w:LsdException Locked="false" Priority="47" Name="List Table 2 Accent 2"/> <w:LsdException Locked="false" Priority="48" Name="List Table 3 Accent 2"/> <w:LsdException Locked="false" Priority="49" Name="List Table 4 Accent 2"/> <w:LsdException Locked="false" Priority="50" Name="List Table 5 Dark Accent 2"/> <w:LsdException Locked="false" Priority="51" Name="List Table 6 Colorful Accent 2"/> <w:LsdException Locked="false" Priority="52" Name="List Table 7 Colorful Accent 2"/> <w:LsdException Locked="false" Priority="46" Name="List Table 1 Light Accent 3"/> <w:LsdException Locked="false" Priority="47" Name="List Table 2 Accent 3"/> <w:LsdException Locked="false" Priority="48" Name="List Table 3 Accent 3"/> <w:LsdException Locked="false" Priority="49" Name="List Table 4 Accent 3"/> <w:LsdException Locked="false" Priority="50" Name="List Table 5 Dark Accent 3"/> <w:LsdException Locked="false" Priority="51" Name="List Table 6 Colorful Accent 3"/> <w:LsdException Locked="false" Priority="52" Name="List Table 7 Colorful Accent 3"/> <w:LsdException Locked="false" Priority="46" Name="List Table 1 Light Accent 4"/> <w:LsdException Locked="false" Priority="47" Name="List Table 2 Accent 4"/> <w:LsdException Locked="false" Priority="48" Name="List Table 3 Accent 4"/> <w:LsdException Locked="false" Priority="49" Name="List Table 4 Accent 4"/> <w:LsdException Locked="false" Priority="50" Name="List Table 5 Dark Accent 4"/> <w:LsdException Locked="false" Priority="51" Name="List Table 6 Colorful Accent 4"/> <w:LsdException Locked="false" Priority="52" Name="List Table 7 Colorful Accent 4"/> <w:LsdException Locked="false" Priority="46" Name="List Table 1 Light Accent 5"/> <w:LsdException Locked="false" Priority="47" Name="List Table 2 Accent 5"/> <w:LsdException Locked="false" Priority="48" Name="List Table 3 Accent 5"/> <w:LsdException Locked="false" Priority="49" Name="List Table 4 Accent 5"/> <w:LsdException Locked="false" Priority="50" Name="List Table 5 Dark Accent 5"/> <w:LsdException Locked="false" Priority="51" Name="List Table 6 Colorful Accent 5"/> <w:LsdException Locked="false" Priority="52" Name="List Table 7 Colorful Accent 5"/> <w:LsdException Locked="false" Priority="46" Name="List Table 1 Light Accent 6"/> <w:LsdException Locked="false" Priority="47" Name="List Table 2 Accent 6"/> <w:LsdException Locked="false" Priority="48" Name="List Table 3 Accent 6"/> <w:LsdException Locked="false" Priority="49" Name="List Table 4 Accent 6"/> <w:LsdException Locked="false" Priority="50" Name="List Table 5 Dark Accent 6"/> <w:LsdException Locked="false" Priority="51" Name="List Table 6 Colorful Accent 6"/> <w:LsdException Locked="false" Priority="52" Name="List Table 7 Colorful Accent 6"/> </w:LatentStyles> </xml><![endif]--><!--[if gte mso 10]> <style> /* Style Definitions */ table.MsoNormalTable {mso-style-name:"Table Normal"; mso-tstyle-rowband-size:0; mso-tstyle-colband-size:0; mso-style-noshow:yes; mso-style-priority:99; mso-style-parent:""; mso-padding-alt:0in 5.4pt 0in 5.4pt; mso-para-margin:0in; mso-para-margin-bottom:.0001pt; mso-pagination:widow-orphan; font-size:10.0pt; font-family:"Times New Roman","serif";} </style> <![endif]-->*This is an electronic gift card and no physical gift card will be mailed. Email may take 1 business day to be delivered. <br></p><br>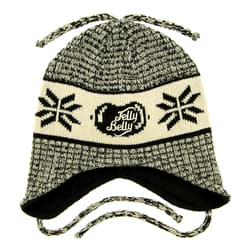 Quantity
Product Info
Stay warm when the temperatures start to fall with a little help from Jelly Belly. Our Snow Cap features a super-soft warm polyester lining, knitted shell and is embroidered with the Jelly Belly logo. Ear flaps on this fashionable hat help to keep the warm in and the winter chill out.<br><br>Adult size. One size fits most. ​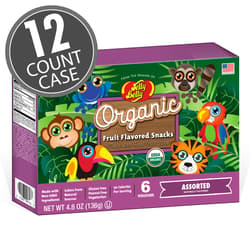 Assorted Organic Fruit Flavored Snacks contain individual serving-sized bags with six assorted fruit flavors, ideal for lunchboxes, travel and individual snacking.

See more...
Quantity
Product Info
Organic Fruit Flavored Snacks from the makers of Jelly Belly are USDA-Certified organic, made with non-GMO ingredients, colors from natural sources, and flavored with real fruit juices. Six delicious fruit flavors include Apple, Berry, Cherry, Lemon, Orange and Strawberry in fun,charming rainforest animal shapes that both adults and kids will enjoy. This tasty treat will have them coming back for more! <br><br> 12 Count Case - 4.8 oz box<br><br> NOTE: 1 box contains 6 - 0.8 oz pouch of fruit flavored snacks.<br> Each 0.8 oz bag is randomly packaged and may not contain all flavors or shapes.<br><br> Organic Fruit Flavored Snacks are made with non-GMO ingredients, certified OU Kosher, vegetarian and free of gelatin, gluten, peanuts, fat and dairy.<br><br>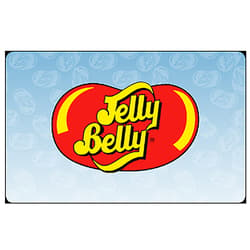 Jelly Belly Online Gift Card - All-Occasion
See more...
Quantity
Product Info
Jelly Belly Gift Card - All-Occasion<br><p>Gift-Giving in Just 3 Easy Steps:<br> 1. Choose from a variety of occasions<br> 2. Select the value<br> 3. Email it to the lucky recipient.</p> <p>A Jelly Belly Gift Card makes a convenient and fun last-minute gift for any ocassion! We offer a variety of fun, colorful designs in denominations up to $100 so that you can give just the right gift.</p> <p><strong>Gift Card information</strong></p> <ul> <li>Jelly Belly Online Gift Cards do not expire.</li> <li>Jelly Belly Online Gift Cards are only redeemable at JellyBelly.com.</li> <li>Jelly Belly Online Gift Cards are not redeemable for cash, except to the extent required by law. </li> <li>Jelly Belly Online Gift Cards may not be used to purchase other Gift Cards or applied to any order containing another Gift Card. You'll need to provide a credit card, debit card, or other valid payment method to pay for the order if you have Gift Cards in your Shopping Cart. </li> <li>Discount coupons and promotional codes may not be applied to purchases of Jelly Belly Online Gift Cards. If you use a discount or promotional code when ordering a combination of physical Jelly Belly products and Jelly Belly Online Gift Cards, the discount will only be applied to the physical products on your order.</li> </ul> <!-- <p>Please note: These Gift Cards have no fees or expiration date and are redeemable only at JellyBelly.com. Discount coupons and codes may not be applied to purchases of online gift cards.</p><p><!--[if gte mso 9]><xml> <w:worddocument> <w:view>Normal</w:view> <w:zoom>0</w:zoom> <w:trackmoves> <w:trackformatting> <w:punctuationkerning> <w:validateagainstschemas> <w:saveifxmlinvalid>false</w:saveifxmlinvalid> <w:ignoremixedcontent>false</w:ignoremixedcontent> <w:alwaysshowplaceholdertext>false</w:alwaysshowplaceholdertext> <w:donotpromoteqf> <w:lidthemeother>EN-US</w:lidthemeother> <w:lidthemeasian>X-NONE</w:lidthemeasian> <w:lidthemecomplexscript>X-NONE</w:lidthemecomplexscript> <w:compatibility> <w:breakwrappedtables> <w:snaptogridincell> <w:wraptextwithpunct> <w:useasianbreakrules> <w:dontgrowautofit> <w:splitpgbreakandparamark> <w:enableopentypekerning> <w:dontflipmirrorindents> <w:overridetablestylehps> </w:overridetablestylehps></w:dontflipmirrorindents></w:enableopentypekerning></w:splitpgbreakandparamark></w:dontgrowautofit></w:useasianbreakrules></w:wraptextwithpunct></w:snaptogridincell></w:breakwrappedtables></w:compatibility> <w:browserlevel>MicrosoftInternetExplorer4</w:browserlevel> <m:mathpr> <m:mathfont m:val="Cambria Math"> <m:brkbin m:val="before"> <m:brkbinsub m:val="--"> <m:smallfrac m:val="off"> <m:dispdef> <m:lmargin m:val="0"> <m:rmargin m:val="0"> <m:defjc m:val="centerGroup"> <m:wrapindent m:val="1440"> <m:intlim m:val="subSup"> <m:narylim m:val="undOvr"> </m:narylim></m:intlim></m:wrapindent></m:defjc></m:rmargin></m:lmargin></m:dispdef></m:smallfrac></m:brkbinsub></m:brkbin></m:mathfont></m:mathpr></w:donotpromoteqf></w:validateagainstschemas></w:punctuationkerning></w:trackformatting></w:trackmoves></w:worddocument> <!--[endif]----><p></p><p><!--[if gte mso 9]><xml> <w:LatentStyles DefLockedState="false" DefUnhideWhenUsed="false" DefSemiHidden="false" DefQFormat="false" DefPriority="99" LatentStyleCount="371"> <w:LsdException Locked="false" Priority="0" QFormat="true" Name="Normal"/> <w:LsdException Locked="false" Priority="9" QFormat="true" Name="heading 1"/> <w:LsdException Locked="false" Priority="9" SemiHidden="true" UnhideWhenUsed="true" QFormat="true" Name="heading 2"/> <w:LsdException Locked="false" Priority="9" SemiHidden="true" UnhideWhenUsed="true" QFormat="true" Name="heading 3"/> <w:LsdException Locked="false" Priority="9" SemiHidden="true" UnhideWhenUsed="true" QFormat="true" Name="heading 4"/> <w:LsdException Locked="false" Priority="9" SemiHidden="true" UnhideWhenUsed="true" QFormat="true" Name="heading 5"/> <w:LsdException Locked="false" Priority="9" SemiHidden="true" UnhideWhenUsed="true" QFormat="true" Name="heading 6"/> <w:LsdException Locked="false" Priority="9" SemiHidden="true" UnhideWhenUsed="true" QFormat="true" Name="heading 7"/> <w:LsdException Locked="false" Priority="9" SemiHidden="true" UnhideWhenUsed="true" QFormat="true" Name="heading 8"/> <w:LsdException Locked="false" Priority="9" SemiHidden="true" UnhideWhenUsed="true" QFormat="true" Name="heading 9"/> <w:LsdException Locked="false" SemiHidden="true" UnhideWhenUsed="true" Name="index 1"/> <w:LsdException Locked="false" SemiHidden="true" UnhideWhenUsed="true" Name="index 2"/> <w:LsdException Locked="false" SemiHidden="true" UnhideWhenUsed="true" Name="index 3"/> <w:LsdException Locked="false" SemiHidden="true" UnhideWhenUsed="true" Name="index 4"/> <w:LsdException Locked="false" SemiHidden="true" UnhideWhenUsed="true" Name="index 5"/> <w:LsdException Locked="false" SemiHidden="true" UnhideWhenUsed="true" Name="index 6"/> <w:LsdException Locked="false" SemiHidden="true" UnhideWhenUsed="true" Name="index 7"/> <w:LsdException Locked="false" SemiHidden="true" UnhideWhenUsed="true" Name="index 8"/> <w:LsdException Locked="false" SemiHidden="true" UnhideWhenUsed="true" Name="index 9"/> <w:LsdException Locked="false" Priority="39" SemiHidden="true" UnhideWhenUsed="true" Name="toc 1"/> <w:LsdException Locked="false" Priority="39" SemiHidden="true" UnhideWhenUsed="true" Name="toc 2"/> <w:LsdException Locked="false" Priority="39" SemiHidden="true" UnhideWhenUsed="true" Name="toc 3"/> <w:LsdException Locked="false" Priority="39" SemiHidden="true" UnhideWhenUsed="true" Name="toc 4"/> <w:LsdException Locked="false" Priority="39" SemiHidden="true" UnhideWhenUsed="true" Name="toc 5"/> <w:LsdException Locked="false" Priority="39" SemiHidden="true" UnhideWhenUsed="true" Name="toc 6"/> <w:LsdException Locked="false" Priority="39" SemiHidden="true" UnhideWhenUsed="true" Name="toc 7"/> <w:LsdException Locked="false" Priority="39" SemiHidden="true" UnhideWhenUsed="true" Name="toc 8"/> <w:LsdException Locked="false" Priority="39" SemiHidden="true" UnhideWhenUsed="true" Name="toc 9"/> <w:LsdException Locked="false" SemiHidden="true" UnhideWhenUsed="true" Name="Normal Indent"/> <w:LsdException Locked="false" SemiHidden="true" UnhideWhenUsed="true" Name="footnote text"/> <w:LsdException Locked="false" SemiHidden="true" UnhideWhenUsed="true" Name="annotation text"/> <w:LsdException Locked="false" SemiHidden="true" UnhideWhenUsed="true" Name="header"/> <w:LsdException Locked="false" SemiHidden="true" UnhideWhenUsed="true" Name="footer"/> <w:LsdException Locked="false" SemiHidden="true" UnhideWhenUsed="true" Name="index heading"/> <w:LsdException Locked="false" Priority="35" SemiHidden="true" UnhideWhenUsed="true" QFormat="true" Name="caption"/> <w:LsdException Locked="false" SemiHidden="true" UnhideWhenUsed="true" Name="table of figures"/> <w:LsdException Locked="false" SemiHidden="true" UnhideWhenUsed="true" Name="envelope address"/> <w:LsdException Locked="false" SemiHidden="true" UnhideWhenUsed="true" Name="envelope return"/> <w:LsdException Locked="false" SemiHidden="true" UnhideWhenUsed="true" Name="footnote reference"/> <w:LsdException Locked="false" SemiHidden="true" UnhideWhenUsed="true" Name="annotation reference"/> <w:LsdException Locked="false" SemiHidden="true" UnhideWhenUsed="true" Name="line number"/> <w:LsdException Locked="false" SemiHidden="true" UnhideWhenUsed="true" Name="page number"/> <w:LsdException Locked="false" SemiHidden="true" UnhideWhenUsed="true" Name="endnote reference&qu