BeanBoozled Jelly Beans 3.5 oz Mystery Bean Dispenser (5th edition) 12-Count Case
SKU: 63965
BeanBoozled 5th Edition includes 20 flavors of jelly beans: 10 weird and wild flavors that looks identical to 10 classic and delicious flavors. Think you can tell the difference between the tasty Toasted Marshmallow and pungent new Stink Bug? What about delicious Birthday Cake and not-so-delicious Dirty Dishwater?

Weird and nasty flavors mixed with regular ones. Makes a great game! More Info
$
76.99
Buy to earn

654

Sweet Rewards

Points
Share this!
Product Info
Nutrition & Ingredients
Flavors in this Mix
Product Reviews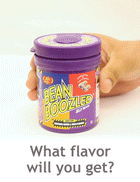 Lift the lid, lower the lid and like magic a bean appears! Is the blue jelly bean Toothpaste, or is it Berry Blue? Think you can tell the difference? We DARE you to try!
Flavors in the mix include:

Stink Bug* - Toasted Marshmallow

Canned Dog Food - Chocolate Pudding

Rotten Egg - Buttered Popcorn

Toothpaste - Berry Blue

Barf - Peach
Dirty Dishwater* - Birthday Cake

Booger - Juicy Pear

Spoiled Milk - Coconut

Stinky Socks - Tutti-Fruitti

Dead Fish - Strawberry Banana Smoothie
*5th Edition New Flavor
12 - 3.5 oz mystery machines.
All Jelly Belly jelly beans are OU Kosher, gluten free, peanut free, dairy free, fat free and vegetarian friendly.
Watch the BeanBoozled video and take the
BeanBoozled Challenge
...we dare you!
Sorry, but the nutrition panel for this product is currently unavailable. To get nutrition information for this product, you can contact Consumer Affairs at 1-800-522-3267

(Monday-Friday between the hours of 7 AM - 5 PM, Pacific Time)

or send us an email.
Barf
Berry Blue
Birthday Cake
Booger
Buttered Popcorn
Canned Dog Food
Chocolate Pudding
Coconut
Dead Fish
Dirty Dishwater
Juicy Pear
Peach
Rotten Egg
Stinky Socks
Spoiled Milk
Stink Bug
Strawberry Banana Smoothie
Toasted Marshmallow
Toothpaste
Tutti-Fruitti

BeanBoozled Jelly Beans 3.5 oz Mystery Bean Dispenser (5th edition) 12-Count Case
SKU: 63965
Product Info
Nutrition & Ingredients
Flavors in this Mix
Product Reviews
Jelly Belly Also Recommends