1 - 2 of 2 Search Results for Valentines products

Jelly Belly 10-Flavor Box. Flavors like Buttered Popcorn, Very Cherry and more in a Valentine box. A romantic candy present!

Quantity

Product Info

Tired of giving the same old heart-shaped box of chocolates on Valentine's Day? Tired of getting it? We've covered our famous 10-Flavor Beananza Gift Box with a gorgeous red and gold sleeve that looks like a Valentine envelope. There's even space to write your name as well as the recipient's name! It's our own loving spin on the classic Valentine gift.<br><br>12 - 4.25 oz gift boxes.<br><br>All Jelly Belly jelly beans are OU Kosher. Gluten free, peanut free, dairy free, fat free and vegetarian friendly.

Deluxe Valentine Mix from Jelly Belly. A large variety of candy like chocolate, cupid corn, jelly beans and more. A great gift!

Quantity

Product Info

For the person who deserves EVERYTHING on Valentine's Day. This mix includes a little bit of all our most romantic Confections, including Chocolate Hearts, Cupid Corn, Valentine Chocolate Dutch Mints and more. A plain old box of chocolates just doesn't compare. Included in the mix:<br><ul><li>Mellocreme Hearts </li> <li>Foil-Wrapped Chocolate Hearts </li> <li>Chocolate Dutch Mints </li> <li>Red Raspberry Hearts </li> <li>Cupid Corn </li></ul><p>12 - 6.8 oz gift bags </p><ul> </ul>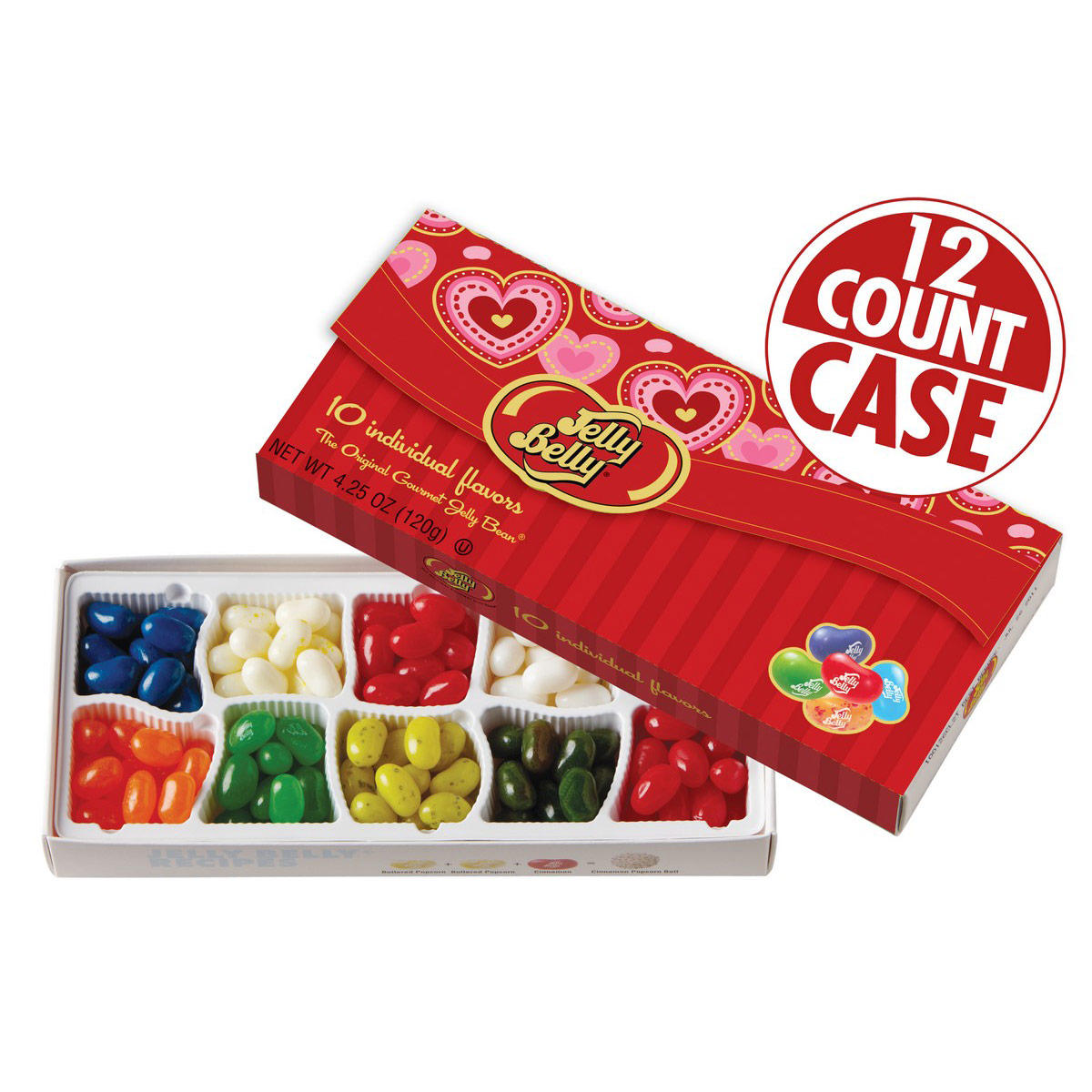 Jelly Belly 10-Flavor Box. Flavors like Buttered Popcorn, Very Cherry and more in a Valentine box. A romantic candy present!
Quantity
Product Info
Tired of giving the same old heart-shaped box of chocolates on Valentine's Day? Tired of getting it? We've covered our famous 10-Flavor Beananza Gift Box with a gorgeous red and gold sleeve that looks like a Valentine envelope. There's even space to write your name as well as the recipient's name! It's our own loving spin on the classic Valentine gift.<br><br>12 - 4.25 oz gift boxes.<br><br>All Jelly Belly jelly beans are OU Kosher. Gluten free, peanut free, dairy free, fat free and vegetarian friendly.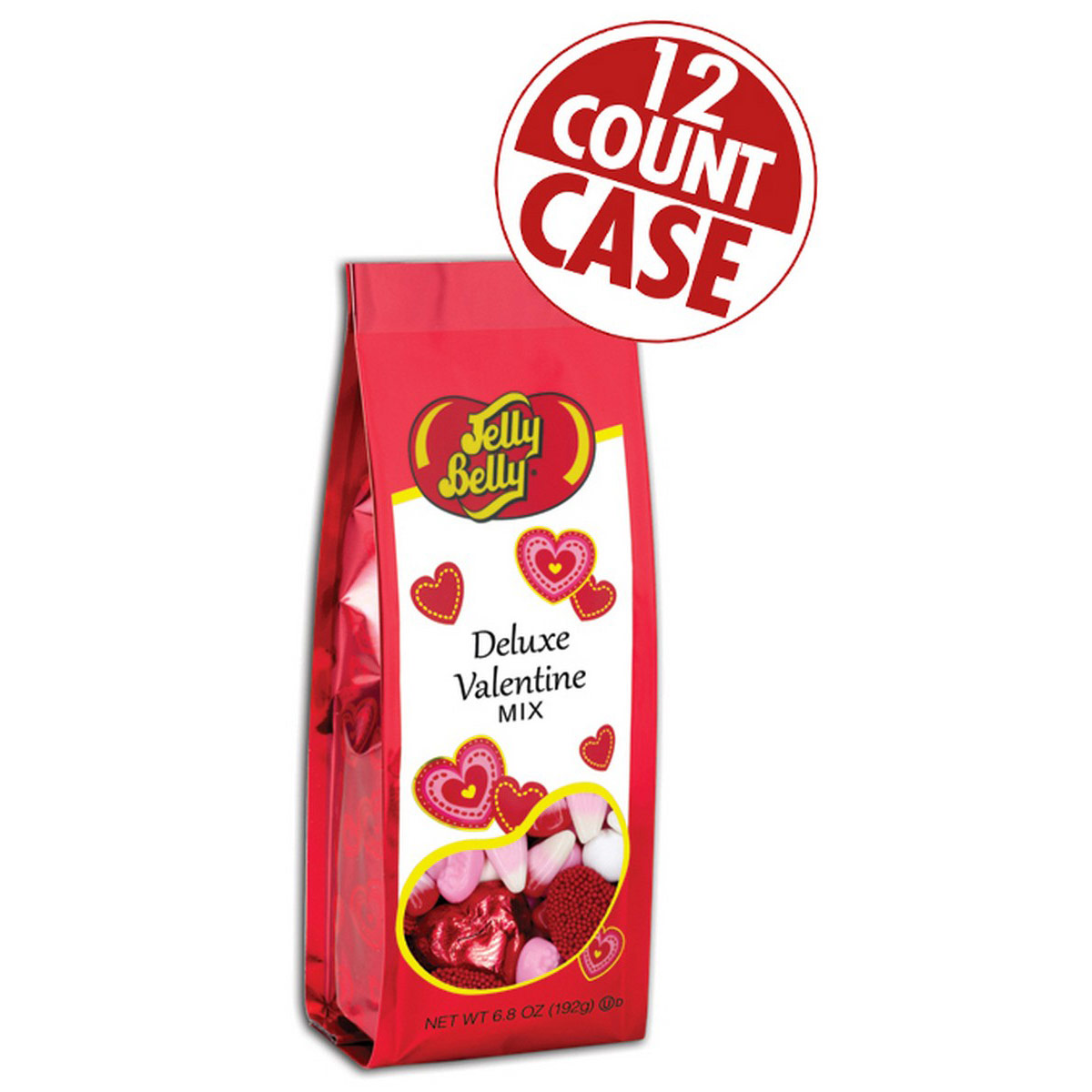 Deluxe Valentine Mix from Jelly Belly. A large variety of candy like chocolate, cupid corn, jelly beans and more. A great gift!
Quantity
Product Info
For the person who deserves EVERYTHING on Valentine's Day. This mix includes a little bit of all our most romantic Confections, including Chocolate Hearts, Cupid Corn, Valentine Chocolate Dutch Mints and more. A plain old box of chocolates just doesn't compare. Included in the mix:<br><ul><li>Mellocreme Hearts </li> <li>Foil-Wrapped Chocolate Hearts </li> <li>Chocolate Dutch Mints </li> <li>Red Raspberry Hearts </li> <li>Cupid Corn </li></ul><p>12 - 6.8 oz gift bags </p><ul> </ul>
---
Sort by:
Relevance
Best Ratings
Number of Reviews
Price: Low to High
Price: High to Low
Alphabetical: A-Z
Alphabetical: Z-A
New Arrivals
Most Recent Last